Chapter 11: Chemical Bonding
Enhanced Introductory College Chemistry
by Gregory Anderson; Caryn Fahey; Jackie MacDonald; Adrienne Richards; Samantha Sullivan Sauer; J.R. van Haarlem; and  David Wegman;
In this chapter, you will learn about
The types of bonds that can occur when elements interact
Application of electron configurations to predict chemical bonding
Molecular structures and bond strengths
To better support your learning, you should be familiar with the following concepts before starting this chapter:
Periodic Table
Electron valence configuration of elements

It has long been known that pure carbon occurs in different forms (allotropes) including graphite and diamonds. But it was not until 1985 that a new form of carbon was recognized: buckminsterfullerene, commonly known as a "buckyball." This molecule was named after the architect and inventor R. Buckminster Fuller (1895–1983), whose signature architectural design was the geodesic dome, characterized by a lattice shell structure supporting a spherical surface. Experimental evidence revealed the formula, C60, and then scientists determined how 60 carbon atoms could form one symmetric, stable molecule. They were guided by bonding theory—the topic of this chapter—which explains how individual atoms connect to form more complex structures.
Watch How atoms bond – George Zaidan and Charles Morton (4 mins)
Indigenous Perspective: Iglu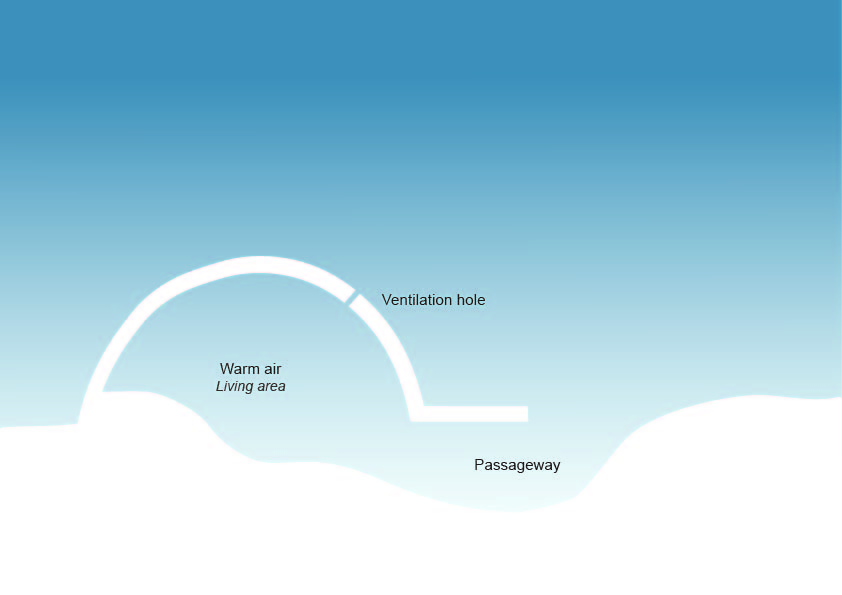 Igluit are built over the depression from where the blocks are cut. The entryway for the iglu is below ground level. The thermal properties ensures that the inside of the iglu is sufficiently warm even when the temperature outside is very low. (Anderson & Rayner-Canham, para. 11)
"As a result of the unique open crystal structure, snowflakes do not pack well together. This phenomenon results in one of the most important attributes of snow: its thermal insulation properties." "When the Inuit transitioned from building igluit to using cabins and houses, we used the snow instead to pack tightly against the walls to insulate our homes."
Attribution & References