41

Communication Tools and Strategies | Communications Resources and Templates | Communication Tools
Internal Communication Tools
Implementing your communication plan starts with you team. Before you can communicate your message to your target audience, you need to be able to clearly and concisely communicate within your team. Your team needs to be able to all access the same communications resources, including style and brand guidelines, templates and brand stories. Building on the best practices addressed in the last section, below are a few tools to assist you in taking your internal team communication to the next level.
Collaborative Documents
Using programs such as the Microsoft 365 and Google Workspace enables teams to work collaboratively on documents simultaneously. Being able to contribute to a document at the same time can greatly improve the efficiency of your team and removes the need to track different versions of the same document.
Team Communication
The importance of keeping an open line of communication with your team cannot be stressed enough. Situations will arise where an email won't reach your team fast enough, and your message cannot wait until the next work day. In times where the speed of communication is of the utmost importance, a team communication platform such as Slack and WhatsApp really show their value. Both of these platforms have mobile and web-based versions making it incredibly easy to get your entire team on the platform in moments. Both platforms have their unique advantages and features that make may make one more suitable than the other for your particular team. If you aren't already using one of these platforms (or something similar) I strongly suggest you take a look at Slack or WhatsApp to greatly enhance your team's communication with minimal effort.
External Communication Tools
Website Builders
Before discussing different website building tools, it is important to note that your institutional web services or information and communications technology department can also provide you with insight into what web resources will support your needs. Before building your own website be sure to ask your institution if there are any professional branded website options available. See planning your digital ecosystem in the next module to explore your website and online content options.
Having a visible and active online presence is critical to the overall performance of your communications plan. It is a publicly accessible place where all your intended audiences, and lab/ research group members can access your up to date materials. Your academic open access publications, linked to your institutional repository, can also be found here. External communication tools such as Reddit, Newsletters, or Social Media direct your audiences to your content on your website Having a website provides a platform for your audience to learn more about your team, sign up for your newsletter, read news releases, and find other ways to connect with you. Put simply, a website has the potential to tie all of your collateral for your communication channels together in one easy to access spot. More details on how to set up your digital ecosystem will be covered in the social media module.
Modern website building tools have made building your own website easier. Many institutions also provide webpages for faculty members and their research labs to share their research outputs.  Two of the most popular website builders on the market are Squarespace  and Wix. Both of these platforms use a user-friendly interface which allows anyone to master the platform quickly. Template libraries, drag and drop content blocks, and analytic tools are key features of both of these builders. Some other great builders are Webflow and GoDaddy. Each platform has various price points depending on the type of features you are looking to include on your website.
As with all of the resources mentioned in this module, explore all of the options that are available to you before making your choice. Most of the tools introduced in this module have free trials so you can test if the platform is a good fit for your needs.
Community / Audience Specific Platforms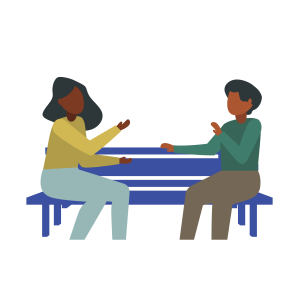 Some communities and audiences use specific platforms to gather to exchange information and ideas. These platforms are typically very useful for generating interest in your content and for gauging if your content and message is a suitable fit for that audience. Below are few examples of platforms that be leveraged to reach specific communities depending on who your target audience is.
Discord is self-described as "the easiest way to talk over voice, video, and text". Discord was originally adopted by video game players who used the platform to communicate with one another while in-game. Discord has since grown to attract individuals from across the technology sector to create Discord "servers" dedicated to topics such as Python, Artificial Intelligence, Engineers, and, of course, Game Development. Discord could be used to reach communities that have expressed interested in a specific area, increase view to your website, and generate excitement about your research in the community.
Reddit is a network of communities focused on just about every passion, hobby, and interest that one can think of. There are thousands of active communities, called "subreddits", on this platform that cover a wide range of topics and sectors.
To name a few subreddits that may of interest to academics and researcher:
Reddit is typically known as a source of jokes and "memes", but the platform is also a great source of valuable information and is an excellent way to reach a specific community with your content. It is also worth noting that many post-secondary institutions have their own unofficial subreddits which are used almost exclusively by the students of that institution.
Research Facilities Navigator is a directory of publicly funding research facilities from across Canada that are seeking to collaborate with industry, government, and other academics. Created by the Canada Foundation for Innovation in 2013, the Navigator is a unique platform designed to help Canadian academics and researchers connect with each other. This platform could be used to promote your own content and facility, or could be used to reach other academics for potential collaborations. Your institution will have a contact (usually located in research services) that will be able to add your information to the Navigator.
Newsletters
If you are able to generate a mailing list of the various audiences you want to communicate with, creating a regular newsletter can be a fantastic way to keep your audiences engage and up to date with your latest academic activities and research. Once you have a website, you can use it as a place to gather subscribers who want to know more about your research and them to your mailing list. Below are a couple of platforms that can help you create, distribute, segment, and monitor your newsletters.
Mailchimp and iContact are both marketing platform designed to help their users manage and communicate with their audiences. Both platforms use a drag and drop builder to make it incredibly easy to make a nice looking newsletter. With automated mailing, the ability to create multiple audience segment, template library and real-time analytics to measure your KPIs, both of these platforms are great options help you get started with your newsletter!
Surveys
Surveys can be used to quantify the effectiveness of your communication plan, and to learn more about your target audience. Survey tools such as Qualtrics and Google Surveys are two examples of Survey Tools that can help you to capture and monitor the experience of your customers, employees, and clients.
Survey tools can help to remove some of the guesswork that is mentioned throughout the module. By collecting feedback directly from your target audience, you will be able to make informed improvements to your communication strategy and plan.
Your institution may subscribe to Qualtrics or another survey tool, which can be used both for research and gathering feedback from your audiences.
Social Media
Social media has emerged as an effective way to reach digital audiences. In many ways, modern communication is built around social media. Many of the platforms and tools mentioned above create content specifically designed for and/or are connected in to a social media network such as Twitter, LinkedIn, or Facebook. Social Media as a sub-section of your overall communications plan which will help you reach the goals of your communications strategy, will be covered in its own module.