6.8. Organizational Networking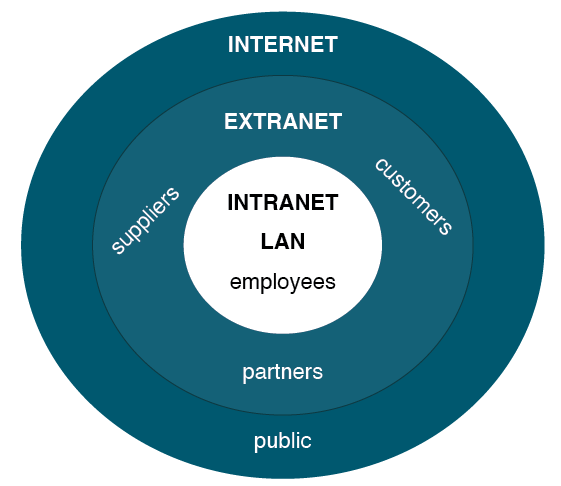 Intranet
Like LANs, intranets are private corporate networks. Many companies use both types of internal networks. However, because they use internet technology to connect computers, intranets are WANs that link employees in many locations and with different types of computers. Essentially mini-internets that serve only the company's employees, intranets operate behind a firewall that prevents unauthorized access. Employees navigate using a standard web browser, which makes the intranet easy to use. They are also considerably less expensive to install and maintain than other network types and take advantage of the internet's interactive features such as chat rooms and team workspaces. Many software providers now offer off-the-shelf intranet packages so that companies of all sizes can benefit from the increased access to and distribution of information.
Extranet
Sometimes an organization wants to be able to collaborate with its customers or suppliers while at the same time maintaining the security of being inside its own network. In cases like this a company may want to create an extranet, which is a part of a company's network that can be made available securely to those outside of the company. Extranets can be used to allow customers to log in and place orders, or for suppliers to check their customers' inventory levels.
Sometimes an organization will need to allow someone who is not located physically within its internal network to gain secure access to the intranet. This access can be provided by a virtual private network (VPN).
Virtual Private Network
Many companies use virtual private networks (VPNs) to connect two or more private networks (such as LANs) over a public network, such as the internet. VPNs include strong security measures to allow only authorized users to access the network and its sensitive corporate information. Companies with widespread offices may find that a VPN is a more cost-effective option than creating a network using purchased networking equipment and leasing expensive private lines. This type of private network is more limited than a VPN, because it doesn't allow authorized users to connect to the corporate network when they are at home or traveling. During the COVID-19 pandemic, many companies provided their employees with access to the company's network by VPN while working from home.