E-Business & E-Commerce
Electronic business or e-business, in a broad sense, is the use of computer networks to improve organizational performance. Increasing profitability, gaining market share, improving customer service, and delivering products faster are some of the organizational performance gains possible by doing business electronically. E-business is more than ordering goods online,  it involves all aspects of an organization's electronic interactions with its stakeholders.
E-business includes activities such as establishing a webpage to support investor relations or communicating electronically with employees. It involves the use of information technology to enhance communications and transactions with all of an organization's stakeholders. Such stakeholders include: customers, suppliers, government regulators, financial institutions, managers, employees, and the public at large. E-business involves several major components: business intelligence (BI), customer relationship management (CRM), supply chain management (SCM), enterprise resource planning (ERP), e-commerce, conducting electronic transactions within the firm, collaboration, and online activities among businesses.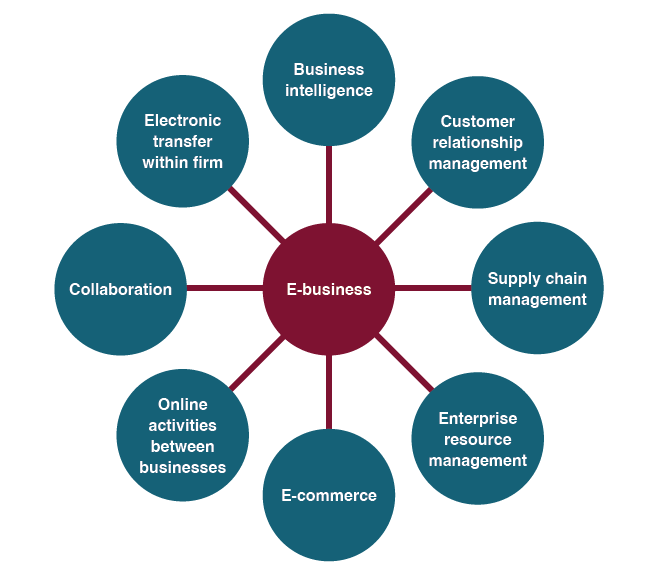 E-business and e-commerce are often used interchangeably, but they are not the same thing. E-commerce is the marketing, selling, and buying of goods and services online. It generates revenue, while e-business does not. The facilitation of commerce on a website, such as the ability for customers to order products online, to get questions answered about products, and for the company to introduce new products and ideas is considered e-commerce.  E-business refers to all aspects of operating an online business while e-commerce refers specifically to the transaction of goods and services.
The history of e-commerce begins with the first ever online sale on August 11, 1994. A man sold a CD by Sting to his friend through his website NetMarket, an American retail platform. This is the first example of a consumer purchasing a product from a business through the internet. Since then, e-commerce has evolved to make products easier to discover and purchase through online retailers and marketplaces.  Independent freelancers, small businesses, and large corporations have all benefited from e-commerce, which enables them to sell their goods and services at a scale that was not possible with traditional offline retail.
E-Commerce in Canada
E-commerce activity in Canada proliferated during the COVID-19 pandemic as restrictions for in-person shopping were put in place. Overall retail sales declined by about 18%, but e-commerce sales nearly doubled at 99.3%. As can be seen in the graph below, sales dramatically increased in April of 2020 at the peak of the pandemic. E-commerce grew in all retail sub-sectors, but the greatest gains were experienced in non-essential items. Many businesses had to shift their models and increase their web presence in order to support online selling. [1] To see more on Canadian's online shopping habits, see this infographic from Statistics Canada.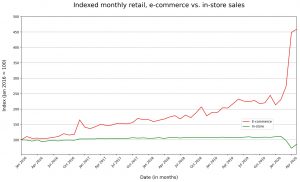 ---