Authors
Laurent Chabal, BSc (CBP), RN, OncPall (Cert), Dip (WH), ET, EAWT.
Elizabeth Ayello, PhD, MS, BSN, ETN, RN, CWON, MAPWCA, FAAN
Review assessment parameters of peristomal skin
Identify common peristomal skin complications (PSC)
Assess management options for selected peristomal skin complications (PSC)
Peristomal skin damage is considered one of the five types of moisture associated skin damage (MASD) (Black 2011, Gray 2011, NSWOCC, 2018).
Figure 1: The five types of moisture associated skin damage (MASD)
Despite surgical technique improvements and appliance innovation, peristomal complications remain high (up to 83%) (WCET IOG 2020). Early identification and management of peristomal skin complications (PSC) is supported by several professional guidelines and educational resources. (ASCN UK 2016, Chabal, Prentice, Ayello 2020, Johnson et al 2022, RNAO 2019, Stelton 2019, WCET 2016, WCET 2020, WOCN 2018). Patients often wait until the PSC becomes severe before seeking advice because:
patients do not recognize the problems and/or do not wish to bother the nurse with specialized ostomy/stoma knowledge
there is no nursing expertise available or specialized resources for them to contact.
A key strategy is to involve patients in their own care to screen, prevent and treat PSC when they occur (UOAA, 2022). Patients and families often need additional education and ongoing support as they navigate through stoma challenges.
Peristomal skin complications (PSC) can lead to leakage, pain, decreased quality of life, increased cost/financial hardships, and difficulty in adjusting to life with a stoma/ostomy (ASCN UK 2019, Hedegaard, Ajslev, Zeeberg & Hansen, 2020, McGrogan 2021, RNAO 2019, Russell, 2020, WCET IOG 2020, WOCN 2018). Scientific evidence supports preoperative stoma site marking by a qualified and skilled health care professional to decrease postoperative PSC. (ASCN UK 2016, RNAO 2019, WCET 2020, WOCN 2018, WOCN AUA and ASCRS 2021).
The abdominal location of the stoma is also important as it will impact the risk of skin issues (See figure 2, 3 and 4). Adequate circulation is necessary for the stoma mucosa to be pink, soft, warm and moist. The ileostomy stoma should be everted 2.5 to 3 cm above the skin surface and a colostomy is ideal 1 cm above the skin base. The proximal lumen should be at the apex of the stoma and its mucosa should be approximated to the skin (Steele 2020, Whitehead & Cataldo 2017).
| | | |
| --- | --- | --- |
| | | |
| Figure 2: Retracted stoma | Figure 3: Irritant Dermatitis in different Fitzpatrick skin tones | Figure 4: stoma |
There are several tools available to assist the health care professional in describing PSC. Among these tools are the validated Ostomy Skin Tool (OST), the Peristomal Lesion Scale (PLS) and the Peristomal Skin assessment Score (SACS). Other tools include ABCD Stoma Care tool and the LSD Score. There is no single tool that are universally recognized as the gold standard for clinical practice. (WCET IOG 2020). Some peristomal skin characteristics that are included on these assessment tools include discoloration (changes in peristomal skin color from the person's usual skin tone), measurement as to the extent to which the peristomal skin is showing signs of damage, and if there is any yeast type of overgrowth on the tissue that is usually recognized as white cotton-like surface growths (WCET IOG 2020).
The remainder of this chapter will focus on commonly occurring PSC that health care professionals may encounter in their practice.
Irritant Dermatitis
Irritant contact dermatitis (See figure 5) is considered to be the most frequently occurring PSC. When skin comes into contact with stoma output from urine or stoo), the peristomal skin may show signs of irritation including maceration, erosions, color changes or blisters. The stoma output fluid is referred to as "effluent" and the pH is significantly different than normal skin due to the contents and source. Often the person has pain as a result of this peristomal skin irritation. The person may also experience skin barrier/pouch leakage or inability of the pouch to remain intact with decreased wear time. As with the wound bed preparation model, determining and treating the cause is an important step that determines why the ostomy effluent is able to come in contact with the peristomal skin.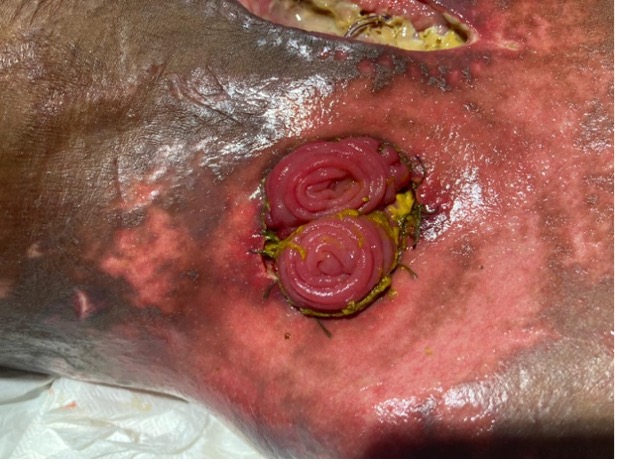 Figure 5 Irritant Dermatitis
Management should consider the following principles (ASCN UK 2016, WOCN 2018, WCET 2016):
Why is the skin barrier/pouch leaking?

Remeasure the stoma and assess the correct size for the skin barrier opening/pouch so that an adequate seal can be established. Having the right size skin barrier pouching system is imperative.
Is the patient waiting too long to empty the pouch? If so the weight of the ostomy content could be causing the leakage as a heavy pouch may pull downward and break the seal. If an opened ended pouch is being used, make sure the person has closed it correctly.
Remind the person that the size of their stoma may change over time. Stoma size needs to be measured to assess if the correct size of the skin barrier/pouch size opening is being used. Are they cutting the skin barrier opening too large? Some patients may want to switch to a pre-cut commercially available pouch rather than one that the patient cuts by themselves based on their own particular stoma size.
Are they correctly centering the skin barrier/pouch around their stoma? Can they see their stoma? Patient's ability to see their own stoma can change especially if person gains weigh and can no longer see their stoma, or the stoma is now in a skin fold that is causing leakage from the sides of the stomal skin interface.
How should the peristomal skin be protected?

Consider applying protective stoma barrier product (powder, wipes/on a stick applicator) to the damaged peristomal skin prior to pouch application. "Sealing" the powder with a protective barrier product (wipe or stick applicator) prior to reapplying the skin barrier/pouch can assist in fostering a better seal at the stoma skin/barrier pouch interface.
Evaluate using ostomy accessories such as a protective ring/seal paste, or seal that surrounds the stoma (like corking around a leaking drafty window) to the damaged peristomal skin prior to pouch application.
Contiplate using some of the newer skin barriers made with ceramide to protect and heal the peristomal skin.