3.3.3 Other Emergent Situations
Remember, all emergency protocol is dictated by the policies and procedures of the facility where the emergency takes place. When you are a professional care provider working in a client's home, you should follow the rules of the agency that employs you. In all emergency situations, your first priority is to ensure your safety, the client's safety and others' safety. Then, you must notify the responsible supervisor.
Injuries and illness affecting clients are not the only emergency situations that may occur in the workplace. Below are examples of other emergent situations that you must be prepared for.
Chemical Smells and Spills
Cleaning chemicals, medical chemicals and biohazards can be harmful to health, depending on the chemicals. You will need to be aware of the inhalation risk and sensitivities, as well as absorption risks prior to using the chemicals. If chemicals are used or mixed without following the rules for uses, precautions and handling, the combination or the high concentration of chemicals may cause difficulty breathing, or chemical burns to the skin if the chemical is cleaned up without using the proper personal protective equipment. Be sure to complete all workplace training and closely follow the information you are given.
If you are working in Canada, you will complete mandatory workplace hazardous materials information system (WHMIS) training. Among other things, this training will instruct you on how to read the pictograms that appear on labels on dangerous substances.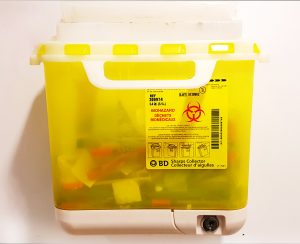 Following the information you received in the WHMIS training, your employer will show you where the Material Data Sheets are for your facility and area.  Material Data Sheets include important information about how chemicals should be labelled, used, and mixed.
For more information on workplace health and safety in Canada, see
Workplace Safety
.
Acts of aggression
All clients with violent, agitated or unpredictable behaviours are to be identified and appropriate guidelines implemented to avoid incidents. If applicable, read your agency's or facility's policy on acts of aggression or violence and follow the procedure developed. Keep yourself safe, and only then assist any client/family/visitor in harm's way. Contact the supervisor or police as appropriate.  Report all acts of aggression, regardless of how small, in an incident report.
If you are in Ontario, the Occupational Health & Safety Act sets forth the protections that employees have from violence in the workplace. Your employer has responsibilities to all workers to follow these guidelines. For example, to prevent incidents involving violence, examples of controls include:
restricting facility access to violent family members
training workers to identify the signs and symptoms of violent behaviour
training workers to de-escalate violent behaviour
introducing environmental design controls such as clear sight lines and improved lighting
using personal safety response system devices
As a home care worker in the field, if you feel threatened, you should:
terminate the interaction with the client
leave the client's home and go to a safe place
be prepared to call the police if required
phone a manager, supervisor or staffing office
complete an incident report
Fires and Other Facility (or Home) Emergencies
Evacuation policies for fire or other facility-wide emergencies and associated procedures will be stated in each facility, and regular evacuation drills will be conducted. Your facility will provide training for evacuation protocol and procedures.
If you work in a client's home, always follow the emergency procedures set by your agency. In addition, take the time to ask when the fire alarm batteries were last changed and the alarms were tested. Fire alarms should be present on each floor of the home. Recommend that a fire extinguisher be placed in the kitchen, and check that it is not expired. You should also inquire whether the home has radon or carbon monoxide detectors; check that they are working and not blocked by furniture or other items. You can contact your local fire department for other home safety tips.
Your facility may also have a lockdown procedure in place for serious situations within the facility. A location-specific or facility-wide lockdown may be used for situations such as an aggressive client, a chemical spill, EMS presence, an active shooter, a suspicious person or package on the grounds, a power outage, and more. Please refer to your facility protocols for information.
Remember, after any situation resolves, it is important to complete an incident report. Incident reports are discussed in more detail in Chapter 4.
Media Attributions
"Sharps container" by Indrid__Cold is licensed under CC BY-SA 2.0