Module 5: Memory and the Holocaust
A Memento of Edith Reh's Imprisonment in Concentration Camps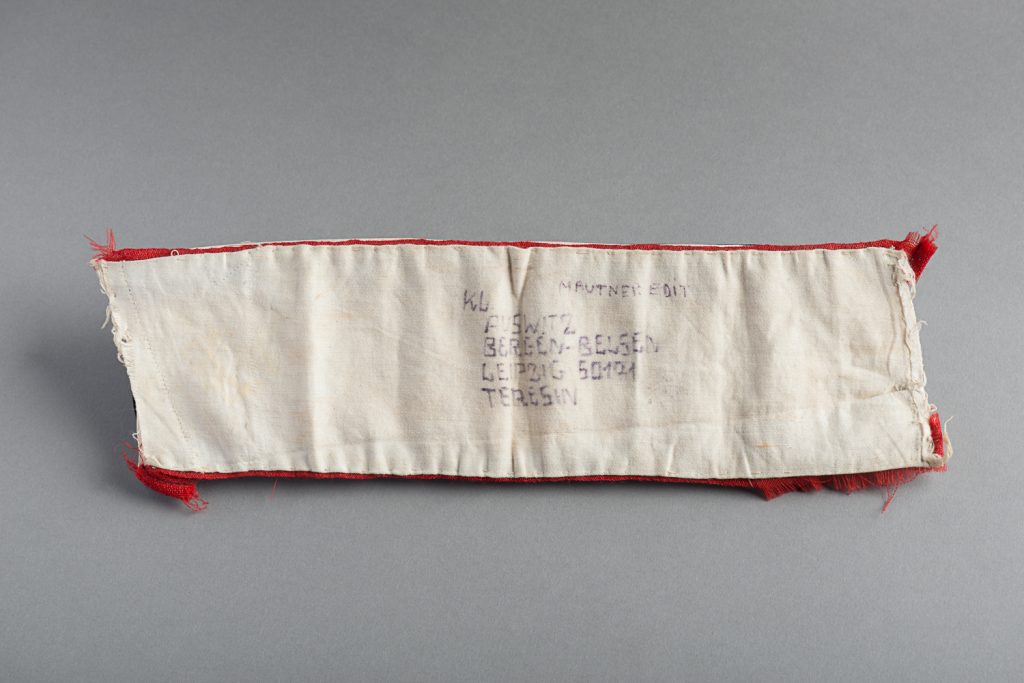 Look closely at Edith Reh's armband. What can we learn from this artefact about Edith's Holocaust experience?
Her prisoner number 50171 is also written on the armband. Edith wrote these inscriptions after the war as a memento of her experience in Nazi concentration camps. Montreal Holocaust Museum, courtesy of Edith Reh. After surviving her internment in Auschwitz and the death march from Bergen-Belsen to the Theresienstadt camp-ghetto, Edith received this armband. She was liberated on May 8, 1945 by the Soviet forces. After the war, she chose to note on it her prisoner number 50171, and the concentration camps she was interned in as a memento of her experience in Nazi concentration camps.
---
Holocaust Remembrance in the wake of the Eichmann Trial
In this lecture, Dr. Tesler-Mabé discusses the impact of the Eichmann Trial in the postwar period, specifically in terms of how it changed the way that the Holocaust was remembered in collective memory and discourse.
---
Witnesses of the Eichmann Trial

Photographs of witnesses in the Eichmann Trial, 1960-61. Yad Vashem, courtesy of the National Photo Archives.
Watch the following video from the Eichmann Trial. How do you think this public display of the victims' stories and their feelings changed the understanding of the Holocaust in Canada?
Witnesses of the Eichmann Trial. The Spielberg Jewish Film Archive. Available through the Hebrew University of Jerusalem. 1999.
---
Guest Lecture: Jessica Marino
In the following guest lecture, Jessica Marino discusses the idea of memory. While listening to Marino's lecture, reflect on the connection between Holocaust and memory studies, and the concepts that emerged from this relationship.
---
Guest Lecture: Dr. Shawn Graham
In this guest lecture, Dr. Shawn Graham describes the importance of Digital Humanities, which involves using various technological approaches to understanding humanity, and human phenomena and experiences. Digital Humanities is a way to both understand humanity through new technology, and to understand our use of technology and reliance upon it as human beings. Digital Humanities is significant for Holocaust memory and education because it allows us to preserve memory and data (with some challenges), track and analyze data in new ways, and makes the material more accessible to a wider audience. Technology also allows us to listen to oral histories first hand, but also remain at a distance to analyze and contextualize the histories within a broader chronological, historical framework.