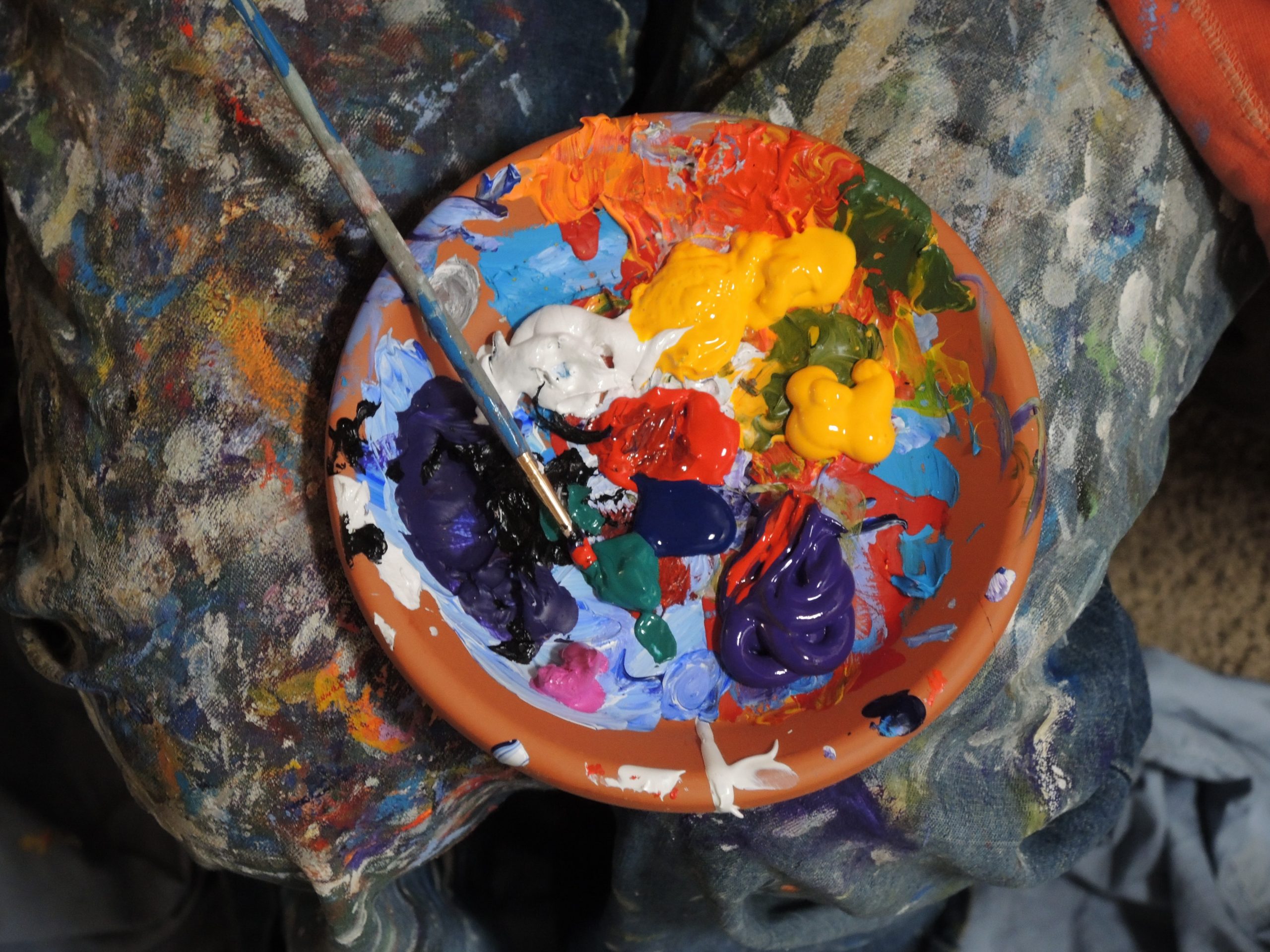 Let's put it all together.
Welcome to the final activity module of this resource. You made it!
To briefly summarize this final module, you learned about evaluation and effectiveness, what these terms mean, different sources of evidence that can be used to measure the effectiveness of HyFlex teaching, and you then learned about the importance of pulling multiple sources of evidence together to determine your teaching effectiveness.
As mentioned, all previous Unit 5 activities served as "building blocks" to one another. In this final unit, it is now time to evaluate your HyFlex teaching and design strategies via thoughtful reflection and feedback.
We'll begin with what you learned in this module
Activity
First, let's return to the K-W-L Chart from Unit 1. [.docx]
At the beginning of the module, we asked you to list what you already know about evaluation and teaching effectiveness in the column labelled K. In the second column, you were to list the things that you wanted to know.
Now, it's time to fill in the last column: Column L – What you learned. 
Here are some tips:
Take a few minutes to summarize some of your key takeaways from this module.
Then, examine whether there are still outstanding questions that you had at the beginning of the module, based on what you wanted to know.
Identify some specific ways that you could learn more about evaluation and effectiveness in the HyFlex context to answer some of your ongoing questions from Column L.
Next, let's evaluate course design
To contextualize where evaluation is within the broader course design process, we can use the ADDIE (Analyze, Design, Develop, Implement, Evaluate) instructional design model, which is described in greater detail in the Course Design Program Guide (CC BY-NC-SA 4.0) from the University of Calgary's Taylor Institute for Teaching and Learning.
Here is a visual of what the ADDIE model looks like: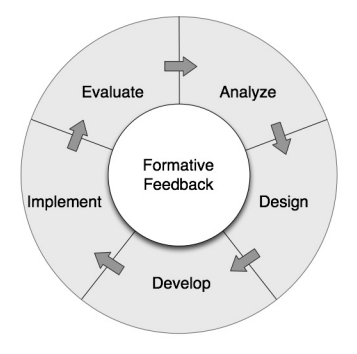 In Modules 1, 2, and 3, you addressed aspects of multiple components of this model: Analyze, Design, and Develop. The Implement stage involves teaching or implementing the course design, which you will do separately. Lastly, Evaluation was discussed at a couple of points in the earlier modules and primarily in Module 4.
In Module 2, Unit 1, evaluation was considered when you learned about the components of lesson plans. Teacher Reflection was one of the common lesson template components that we described, which could be detailed at the end of the lesson template. This is a form of formative feedback, which is at the center of the ADDIE model because your reflections could help you make changes in your teaching practice as you move forward in the course.
Other methods of formative feedback involving students and peers, were discussed in Module 4, Unit 2, and summative feedback could take place at the end of the course. Again, this form of feedback could involve evidence from multiple sources, which we discussed in Module 4, Unit 3.
---
An important aspect of the ADDIE model is the iterative nature of the process.
---
Thinking about effective Hyflex practices and how to evaluate those practices should be something that takes place throughout the course design process as well as during and after the course. It is not something that takes place at one point in time.
For this reason, it is important to plan when you are going to engage in evaluation practices and how.
Activity
In this activity, consider how you are going to obtain feedback throughout the course design process.
Step 1. Download the worksheet Course Design Evaluation [.docx].
Step 2. Complete the first part of the activity by identifying how you will obtain formative feedback throughout the course design process (feedback can be from students, peers, or self), using the ADDIE framework.
While this was not a focus of Module 4, course design does not happen in isolation;  evaluation strategies, such as obtaining formative feedback, can be applied in different ways.
Step 3. One of the strategies we did not discuss in Unit 2 was rubrics. A rubric can be a helpful evaluation tool that helps you identify strengths and areas for improvement.
In their open-access article, Simonson et al. (2021) describe a framework for effective teaching and developed a tool that can be used. The overlapping elements of effective teaching are course design, professional development, learner-centredness, and scholarly teaching.
The last step in this activity involves the rubric on page two of the Course Design Evaluation worksheet, by evaluating some of the activities you completed throughout Modules 1-4 of this resource. Specifically, we are looking at course design.
While you are reviewing the rubric, think about how you might adapt it to incorporate elements of HyFlex design.
Let's end with how you're going to keep engaging in HyFlex teaching-related activities
In Module 2, Unit 5, you developed a plan for ongoing personal development to support active learning strategies for HyFlex delivery. You created 2-3 SMART/ACBD goals that you could achieve in the next 12 months.
To conclude this resource, think about how you can continue to grow as a HyFlex educator using a broader conceptual model called the Dimensions of Activities Related to Teaching (DART) (Kern et al., 2015). The DART model organizes teaching-related activities using two dimensions, which creates four quadrants that differentiate between activities.
A diagram of the full model can be viewed as Figure 1 Kern et al.'s. (2015) open-access article on page 5, where you can see examples of activities that have been placed into each quadrant and a full description of the model.
The two dimensions are referred to as the Public-Private Dimension and Informal-Systematic Dimension. Teaching-related activities that are shared in some public format, such as presentations and publications, are considered public activities, while activities such as anything that is kept within the classroom context, are considered private. For the second dimension, Kern et al. (2015) refer to systematic as a "methodical, planned, and deliberate process to acquire knowledge" (p. 4).
These two dimensions create four quadrants, which are now summarized based on the descriptions provided by Kern et al. (2015):
Activity
While the purpose of Kern et al.'s (2015) article is to discuss the role of SoTL and to distinguish which activities are and are not considered SoTL-related, the overall DART model can still be used by instructors to reflect on their teaching-related activities.
This final activity asks you to think broadly about your current HyFlex teaching-related activities, and how you can continue to develop your expertise in this area.
---
Download the DART Model blank template [.docx] to work on this activity. Then, proceed with the following steps:
Review page five of the Kern et al. (2015) article and then fill out each quadrant of the blank template with the types of HyFlex activities in which you are currently engaged.
Next, answer the following questions:

Within which quadrants are your current HyFlex teaching-related activities located?
Where are the activities located on the Public-Private dimension? Informal – Systematic dimension?

Lastly, review the diagram on page 5 of Kern et al.'s (2015) again and consider which activities are ones that could be a focus for you. Then, complete the table on page 3 of the template to identify Hyflex-related teaching goals that you want to pursue.