Unit 2: Designing to Support Access for Learners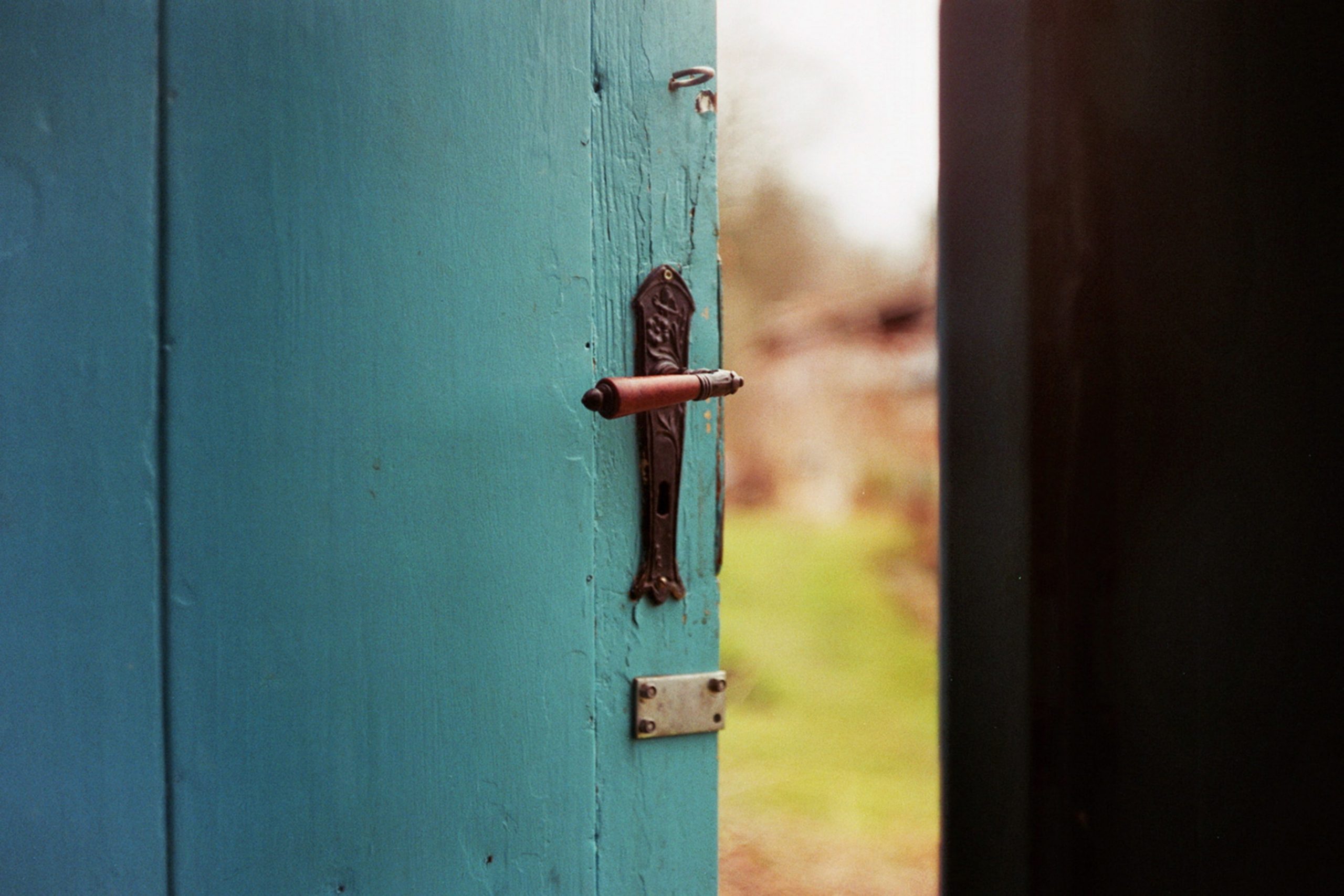 Intentional lesson design for all.
HyFlex courses allow students to choose which mode of instruction best matches their needs. While this flexibility in learning mode can support access, the decisions you make as an educator while creating lesson plans will have a large impact on the student experience.
In this unit, you will learn how to incorporate the values and principles of HyFlex learning and the principles of Universal Design for Learning into your lesson planning process to ensure that your course supports access for all learners.
Activity
The following 5-minute read Chapter 1.3 in Brian Beatty's Hybrid-Flexible Course Design book describes the values of HyFlex. You explored these briefly in Module 1.
As you read this short chapter, consider how your current teaching practice aligns with the four values shared and where you may need additional support as you adopt a HyFlex approach.
The Four Values of HyFlex Learning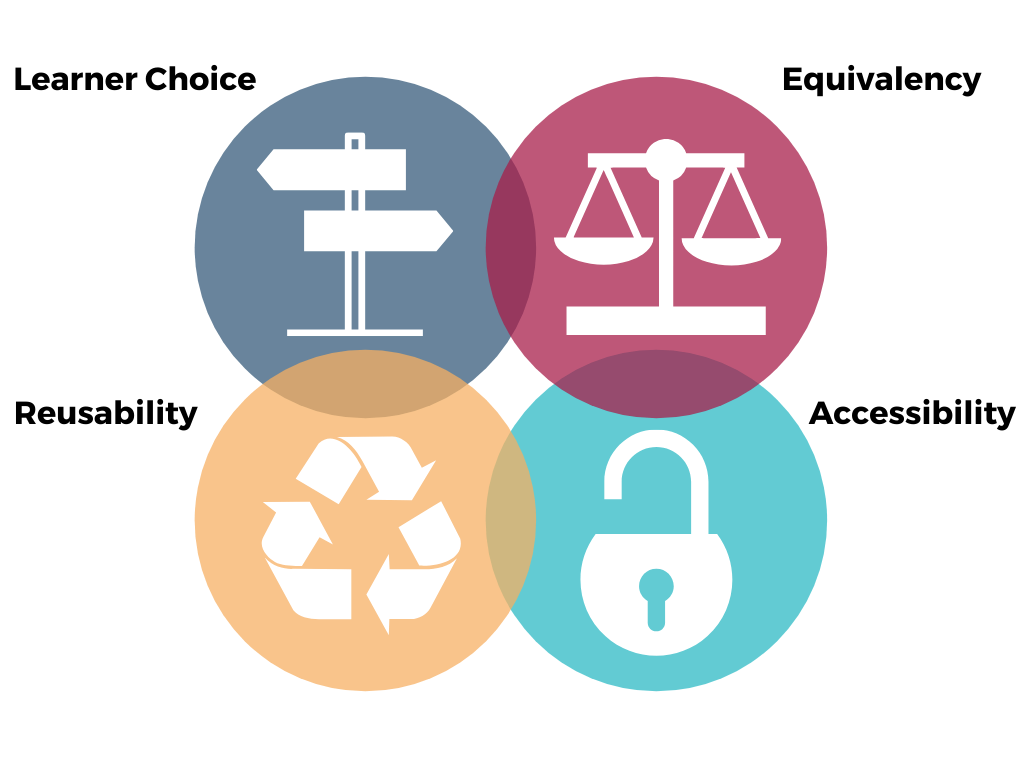 Learner Choice
Beatty (2019) defines the principle of learner choice as providing meaningful, alternative participation modes and enabling students to choose between participation modes daily, weekly, or topically.  Committing to supporting learner choice means letting go of the perspective that there is one 'best way' to learn (and that you as the instructor know what that is).
Committing to this value also means that as you plan your lessons, you must be flexible in how you will approach learning activities as the number of students who choose to attend in any given modality may vary from class to class.
Equivalency
The principle of equivalency is demonstrated by providing learning activities in all modes which lead to equivalent learning outcomes (Beatty, 2019).
In unit three of this module (and throughout this resource), you will find different learning activities that can be implemented in a HyFlex learning environment. As you review these activities, note that the learning experience is not always identical across the three different learning modes. The level of social interaction may be lower for the asynchronous participants, but activities can be structured to invite the same types of reflection and contribution as is supported in the synchronous learning environment.
Reusability
Incorporating the principle of reusability into your lesson planning process means that you will use artifacts from learning activities in each participation mode as resources for all students (Beatty, 2019).
This might take the form of posting a recording of a synchronous lecture into your LMS so that all students have access to it. It might also take the form of capturing a discussion from a synchronous class activity into a discussion forum within your LMS.
When you focus on reusability, you design all of your course materials for all of your students, rather than creating resources for each modality separately.
Accessibility
Not all students will begin their journey in a HyFlex course with the needed technical skills. Beatty (2019) suggests that a commitment to accessibility is demonstrated when instructors "equip students with technology skills and equitable access to all participation modes" (p.31).
This might mean that you implement an activity early in your course to orient all students to the various technology tools that will be used during the semester. Explore what student resources are available on your campus and include links to those services within your course LMS.
Activity
In this 51-minute episode of the Think UDL podcast, Lillian Nave discusses the HyFlex Course Design Model with Brian Beatty.
As you listen, identify some strategies to incorporate accessibility into your HyFlex lesson planning.
The transcript is included on the podcast website.
Some aspects of accessibility will be out of your control as an instructor.  For example, if a student lives a great distance from the physical campus, access to the face-to-face participation mode may not be an option. Similarly, if internet access is challenging, online participation may not be a viable option. When designing your lesson plans, give consideration to lower bandwidth options for resources to increase access for students with limited internet service.
In addition, all of your course materials should be accessible. This starts by having a clear consistent structure for your course within your LMS so that students can easily navigate the course and find resources when they need them.
Examples
Accessibility strategies within your course LMS:
Images should have a clear purpose and appropriate alt-text
When working with text-based documents, make use of built-in headings to organize the material. This allows people using screen-readers to more easily navigate and make sense of your document
Avoid using colour alone as a way to convey meaning and make use of descriptive hyperlinks
When recordings are posted, they should have text transcripts or closed captions that are turned on as the default
Activity
Supporting Access with Universal Design for Learning (UDL)
When you incorporate the principles of UDL into your course design, you are intentionally creating a learning experience that supports variability in learning.
---
"When it comes to learning, variability is the rule, not the exception." (CAST, UDL, 2021)
---
The following 2-minute video provides a brief explanation for why you should use UDL principles in your course design.
UDL in Higher Education [2:10] Video Transcript [.docx]
As was stated in the video, when we design with variability in mind, we set the stage for increased student success for all learners in our courses.
The Universal Design for Learning Guidelines include 3 key principles:
Provide multiple means of representation
Provide multiple means of action and expression
Provide multiple means of engagement
The following 5-minute video provides a brief overview of UDL in a post-secondary setting.  As you watch the video, consider the points of overlap between the four values of HyFlex learning and the 3 key principles of UDL.
CAST: UDL at a Glance [5:21] Video Transcript [.docx]
Activity
Now that you have been introduced to the concepts of UDL, please review the UDL Guidelines and explore the collection of resources at UDL On Campus.  You will find support for course design, examples from faculty at various post-secondary institutions, and tips for how to make various types of media and materials accessible for all learners.
As you read through these resources, identify 3 strategies to include in a HyFlex lesson plan and the considerations required for all participatory modes.
Unit Summary
In this unit, you explored how to incorporate Beatty's Four Fundamental Values of HyFlex into your lesson planning process by considering how students will participate in different modalities, how to plan the learning experience so that it is equivalent across modalities, how you can reuse learning materials and objects for all learners, and how you can ensure your lessons keep accessibility at the forefront.
Lastly, you considered how to incorporate Universal Design for Learning principles into your HyFlex lesson plans to create inclusive learning experiences for all students.