Introduction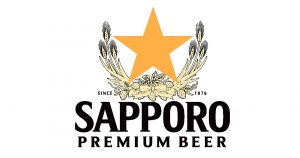 As Japan's oldest beer brand, Sapporo has a special place in the history of both it's home country and in Canada. With multiple types of beer under their belt, Sapporo brews their famous Premium Beer, Black, Light, and "Reserve Beer" — an all-malt brand — while also owning Sleeman Breweries (Sapporo).
With the North Star displayed prominently on the label, Sapporo is also recognizable for its tumbler-glass inspired steel can — called "Kappu Nama" which translates to "Cup Draft" — the brand is easily the most popular Asian beer brand in the United States of America.  While the can is more traditional these days, upon its original conception in 1984, the top came off to give the drinker the feeling of using a glass (Toast Magazine, 2018).
Origins
As stated previously, Sapporo is Japan's oldest brewery, meaning this is the company that brought the drink to the country. Like most countries too, their history with beer can be linked to Germany. However, unlike the USA and Canada, Germany's influence wasn't felt through immigration, instead, the brewing process was brought back to Japan by one of its own citizens.
To get a grasp of how Sapporo Breweries came to be at the time, it's important to understand the cultural shift Japan saw at the end of the 1800s.
At this time, Japan saw a monumental change in leadership, ushering the country out of an age of isolation, an era where the country was more open to the West. In an attempt to catch up with the rest of the world, "Japan also opens its borders, sending several high-ranking expeditions abroad and inviting foreign advisors—including educators, engineers, architects, painters, and scientists—to assist the Japanese in rapidly absorbing modern technology and Western knowledge," (Met Museum).
This is sort of how beer brewing made its way to the island-nation. Founder Seibei Nakagawa left Japan to travel the world and found himself in Germany where he learned how to brew craft beer. He then returned to his home country and became the first brewmaster of the Kaitakushi Brewery — in the Sapporo region of Japan — where the first "Sapporo beer" was brewed.
Key Milestones
1853-1867 Japanese Emperor Meiji ends the era of isolationism in Japan, allowing for Western Industrialization in the country.
Seibei Nakagawa arrives in Germany, learning the craft brewing process.
1876 Nakagawa returns to Japan, becoming the first brewmaster in the country, running Kaitakushi Brewery where Sapporo was brewed.
In 1876, Sapporo Beer launched its first lager.
March 1906, Dai Nippon Beer Company Ltd. was created after Sapporo and other massive Japanese Breweries amalgamated.
In 1959, amalgamation falls apart and Nippon (with Sapporo under its banner) splintered away from Dai Nippon Beer.
That same year, Sapporo introduced its first can.
1956, a struggling Sapporo brand saw sales skyrocket, allowing the company to sell beer across Japan again, causing Nippon to change its name to Sapporo.
1964, Sapporo began selling beer stateside.
1984 Sapporo introduced its iconic silver can.
2016 Sapporo acquires Sleeman Beer.
2018 Sapporo acquired the oldest craft brewery in the USA, Anchor Brewing Company., growing its worldwide portfolio while keeping in line with it's "traditional" branding.
2019, Ab InBev acquires the right to sell Sapporo in mainland China.
Knowledge Check
Brewing Science and Industrialization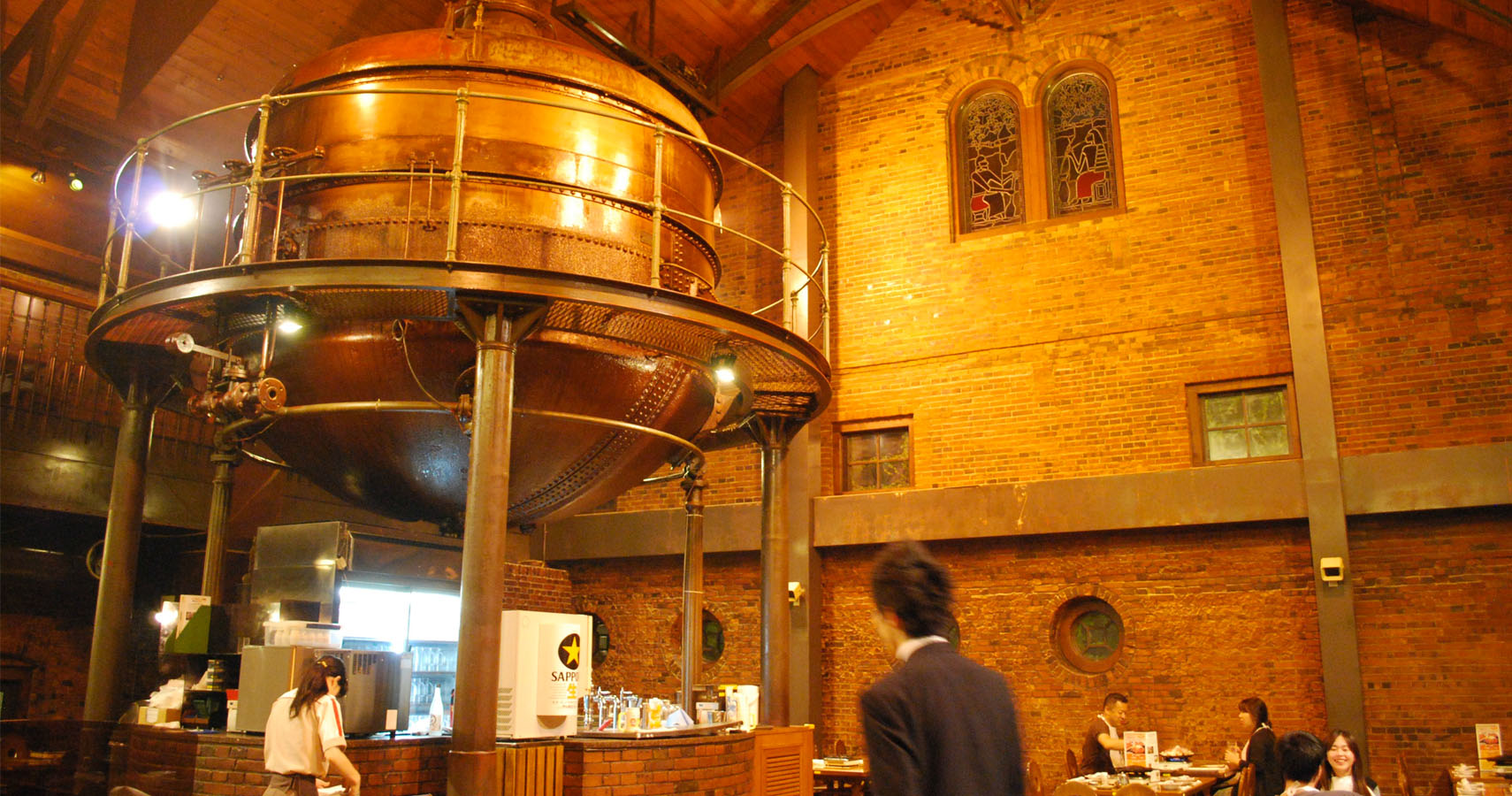 Sapporo Beer itself is a product of industrialization in Japan. When Japan finally opened itself to Western Industrialization, they created establishments to bolster private industry in this period of rapid change. Since Japan entered industrialization later than many countries, it was necessary to preserve their culture. One such industry was brewing. The company they created was Kaitakushi Beer Brewery, which later became Sapporo Beer (Nippon)  (History: Sapporo).
At the time, beer brewing and transportation of beer in Japan was traditional in nature. Kaitakushi's headquarters was a reflection of that. The structure was small and made of wood, and the brewery utilized the traditional German brewing technique. However, as Japan industrialized and new sources of energy like coal and fossil fuels were introduced to the country, Sapporo Beer was able to modernize its techniques with more electric brewing techniques while the introduction of railways allowed many industries to move their products around the country with more ease.
Beer Style
Sapporo's flagship beer is a premium lager. The ABV of 4.9 % and an IBU of 24. The beer is a golden yellow in color with a lighter, crisp taste as is tradition with this style (Sapporo).
The history of lager beer is an interesting one. While many believe the beer's history begins in Bavaria, there is some evidence to suggest the beer was created in South America. In fact, recent evidence found traces of the yeast monks in Bavaria used to make Lager in a ceramic container on the border of Chile and Argentina (Daley). It's unknown how this brewing technique made its way to the German area, however, this is where it was perfected.
Using bottom-fermenting yeast, brewers — normally monks — would store beer in cold temperatures. This was originally done by storing the beverage in cold caverns in the mountains, but with the introduction of electricity into the industry, these conditions were replicated artificially (Watson).
While the beer was known for its Germanic roots, by 1850, German brewmasters took their trade to the United States of America, creating some of the biggest names in the industry that stand to this day (Watson).
The WWI and WWII Era
While The First World War impacted many European breweries, Sapporo Beer was impacted differently. While Japan did participate in the First World War as part of the Allied Nations, combat stayed away from the country. While battle raged throughout Europe, by 1916, Japan's domestically made beer started being sold in other Asian countries. By 1920, the introduction of prohibition in the USA saw an increase in brewing equipment sent to Japan, resulting in the formation of some of Sapporo's main domestic competition at the time, Nitiei Brewery and Toyo Brewery (Brewers Association of Japan).
By the time of the Second World War, Japan introduced price controls on beer, and trademarks were banned. By 1940, the country raised the minimum amount of beer manufacturers were required to make in order to receive a license, and in 1943, the Japanese government introduced distribution control as the country's role in the War increased (Brewers Association of Japan).
Consolidation and Globalization
Sapporo Beer's consolidation began early. Japan's major breweries, Sapporo Beer, Nippon Beer, who made Yebisu Beer, Japan Brewery Company, known for Kirin Beer, and Osaka Beer, who brewed Asahi Beer, were locked in a price war in the late 1800s and early 1900s. When Yebiso Beer fell on hard times, the topic of amalgamation was brought forward, and each brewery agreed, creating Dai Nippon Beer Company. That didn't last long however as the brand fractured with Nippon Beer taking the Sapporo brand for its own, but it's popularity dwindled. That changed in 1956 when a sale coincided with the brewery's 80th anniversary saw sales surge, making the beer so popular, the brand was rolled out nationally again, and the company's name changed to Sapporo Beer Ltd (History: Sapporo).
While Sapporo would be relatively quiet following this, the brand would start to make more global moves. In 1964, the company started selling its product in the USA (Sapporo). The company would then set up an American Wing — Sapporo U.S.A Inc — in 1984. The company would sit on these moves for decades following their American expansion before introducing a collaborative farming agreement to supply their own malt and hops in 2006 (History: Sapporo).
Following this move, the company of Sapporo targeted some historic breweries for acquisition. The first was the Canadian company, Sleeman Breweries LTD in 2011, followed by Anchor Brewing Company — the oldest craft brewery in the USA — in 2017 (Sapporo). Between those two acquisitions, the Japanese company established Sapporo International Inc. and opened a brewery in Vietnam. The final big move Sapporo made was with the conglomerate AB InBev, who distribute Sapporo beer in mainland China (News Wire).
Marketing And Branding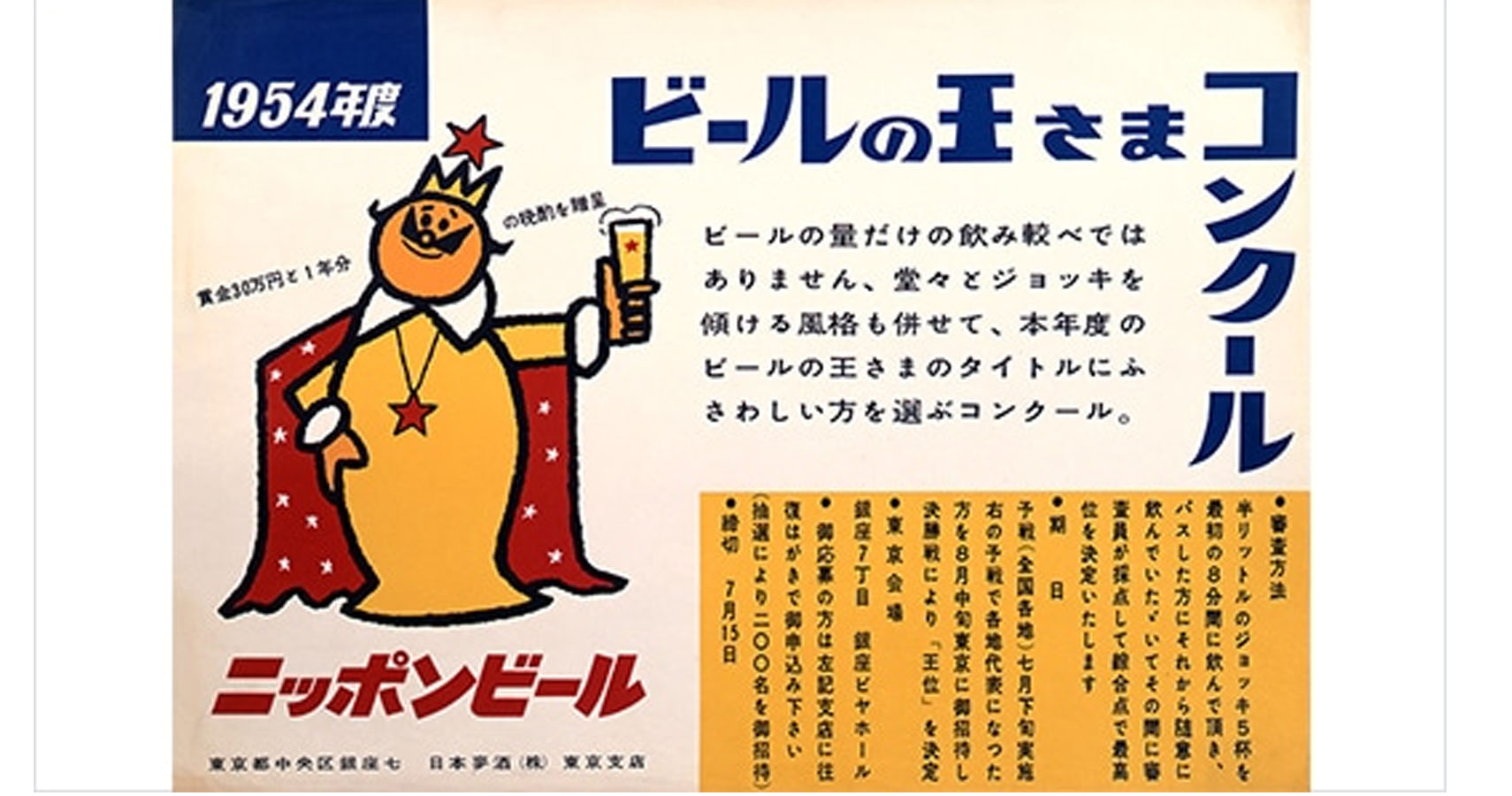 Sapporo has always been marketed as a premium beer. Easily noticeable for its North Star on the label, Sapporo's branding has stayed relatively the same, while the ad campaigns have changed greatly throughout the years.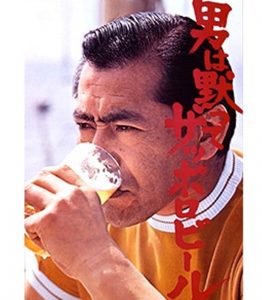 Once the ban on trademarks was lifted in Japan, Sapporo — under the Nippon brand — launched its first ad campaign as "The King of Beer" — something that was later reused by Budweiser in the late 2000s. Sapporo kept this campaign as the brand re-established itself in Japan, but by 1970 — just six years after expansion into the USA — Sapporo took a different approach, removing all logos from their ad campaigns, making for a cleaner, more modern ad.
By the 2000s, Sapporo began playing on the beer's history in Japan as a form of mystique in the USA with a long-form story arc that the company is still portraying today. This campaign started with a commercial showing off traditional Japanese images of Samurai and sumo wrestlers, highlighting the brewery's historical significance in its homeland (History Introduction: Sapporo).
This was followed by an ad campaign that highlighted Sapporo's presence in the USA is more of a cultural exchange (Dallaire). This ad shows American influences have impacted Japan over the years, while Sapporo is the country's way of saying thanks for things like rock n' roll, hamburgers and baseball.
Knowledge Check
Modern Trends
Craft Beer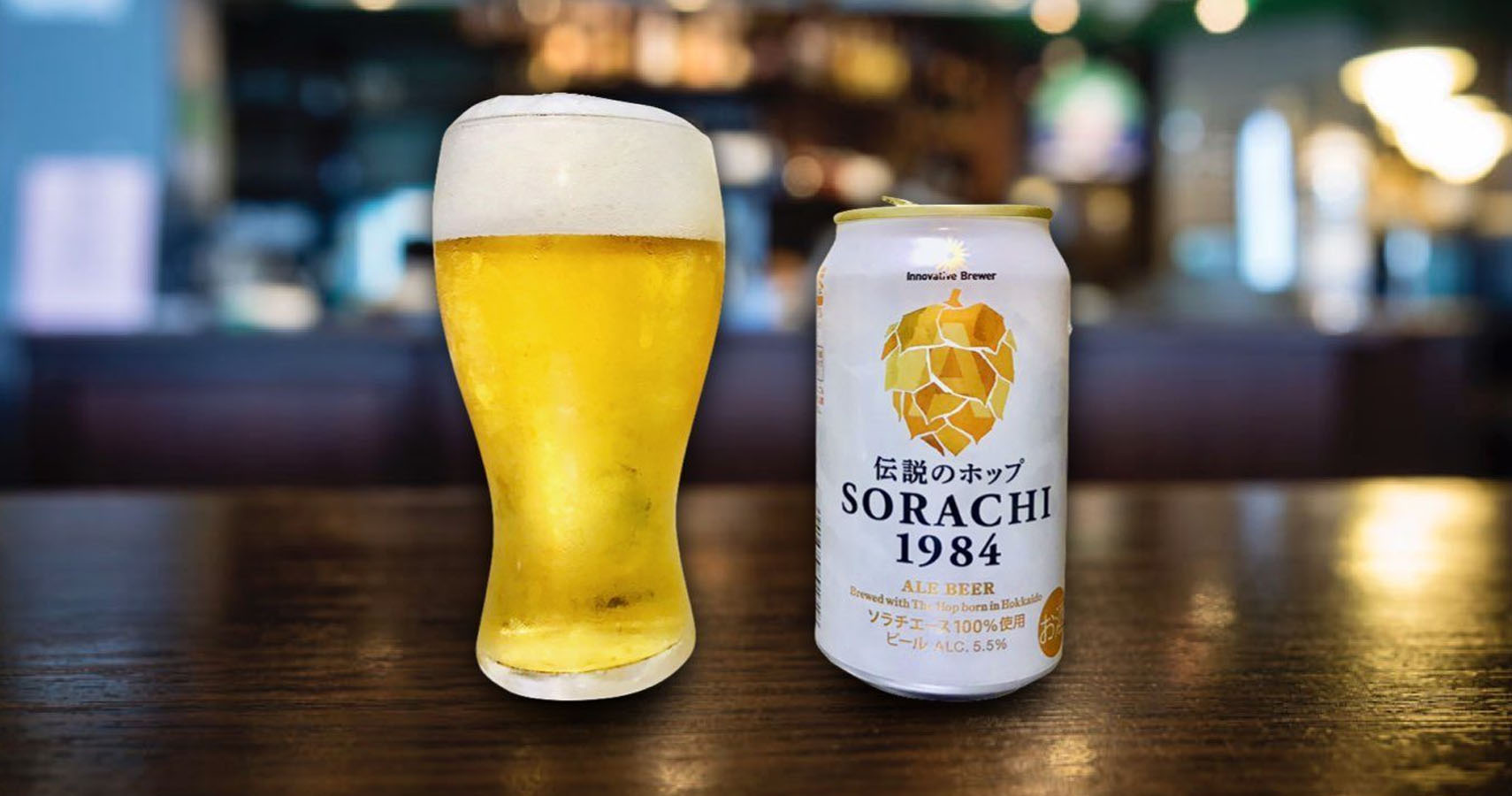 In 2017, Sapporo Breweries purchased Anchor Breweries — America's oldest craft brewer (Sutherland & Du). Founded in 1849 — during America's gold rush — Anchor Breweries is best known for their Steam Beer and their traditional hand made method to brewing.
While this does fall in line with the Japanese beer maker's historical roots, it is a little more strategic than it appears. In 2019, the craft beer industry grew four percent (Baker). What makes this growth interesting is that this comes at a time where beer consumption in the USA is at a low. In fact, Americans have been drinking less beer since 2015 (Giammona, C., & Reinicke, C).
On top of that, Sapporo Breweries Ltd. has launched its own craft brand. Dubbed Innovative brewer, the brand's flagship drink is theSorachi 1984 ale (Nippon).
Beer Tourism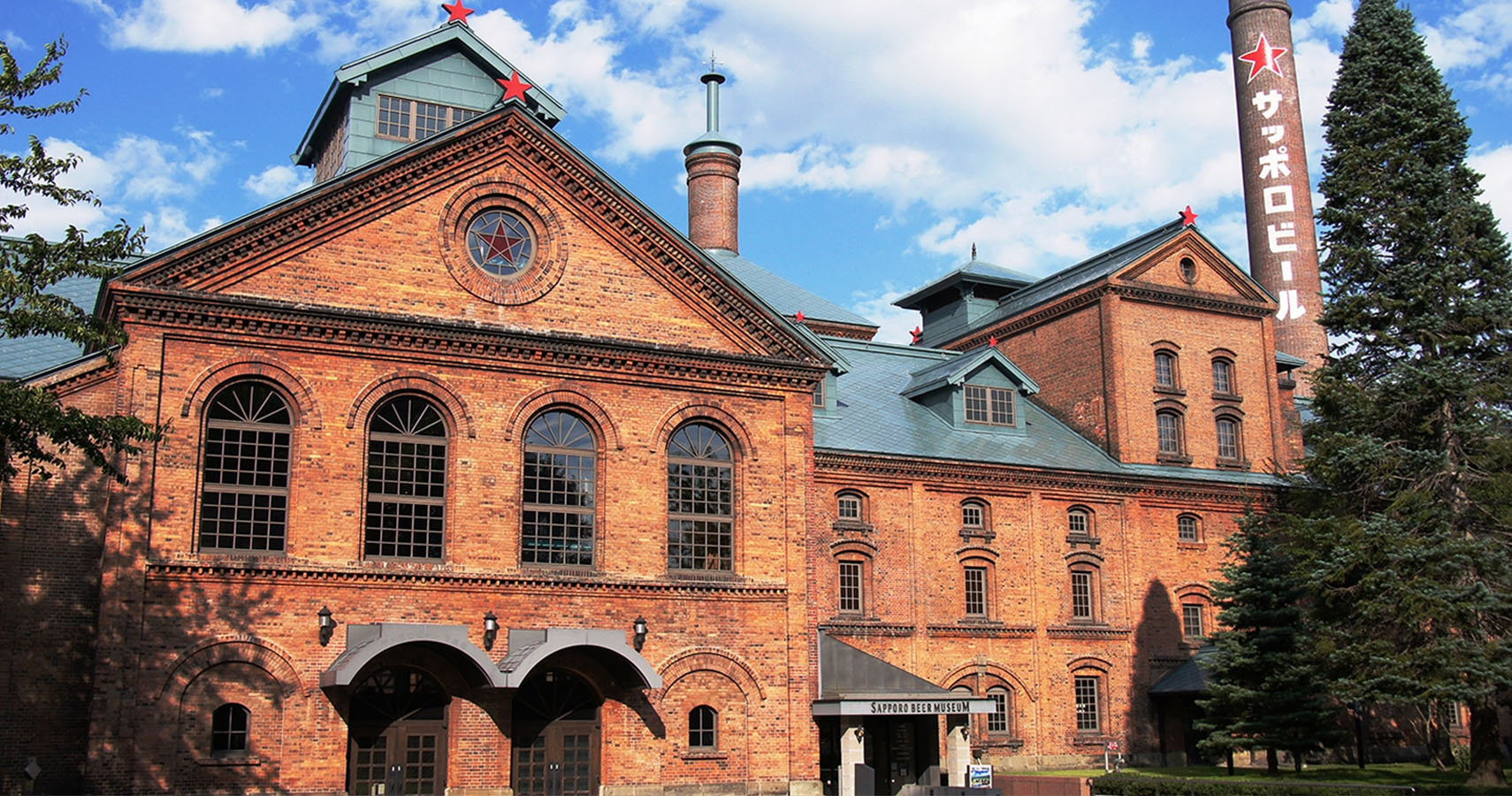 As Japan's oldest brewery, Sapporo has some historic locations for beer tourists visiting the eastern country. Most notably, Sapporo houses Japan's only museum dedicated to beer — chronicling the country's history with the beverage dating back to 1886 (Sapporo Beer Museum). They also offer tours of their Hokkaido Factory. The location hosts on-site tastings and a golf course, but those interested need to book in advance (Sapporo).
Sustainability: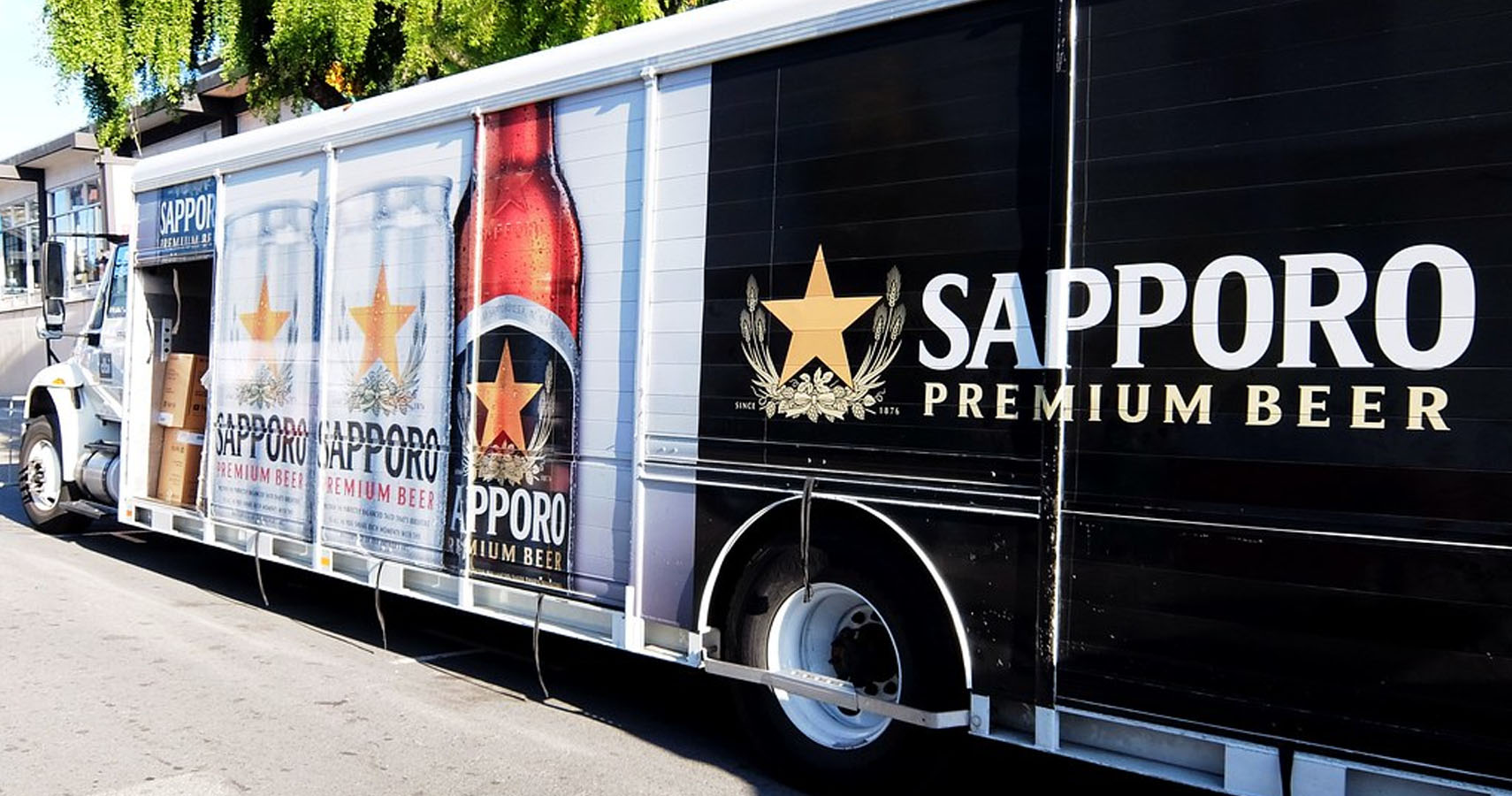 Sapporo Breweries has implemented many initiatives to reduce its carbon footprint and promote green living. To start, they've installed high-efficiency air compressing units to reduce electricity use, and have updated their cooling systems to suppress fluorocarbon and protect the ozone layer (Sapporo).
To reduce emissions, Sapporo has partnered with Kirin Brewery Co., Ltd. and ASAHI BREWERIES to share transportation vehicles to reduce the number of trucks used for transportation (Sapporo). On top of that, Sapporo has created a system that combines light and heavy loads (Sapporo).
Responsible Drinking
Sapporo Breweries has implemented many campaigns to encourage responsible drinking. As part of the "Brewers Association of Japan", Sapporo helped create a pamphlet along with other breweries to educate drinkers of the effects of irresponsible drinking (Sapporo). They've also created pamphlets and online resources intended for younger audiences, which uses science to show the effects of "negative drinking habits" (Sapporo).
On top of all of that, Sapporo hosts events at college and university campuses with the intention of educating students about healthy consumption of alcohol. These events also teach students how to consume alcohol in social settings (Sapporo).
Knowledge Check
References
Alcohol-related issues: Contributing to Creative, Enriching and Rewarding Lifestyles Through Alcoholic Beverages, Food, and Soft drinks. (n.d.). Retrieved November 19, 2019, from https://www.sapporoholdings.jp/en/csr/quality/drinking/.
Baker, J. (2019, August 6). Craft Beer's Mid-year Report Card is Out. Retrieved November 20, 2019, from https://www.craftbeer.com/editors-picks/growth-continues-according-to-2019-mid-year-craft-brewing-report-card.
Brewers Association Of Japan(n.d.). History of the Japanese Beer Industry|Brewery Convention of Japan. Retrieved November 8, 2019, from http://www.brewers.or.jp/english/09-history.html.
Daley, J. (2017, September 21). Did Lager Beer Originate In South America? Retrieved from https://www.smithsonianmag.com/smart-news/did-lager-beer-originate-south-america-180964962/.
Dallaire, J. (2018, July 9). Sapporo says 'arigato' to the West. Retrieved November 8, 2019, from http://strategyonline.ca/2018/07/06/sapporo-says-arigato-to-the-west/.
Giammona, C., & Reinicke, C. (2019, March 1). Pour One Out for the Fading American Beer Industry. Retrieved November 20, 2019, from https://www.bloomberg.com/news/features/2019-03-01/are-beer-sales-declining-carbs-push-drinkers-to-wine-tequila.
Get To Know Japan's Oldest Beer Brand. [online] Toast. Available at: https://toastmag.co.nz/beer/get-know-japans-oldest-beer-brand [Accessed 29 Sep. 2019].
History introduction: SAPPORO BREWERIES. (n.d.). Retrieved from https://www.sapporobeer.jp/english/company/history/roots.html.
History: Sapporo Group. (n.d.). Retrieved from https://www.sapporoholdings.jp/en/company/history/.
Metmuseum.org. (2019). Japan, 1800–1900 A.D.. [online] Available at: https://www.metmuseum.org/toah/ht/10/eaj.html [Accessed 29 Sep. 2019].
News Wire, AB InBev Signs a Contract with Sapporo Breweries to Become the Single Distributor Exclusive for Sapporo Premium Beer in Mainland China | Markets Insider. (2018, September 26). Retrieved November 8, 2019, from https://markets.businessinsider.com/news/stocks/ab-inbev-signs-a-contract-with-sapporo-breweries-to-become-the-single-distributor-exclusive-for-sapporo-premium-beer-in-mainland-china-1027564970.
Nippon, Japan's Industrial Revolution. (2019, July 10). Retrieved from https://www.nippon.com/en/japan-topics/b06904/japan's-industrial-revolution.html.
Sapporo Beer Museum: SAPPORO BREWERIES. (n.d.). Retrieved November 20, 2019, from https://www.sapporobeer.jp/english/brewery/s_museum/.
Sapporo Breweries Initiatives: Promoting Environmental Conservation. (n.d.). Retrieved November 20, 2019, from https://www.sapporoholdings.jp/en/csr/earth/carbon/sapporo_beer/.
Sapporo to Launch New Craft Beer Product. (2019, April 8). Retrieved November 20, 2019, from https://www.nippon.com/en/news/yjj2019040801083/sapporo-to-launch-new-craft-beer-product.html.
Sutherland, J., & Du, L. (2017, August 3). Retrieved November 20, 2019, from https://www.bloomberg.com/news/articles/2017-08-03/sapporo-buys-u-s-s-anchor-brewing-to-boost-overseas-growt
Watson, M. (2012, September 30). Retrieved November 8, 2019, from http://www.beerexpert.co.uk/lager.html.
Web.archive.org. (2019). Sapporo acquisition of Sleeman on tap. [online] Available at: https://web.archive.org/web/20081202044759/http://www.cbc.ca/money/story/2006/08/11/sapporo-sleeman.html [Accessed 29 Sep. 2019].
サッポロビール 北海道工場: 工場見学・ミュージアム: サッポロビール. (n.d.). Retrieved April 20, 2019, from https://www.sapporobeer.jp/brewery/hokkaido/.