https://www.guinnesswebstore.com/guinness-glassware/
Introduction
Have you tasted Guinness beer ever? It is one of famous beer in the world for over 250 years. Guinness has distinctive flavor and color because it is dry stout which is descended from the brewery at St. James's Gate in Dublin, Ireland since 1759. Guinness stout is derived from the porter style beer in London: It is dark beer made of brown malt. Guinness Stout is purchased in over 150 countries around the world and 10 million glasses are sold by not only U.K. but also international customers daily around the world. (Our Story,2019) Guinness is one of the famous historical and traditional beer from generation to generation.
Origins
The History of Guinness (The History of Guinness-Guinness Storehouse,2019) said that in 1759 Dublin, Ireland, Arthur Guinness leased unused and abandoned small brewery at the St. James's Gate Brewery. He contracted the brewery for 9000 years at only rent of £ 45  annually.  Despite the tenuous brewery business beginning, Arthur made a successful trade and by 1769 he started to export Guinness beer to England. He tried to make different types of porter beer with dark brown color and creamy aroma. It was successful.
His brewery was passed on to his son, Arthur Guinness II.  Arthur Guinness II maintained and develop the brewing business, so the St. James's Gate Brewery became the largest brewery in Ireland. Furthermore, He exported his beer to all over the U.K. and Lisbon (Portugal), South Carolina (USA), New York (USA), Barbados (Caribbean) and Sierra Leon (Africa) in 1820.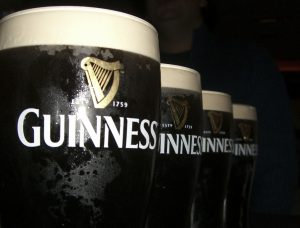 In 1850s, Arthur II's son, Benjamin Lee Guinness, had taken over the business from his father. After 10 years later, He made the first trademark label for Guinness stout that was announced. The main trademark label as harp design and GUINNESS word that is still used in Guinness products. Although Guinness' family were not Irish: they moved to Ireland from England, He created successful brewery, considerable wealth and well social position in Ireland. Thanks to the successful business, he was capable to contribute his effort to the society.
After Benjamin died, the Guinness business move to his son Edward Cecil Guinness. Edward launched incorporation in 1886. His brewery grew and developed, like his father, so he tried to enhance the welfare of the Brewery's workforce.
Guinness' brewery had become an international brand and the largest brewery in the world. In 1901, a laboratory was established
for adjusting science approach in order to improve the brewing art. After Edward died in 1927, and his son, Rupert Guinness, became the new Chairman. A Brewery was built overseas and opened in London since He carried on his business further away.
In 1951, a new company, Guinness Exports Limited, marketed and exported Guinness overseas. Thanks to the bottle packaging, it could be provided well control of the product quality in Guinness. Moreover, Further product developments introduced as the name of Draught Guinness in 1959. In bars and pubs, Guinness was sold under pressure using a mixed gas dispensing system, then it produced a pint with the distinctive creamy top. At that time, a complete overhaul of brewing machinery took place, and new brewing equipment was installed at the Brewery such as the replacement of wooden and iron vessels with aluminum and stainless-steel vessels. It ensured a balanced quality control and a consistency of the beer. Rupert's grandson Benjamin Guinness became s new Chairman after Rupert died. He held his position until 1986 and He was a last chairman of Guinness family brewery business.
Key Milestones
Family leadership and tradition made up a considerable part in growth and evolution Guinness. The Guinness had been invested continuously. It means that founders had tried to put their effort on the factory system and quality maintenance technology. When you buy a Guinness, there is a plastic white ball. It called "Widget" (The History of Guinness,2019). It enhances and helps the beer keep its creamy layer head freshly. The Guinness family did not stop to maintain brewery business for over 200 years. The Guinness founders inherited their tradition from generation to generation. They tried to keep the traditional stout beer in the meantime, they tried to enhance its distinctive flavor. Thanks to the glass bottle and aluminum packaging, it could be exported to other countries with quality consistency. Most people suggested that to taste Guinness' rich creamy top and stout, it should be poured in glass cup.
Ultimately, Guinness Plc merged with Grand Metropolitan Plc in 1997. A new company was called Diageo Plc. The name Diageo means every day because Dia was originated from the Latin word for day and Geo from the Greek word for world.  Nowadays, Guinness is one of the successful worldwide beers with characteristic flavor and color. The Guinness brewery is fully automated and controlled every day.  According to the Guinness Storehouse (Our Story, 2019), The brewery consumes over 100,000 tons of Irish barley per year and continues to be a major contributor to the Irish economy.
Brewing Science and Industrialization
The first impact of brewing science and industrialization is the mass production at factory impacted and made the Guinness beer could be exported around the world. The another one is the refrigerated transportation impacted the beer maintained the same quality and kept the temperature to consume it.
Beer Style
Guinness is porter and stout style beer. When Arthur Guinness move from London to Dublin, he was trying to make different types of porter beers. Guinness stout was derived from porter style beer in London. Porter and Stout beers' Characteristics are as follows; a dark, top-fermented beer with several variations. This deep and dark color comes from the use of roasted barley, an unmalted barley. It gives stout not only the deep color, but also the flavour of  bitter nutty and espresso. The roasted barley also contributes a drying sensation. The suggested serving temperature should be 10°C and recommended method should be poured into chilled glass.
The WI and WWII Era
When the WWI occurred, Guinness suffered from lack of employees. It lost 20% of employees and 50% of profit as well. Nevertheless, its situation suffered, Guinness promised the employees' positions who went to the war. Moreover, they paid 50% salary for the workers when they served at the army.  During that time, British parliament established the regulation and raised taxes for the beer.  In 1920, Guinness lost U.S. market due to the National Prohibition Act the Volstead Act.  During WWII, Guinness beer provided to solders which was relax and encouragement for them. Meanwhile, the brewery was destroyed by Germany's attack.  Wars impacted lack of resources such as ingredients, transportations, and employees.  They couldn't export Guinness to overseas market, so its profit dropped and suffered from crisis or famine in wartime.
https://www.littlemuseum.ie/events/guinness-and-the-war-1914-18
Consolidation and Globalization
In 1986, Guinness PLC acquired the Distillers Company.
As Distillers was valued higher than Guinness PLC, the Guinness family shareholding in the merged company went below 10 %. Therefore, no member of the family sits on the board today.
In 1997, the Guinness PLC merged with Grand Metropolitan. Then it formed to Diageo PLC. Even though it was not taken over thoroughly, the Guinness family still possesses 51% of the brewery.
In 2005, the Guinness brewery was closed in Park Royal, London. All production of Guinness beer sold in the UK and Ireland was from St. James's Gate Brewery Dublin now.
Marketing and Branding
https://www.businessinsider.com/an-evolution-of-guinness-advertising-2012-3#1999-surfer-became-one-of-the-most-memorable-commercials-of-the-year-18
Guinness has been one of the popular beer brands in the world. This beer has Irish origin and achieved a characteristic status in the global beer industry.  The company has targeted beer drinkers of every age-group as its potential customer. Guinness has a distinctive taste of burnt flavour that is derived from roasting barley and its colour. It has evolved and maintained its own recipe for over 250 years. For the beer market is competitive, Guinness has adopted in flexible range of the price policy. It has a historical advertisement and campaign. One of its advertisements titled Surfer was ranked as the best commercial in television for the year 1999 in the U.K. After then Guinness advertisements have been shown on television, radio, posters, billboards and newspapers. Also, the company has invested to visual advertisement continuously.
Modern Era
Obviously, Young generation lead the beer market trends. They are looking for more different flavour than traditional and less alcohol content. Hobbs, T. (2017) told that Guinness is targeting younger people and female in order to be ageless iconic beer brand in the world.  When we think of Guinness, it was targeted middle-aged worker or man who was enjoying at taverns or pubs typically.  However, Beer trends has been changed to more genderless and ageless. Guinness appeals to drinkers of all ages through the impactful approaching advertisement. Social media leads to the trends in the industry, since lot of people are influenced by the social media and searching for items through it. So, Guinness advertising is targeting the younger people and positioning gender equality in order to attract the more drinkers.
Besides, consumers are looking for differentiated beers from existing ones. This is the reason why the craft beer market has been increased gradually. Guinness has invested and experimented its beers for 250 years. According to Rotunno. T (2016), Its innovation and experimentation ,that has been a part of the company's nature, under an initiative named the Brewers Project, that is aim to breathe new life into the historic brand at a time when more beer consumers are repeatedly looking for the next new thing. As implementing the project, the company is searching for its archives to find inspiration from historical recipes while looking to tap into current trends. For instance, Guinness Blonde American Lager was an effort to tap into the dominant macro-beer style in the U.S., with the twist of using Guinness yeast in the lager. The another is that the Guinness Nitro IPA was a combination of the company's pioneering nitrogen roots paired with the current dominant style in the craft beer part, the India pale ale. While Guinness made the nitrogen-infused stout, nitro beers are a trend in the craft field now. And, the plastic ball, Widget, is containing nitrogen to enhance its creamy and rich texture.
(Guinness,2019)
Contemporary Guinness Draught and Extra Stout are weaker than they were in 19th century. The alcohol content of Guinness has been changed lower due to the trends of the North American market. The market trends have changed to less alcohol content from high alcohol content, while its dark ruby color is still distinctive color. Ultimately, Guinness beer products have evolved constantly, for its authenticity and distinction still attract to the beer drinkers for long.
References
Archive Fact Sheet :The History of Guinness. (2019, September 23). Retrieved from The History of Guinness – Guinness Storehouse: https://www.guinness-storehouse.com/content/pdf/archive-factsheets/general-history/company-history.pdf
Beresford, J. (2019). Dream Job Alert: Get Paid To Drink Pints Of Guinness In Cosy Dublin Pubs This Winter. The Irish Post. Retrieved from https://www.irishpost.com/news/dream-job-alert-get-paid-drink-pints-guinness-cosy-dublin-pubs-winter-171644
DIAGEO. (2016, May 18). Behind the Gates of the Guinness Brewery.
Our Story. (2019, September 20). Retrieved from Guinness: https://www.guinness.com/en-ca/our-story/
The History of Guinness Stout. (2019, September 21). Retrieved from Irish Indeed: https://www.irishindeed.com/history-of-guinness-stout/
https://www.businessinsider.com/an-evolution-of-guinness-advertising-2012-3#1999-surfer-became-one-of-the-most-memorable-commercials-of-the-year-18
https://www.littlemuseum.ie/events/guinness-and-the-war-1914-18
https://www.campaignlive.co.uk/article/seven-classic-guinness-ads-across-decades/1444979
https://www.guinnesswebstore.com/guinness-glassware/
Guinness. (2019, 11 24). Retrieved from https://youtu.be/_v9YcPK3QXo
Hobbs, T. (2017, 3 16). Guinness on how it is creating an 'ageless' brand. Retrieved from Marketingweek: https://www.marketingweek.com/guinness-ageless-brand/
Rotunno, T. (2016, 3 17). BEER,WINE, & SPIRIT. Retrieved from CNBC: https://www.cnbc.com/2016/03/17/guinness-reboots-its-iconic-brand.html