Samuel Adams and the Boston Brewing Company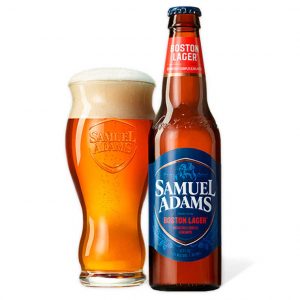 Introduction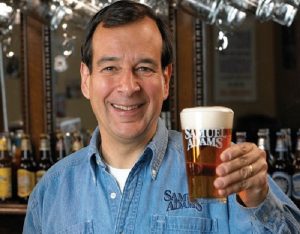 Jim Koch the founder of the Boston Brewing Company and the Samuel Adams Boston Lager comes from a long line of American brewers. Samuel Adams Boston lager is made from the same recipe that his grandfather used to make the Louis Kock Lager back in 1860 in Missouri. (Koch, 2016) Bringing about a craft beer revolution making beer for beer lovers. (Boston Beer Company) The Boston Lager was first released in a dozen bars and restaurants on Patriots Day in 1985. (Klein, 2021) Samuel Adams Boston Lager is a Vienna style lager, Amber in colour and tastes sharp as well as sweet with roasted malts the aroma has hints of caramel and floral hops. (Unfiltered Media Group, 2021) Jim Koch and Samuel Adams became the face of craft beer in America, leading the way for the Craft beer wave that would continue to this day. (Acitelli, 2014) The Boston Beer company also brews beer and makes drinks under the company names Angel City Brewery, Coney Island Brewery, Dogfish Head Miami, Truly Hard Seltzer, Twisted Tea and Angry Orchard hard cider. (Boston Beer Company, n.d.)
Origins
Why is it called Samuel Adams? The beer is named after revolutionary Samuel Adams, the founder of the Son's of Liberty. A Boston historical figure who fought for independence from Britain. Adams also was the son of a maltster, inheriting a Malt house that sold malt to breweries in Boston. (Klein, 2021) Just as Samuel Adams was a revolutionary so too was Jim Koch the founder of the Boston Beer Company. Instead of independence from Britain Koch sought independence from the major beer labels of the 1980s. The big breweries took up half to 85% of the beer drinking market, making clear tasteless lagers. (Acitelli, 2014) The new technology used in large scale breweries, introductions of large interstate highways, cheap aluminum cans and T.V. Commercials made it impossible for new entrants to compete with these major companies such as Anheuser-Busch (Budweiser). (Acitelli, 2014) Koch however made a lager that could appeal to many people but used quality ingredients, had more flavour and was always served fresh. (Boston Beer Company) Using his knowledge from Harvard Business School and his brewing heritage was able to make a craft beer that appealed to the average American, as most crafts beers at the time were Ales that were hazy and often had a sort of sediment that fell to the bottom of the glass. (Acitelli, 2014) By naming it Samuel Adams it was familiar to Americans and gave it a aura of authenticity. (Acitelli, 2014) Although Samuel Adams only represents 1% of the beer market in the United States today, it has won multiple awards and has rustled the feathers of large import beers such as Beck and Heineken. (Kosh, 2016)
Influences
Craft beer started in the 1960s, home brewing became popular in the 1970s but craft beer was still such a small amount of the beer consumed in the United States by 1984 when the Boston Beer Company was established. (CraftBeer.com, 2020) In 1982 was the first The Great American Beer Festival where many craft breweries showcased their beers, most popular craft breweries at the time were on the west coast of the United States. (CraftBeer.com, 2020) Drinking beer and alcohol was at a high in the late 70s and 80s at 2.75 gallon of alcohol per person which is more than double the amount after the end of prohibition in 1934. (Stobbe, 2020) Which may be because people had forgotten the negative affects of alcohol that led to prohibition in their parents era. (Stobbe, 2020) Binge drinking was also popular in TV and movies like Animal House and Revenge of the Nerds. Making beer on a large scale was easier than ever because of new brewing technology, equipment, and the increase in interstate highways. (Acitelli, 2014) The conditions were perfect for a small brewer to grow his business and take advantage of the demand for good beer at close to major company prices.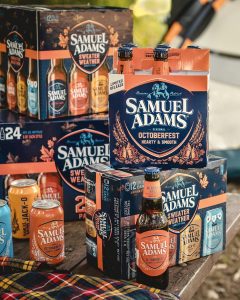 Milestones
1976 – Samuel Adams forms the Sons of Liberty to fight the Stamp Act imposed by the British Empire. Encourages people to buy American made alcohol and goods.(Klein, 2021)
1860 – Jim Kosh's great grandfather creates the "best beer" recipe and calls it the Louis Kosh Lager.(Koch, 2016)
1984 – Jim Kosh starts the Boston Beer company with Rhonda Kallman.(Acitelli, 2014)
1985 – Samuel Adams Boston Lager launches in restaurants in Boston. (Klein, 2021)
1988 – consumer readable freshness dates on bottles so that beer is drank when it is fresh. (Boston Beer Company)
1995 – The Boston Beer Company., Inc. Goes public selling shares on the New York Stock exchange. (Boston Beer Company, n.d.)
Mid 90s – Bosting Beer company buys Hudepohl-Schoenling Brewery in Cincinnati (the brewery his father worked for in 1940.(Boston Beer Company, n.d.)
2007 – Samuel Adams makes it's patented beer glass for the best drinking experience.(Boston Beer Company)
2008 – Boston Beer Company buys a historic brewery in the Lehigh Valley of Pennsylvania.(Boston Beer Company, n.d.)
2008 – Jim Koch starts the "Brewing the American Dream" foundation to help food and drink entrepreneurs. (Samuel Adams, n.d.)
2011 – Samuel Adams creates A&S Brewing an incubator for craft beer innovation. (Boston Beer Company, n.d.)
2013 – Samuel Adams available in specially designed can that better aerates the beer while drinking than a traditional aluminum can. (Boston Beer Company)
Beer Style
The Beer Advocate classifies Samuel Adams Boston Lager as a Vienna Lager (The Beer Advocate). While the Boston Beer Company's Boston Lager was first brewed in 1984, Vienna Lager dates back to the 1840s. Despite its categorization as a Vienna Lager, local ingredients make for a local taste, distinguishing it from the traditional Vienna Lager out of Austria, but much of what we know about Vienna Lager can be applied to the Samuel Adams Boston Lager.
According to the Oxford Companion to Beer, Vienna Lager was first brought to market in Austria in 1841 (Dornsbusch). Anton Dreher owned the Schewechat Brewery in Vienna, and the similarities between Vienna Lager and Märzen are because Dreher was friends with Bavarian brewer Gabriel Sedlmayr (Dornsbusch). Both breweries still exist today. Today, the reddish Vienna Lager is not as popular as the Märzen.
According to the Oxford Companion to Beer, both the Märzen and the Vienna Lager use malt that, instead of being kilned in direct heat, is kilned over hot air. This is why both are a lighter colour, and not the dark brown of the direct-fired malt (Dornsbusch). Anton Dreher, who first brewed the Vienna Lager, picked up this technique up from the way they were kilning their malt for some ales in Britain (Dornsbusch). Horst Dornsbusch says, "some beer historians accuse the two friends of outright industrial espionage" (Dornsbusch). They adapted the British method of making ale into the way that they were making lager (Dornsbusch).
Vienna lager is a reddish colour. It is a little less strong than the Märzen (6 ABV) at 5 ABV. The Vienna Lager has a medium body and malty notes. (Craft Beer).
Jim Koch explains how the Boston Lager is made.
Brewing Science and Industrialization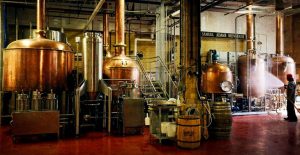 Clearly, the Vienna Lager benefits from new beer techniques made available during the Industrial Revolution. There is the new indirect-firing technique, which allowed the lager to be the lighter colour (Dornsbusch), but the lager also benefits from other advances that made lagers more accessible.
First the fact that the Vienna lager was brewed in the larger Schewechat Brewery speaks to the impact industrialization has on this beer. As the brewing of beer came to be linked to profits, it became linked to wealthy industrialists and larger brewing operations (O'Brien, 2006, p. 95).
Also, the improvement of refrigeration and refrigerated cars on trains allowed for the further development of lagers, as well as the proliferation of lagers in the United States, which will lay the ground work for the future popularity of the Samuel Adams beer (American Heroes Channel, 2015).
Jim Koch speaks also about Samuel Adams as an answer to the industrial revolutions impact on beer (Brand Made TV, 2015). While the Boston Lager does benefit from many of the advancements of the industrial revolution, the use of his grandfather's recipe is also meant to be a throwback, to where beer is being made in smaller batches for more immediate consumption, contrary to what happened in much of the twentieth century.
Despite this, The Boston Brewing Company does still get its hops from Bavaria, as it argues that the hops there is of the best quality (Brand Made TV). This would not be possible without the advances in transportation made during the Industrial Revolution.
WWI and WWII Era's Impact
According to the video from Brew: The Museum of Beer about the effects of WWII on American beer, the beers that were the favourites of the soldiers in WWII continued to be America's favourites for fifty years. This included beer that was particularly packaged to be consumed at home (Brew, 2019).
This is significant for the history of Samuel Adams brewing company, who were at the forefront of the craft brewing movement of the 1980s, which envisioned a return of the pub/bar as a central gathering place for the community in direct response to consumption trends of the previous fifty years (Brew).
Another reason why this lager was not brewed in the US sooner could be because it is a Vienna lager, and during WWI and WWII anti-alcohol sentiments were quickly tied to anti-German sentiments; the largest breweries in the country were run by German immigrants, so that anti-alcohol groups could use the Germanness of beer to their advantage (Phillips, 2014).
That this is labeled a Boston lager, and not necessarily a Vienna lager, can, in part, be traced back to the American branding of beer that was part of WWII: "gone were the days when one might have held a pint in a beerhall and reminisced about the old country. Beer was now an American drink. The advertising didn't hold back" (Brew, 2019). Samuel Adams is distinctly American in its branding and its marketing, referring back to the American origins of the recipe and branding this as a Boston Lager. See below the American branding in the Samuel Adams advertisement from the beer store.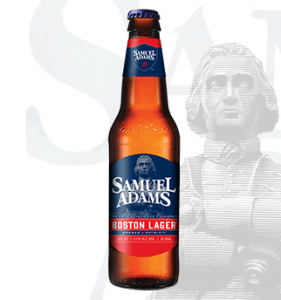 Consolidation/Marketing and Branding
According to the Mad Fermentationist (2019), the Boston Brewing Company is a little bit unique when we consider the period of post-war consolidation. Instead of being acquired by one of the Big Five brewing conglomerates (ABInBev, Millers Coors, Heineken, Carlsburg Group and Diageo), the Boston Brewing Company remained independent (Desjardins, 2016; Mad Fermentationist, 2019).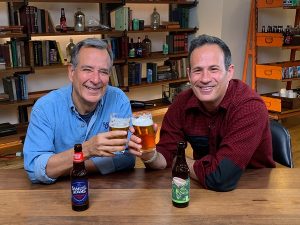 In 2011, Jim Kock met with long time friend and fellow brewer Alan Newman, and they formed the Alchemy and Science Brewing Collaborative, which would look for gaps in the craft brewing market, and acquire some craft breweries (Ramsay, 2011). They acquired Coney Island and Angel City craft breweries, and developed Traveler and Concrete Beach (Infante, 2015). Traveler has since gone under (Mad Fermentationist, 2019). In 2019, they acquired the Dogfish Head Brewing Company (El-Bawab, 2019). Dogfish Brewery also includes the Havana Lager from Concrete Beach Brewery since Concrete Beach was closed in 2020 (Chan, 2020).
The move to open Alchemy and Science was considered somewhat shady by several journalists because, as a founder of the craft brewing industry, "the craft industry's biggest players [was] quietly pulling a move that's straight out of the playbook of big boys like Anheuser-Busch/InBev and MillerCoors" (Infante, 2015). So, they are "gobbling up" new talent as a start-up incubator (Infante, 2015). The consolidation of craft breweries reminds us of the macro breweries moves during the 20th century. The Boston Beer Company were founders of the craft beer movement, but as they have grown, for a while the definition of craft had to change to keep up with them, rather than move the Boston Beer Company out of that category (Infante, 2015). Dave Infante (2015), thinks that this move could be a huge indicator of things to come in the craft brewing industry.
This has big implications for the marketing and branding of Sam Adams. Sam Adams starts off in the 1980s as a local, craft, premium beer. In many ways, this is still the demographic it targets, but it may be outgrowing this classification. To be a craft brewer, you have to produce 6 million barrels of beer or less, large companies that aren't craft brewers have to have a 25% or less stake in the business, and it must have an Alcohol and Tobacco Tax and Trade Bureau licence and make some beer (Duprey, 2021). In 2011, they had changed the rules from it being 2 million barrels or less to 6 million barrels or less so that the group could keep the name, and in 2018, they changed the rules from saying the brewery had to brew mostly beer to it had to brew some (Duprey, 2021). All of these things were to keep the Boston Brewing Company under the definition (Duprey, 2021). And as the company makes less beer, it may still end up fitting, but Rich Duprey (2021) believes this is becoming less and less important.
The beer is less marketed as a craft, local beer, not even necessarily showing up in craft beer taphouses in the city of Boston, than it was, but it is hard to shake its marketing roots. As opposed to a Macro-brewery that is making its way into craft beer and marketing to millennials, it is a craft beer, that is looking more and more like a macro, as it has evolved over the last 30+ years. The beer will always be associated with Americana, and will hold a place in the history of brewing movements in the United States.
Modern Era
The Boston Brewing Company keeps on top of trends as it tries to stay relevant to the market, and because it walks that line between craft brewer and macro-brewery. It has links on its website to the Beer Institute's Advertising and Marketing Code, as it tries to brand itself a responsible Brewer (Corporate Responsibility). In addition, it details its efforts to be sustainable. They mention that they regularly train their employees in sustainable brewing, and they recycle and reuse many of their materials (Corporate Responsibility). In New York and Massachusetts, they collect, clean and refill their glass bottles. They also recycle their brewing by-product as animal feed or soil fertilizers. They also are invested in CO2 recovery systems so they can reuse it for carbonation and other brewery related processes. There are green teams at all their breweries, they have a no idling rule for all their transportation, and have looked at weight efficiencies on their trucks, as well as the use of rail transportation for shipments (Corporate Responsibility).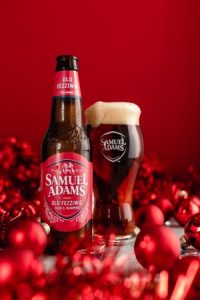 Samuel Adams brewing company invests in many alternative beers and drinks, depending on the market. At the moment, they have a Holiday White Ale, and a Holiday Hoppiness Reunion IPA. The Winter Lager and the Old Fezziwig seem to be returning favourites (Samuel Adams). They recently reported losses because they had invested too much into the Truly Hard Seltzer, anticipating more growth in the Hard Seltzer market than there turned out to be (Stankiewicz, 2021).
As a craft brewery, beer tourism has long been a part of Samuel Adams. As Covid restrictions lift, tours are back on the menu; you may visit them at 30 Germania St., Boston, Massachusetts. They are still observing the mask mandate, but tours are available with a reservation between 2-8 on Monday to Friday, 12-8 on Saturday, and 11-6 on Sundays (Boston Brewery).
References
American Heroes Channel. (2015, Mar 4). Getting Cold Beer to the Masses Drives Sweeping Innovation, https://www.youtube.com/watch?v=MJSKdUzVV5Y&t=66s
Acitelli, T. (2014). Audacity of Hops : The History of America's Craft Beer Revolution. Chicago: Chicago Review Press.
Boston Brewery. (n.d.). Samuel Adams. https://samadamsbostonbrewery.com/
Boston Beer Company. (n.d.). About Us. Retrieved October 3, 2021, from Boston Beer Company: http://www.bostonbeer.com/about-us
Brew: The Museum of Beer. (2019, February 3). WW2 Beer Final, https://www.youtube.com/watch?v=-
h3EDnspynQ&t=343s
Chan, Tristan. (2020, August 27). Boston Beer Subsidiary Concrete Beach Transitions to Dogfish Head Miami. PorchDrinking. https://www.porchdrinking.com/articles/2020/08/27/boston-beer-subsidiary-concrete-beach-transitions-to-dogfish-head-miami/
Corporate Responsibility. (n.d.). Boston Beer Co. http://www.bostonbeer.com/our-company/corporate-responsibility
CraftBeer.com. (2020). Beer History . Retrieved from Craft Beer: https://www.craftbeer.com/beer/beer-history
Craft Beer. (n..d) Vienna-Style Lager. Craft Beer, https://www.craftbeer.com/styles/vienna-style-
lager
Desjardins, J. (2016, August 4). These 5 Big Companies Control the World's Beer. Visual Capitalist.  https://www.visualcapitalist.com/5-big-companies-control-worlds-beer/
Dornsbusch, H. (n.d.) The Oxford Companion to Beer definition of Vienna Lager. Beer and
Brewing, https://beerandbrewing.com/dictionary/XxnNomotRl/
Duprey, R. (2021, January 5). Is Boston Beer Still a Craft Brewer? Does it Even Matter? The Motley Fool. https://www.fool.com/investing/2021/01/15/boston-beer-is-no-longer-a-craft-brewer-does-it-ev/
El-Bawab, Nadine. (2019, May 9). Boston Beer to acquire Dogfish Head Brewery in a $300 million deal. CNBC. https://www.cnbc.com/2019/05/09/boston-beer-company-to-buy-dogfish-head-brewery-in-a-300m-deal.html
Infante, D. (2015, June 4). 4 Reasons Sam Adams' Secret Start-Up Is a Big Deal for Craft Beer. Thrillist. https://www.thrillist.com/drink/nation/alchemy-science-and-sam-adams-boston-beer-company-s-new-start-up-beer-venture
Klein, C. (2021, September 28). How Samuel Adams Became Linked to Beer. Retrieved from History: https://www.history.com/news/the-sudsy-history-of-samuel-adams
Koch, J. (2016). Quench your own thirst: Business lessons learned over a beer or two (First ed.). New York: Flatiron Books.
Mad Fermentationist. (2019, May 5). Who Owns Your Favorite Brewery. YouTube. https://www.youtube.com/watch?v=iuRveLsoGLQ&t=1051s
O'Brien, C. (2006) Fermenting Revolution : How to Drink Beer and Save the World, New Society
Publishers.
Phillips, R. (2014). Alcohol: A history. Chapel Hill: University of North Carolina Press.
Ramsay, R. (2011, November 2). Alchemy & Science. Beer Street Journal.  https://beerstreetjournal.com/alchemy-science/
Samuel Adams (n.d.). https://www.samueladams.com/
Samuel Adams. (n.d.). Brewing the American Dream. Retrieved October 3, 2021, from Samuel Adams: https://www.brewingtheamericandream.com/
Stankiwicz, K. (2021, October 22). Boston Beer tossed 'millions of cases' of Truly hard seltzer instead of discounting it, chairman says. CNBC. https://www.cnbc.com/2021/10/22/boston-beer-tossed-millions-of-cases-of-excess-truly-hard-seltzer-chairman-says.html
Stobbe, M. (2020, January 14). US drinking more now than just before Prohibition. Retrieved from AP News : https://apnews.com/article/public-health-health-statistics-health-us-news-ap-top-news-f1f81ade0748410aaeb6eeab7a772bf7
Unfiltered Media Group. (2021). Samuel Adams / Boston Beer Company Samuel Adams Boston Lager. Retrieved from Craft Beer and Brewing: https://beerandbrewing.com/review/samuel-adams-boston-lager/
Media
FIGURE 1: Bien Manger.(n.d.). Samuel Adams Beer – Boston Lager – 4.8%. Retrieved from https://www.bienmanger.com/2F8813_Samuel_Adams_Boston_Lager.html
FIGURE 2: Haute Cuisine. (2018, April 4). Jim Kock on Starting the Craft Beer Revolution and Sam Adams' Partnership with the Boston Red Sox. Retrieved from https://hauteliving.com/2018/04/jim-koch-craft-beer-revolution-sam-adams-partnership-boston-red-sox/654169/
VIDEO: Business Insider. (2017, August 24). Inside the Sam Adams Brewery with Founder Jim Koch. Retrieved from https://hauteliving.com/2018/04/jim-koch-craft-beer-revolution-sam-adams-partnership-boston-red-sox/654169/
FIGURE 3: Samuel Adams Beer. (2021, September 24). Gonna act #fall AF this weekend. [Tweet]. Retrieved from https://twitter.com/SamuelAdamsBeer/status/1441532897643483138/photo/2
VIDEO 2: Brand Made TV. (2015, December 22). How Samuel Adams Beer is Made,https://www.youtube.com/watch?v=ukAUKTPJvsE&t=36s
FIGURE 4: Samuel Adams. (2013, August 2). Have you seen the new additions to our brewhouse. [image attached] [status update]. Samuel Adams. Facebook. https://www.facebook.com/photo.php?fbid=10151536735851611&set=pb.117341921610.-2207520000.1382710587.&type=3&theater
FIGURE 5: Samuel Adams Boston Lager. (n.d.) The Beer Store, https://www.thebeerstore.ca/beers/samuel-adams-boston-lager
FIGURE 6: Boston.com. (2019, June 1). Jim Koch of Boston Beer Co. (left) with Sam Calagione of Dogfish Head.Retrieved from https://www.boston.com/culture/beer/2019/06/01/samuel-adams-dogfish-head-merger-jim-koch/
Figure 7: Telegram & Gazette. ( 2021, November 23). Old Fezziwig Ale. Retrieved from https://www.telegram.com/story/lifestyle/2021/11/23/next-draft-love-fezziwig-sam-adams-brings-back-classic-winter-ale/8721437002/
Video 3: Samuel Adams. ( 2012, November 28). Winter Lager, https://www.youtube.com/watch?v=HTqhYri4Xdk