Introduction
Fuller's Brewery is an England beer, and it was also a family-run business from its foundation in 1845 until 2019. John Fuller's Griffin Brewery dates from 1816. In 1845, his son, John Bird Fuller, was joined by Henry Smith and John Turner. Fuller, Smith & Turner owns and operates more than 380 pubs, inns, and hotels across the south of England. In the year 2019, the brewing division of Fuller, Smith & Turner PLC was sold to the Japanese international beverage giant Asahi (Wikipedia, 2022).
Origins
Since the 17th century, Fuller's historic Griffin Brewery site in Old Chiswick has been brewing beer. From the original brewery in on Chiswick Mall, the business has expanded and thrived until the early part of the 19th century. Money difficulties forced the owners, Douglas and Henry Thompson and Philip Wood, to seek a partner. John Fuller was approached to see if he would inject the required amount of money. In 1829 he joined the enterprise, but the partnership proved a difficult one as in 1841 Douglas Thompson fled to France, and the partnership was dissolved. It was apparent that it was difficult for one man with no brewing experience to run a brewery of that size single handedly. In 1845 John Fuller's son, John Bird Fuller, was joined by Henry Smith from the Romford Brewery of Ind & Smith and his brother-in-law, head brewer John Turner, thereby forming Fuller, Smith & Turner (Wikipedia, 2022). It was then that the partnership papers between the three families were officially signed, marking the start of something significant for London's pub and beer scene (Fuller's 2019).
Milestone
The Beehive Brewery in Brentford was acquired, along with its 34 pubs in 1909.
Three of Fuller's beers – London Pride, ESB and Chiswick Bitter – have been named Champion Beer of Britain, a feat unmatched by any other brewery (Evening Standard, 2014).
In November 2005, Fuller's announced the largest deal in the history of the company acquiring George Gale & Co. ltd, of Horndean, Hampshire.
In the year 2019, the Fuller's Brewery was sold to Asahi, a Japanese international beverage giant.
Brewing Science and Industrialization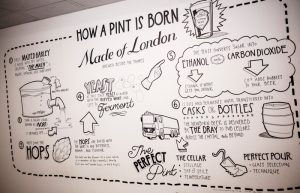 Beer is comprised of 4 key ingredients, they are Malted barley, Water, Hops, and Yeast. Although beer is made up of these 4 ingredients, however beer variety and flavor are affected by manipulating different variables and steps throughout the brewing process. Brewing consists of a lot of science i.e., biology, chemistry, physics, and mechanics; for example- different hops are used for different bitterness and aroma, different malts, types of water, the temperature that one can brew at, and botanicals or flavoring too. All this is considered brewing science and Fuller's has incorporated it in their brewing process (Fuller's 2019 Feb 26).
Industrialization brought a lot of pros and cons to the brewery. In the current year pros out weight the cons, however, during the industrialization era, the cons were significant. A most apparent issue was that the rapid development of machinery brought a lot of pollution to the rivers and water source that was used to make beer. Due to Fuller's brewery being close to the river Thames, that was its primary source of water used to make beer. And there were a lot of problems regarding the usefulness of the river Thames. However, though there was the problem regarding the acquisition of water, malts, and hops, the machines that industrialization introduced was a boon on the production of beer and ale; as the process at which beer was made easy its production rose sharply thus, raking in profit that was a multiple of what was previously made.
Beer Style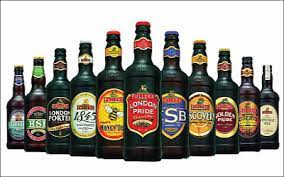 Fuller's brewery mostly consists of ales also known as English Pale Ale. They are mostly consisted of top fermenting yeast also known as ale yeast. This is due the rich history that Fuller's has since the 17th century, it is more towards the classical brew than the modern ones; although they have modified the recipe according to the brewing science, they still lean towards the old brewing recipes thus, having more pale ales than lagers (Asahi, 2022). The first lager beer that Fuller's introduced was the Frontier in 2013 since the short-lived K2 brand in 1980s (Wikipedia, 2022).
The WWI and WWII Era
During the WWI, Fuller, Smith & Turner P.L.C. had acquired a Past Master recipe dur to the outbreak of the War. This created the Past Masters 1914 Strong X beer (Fuller's 2014).
The second World War had a great impact on the beer brewery industry. Due to the need for ration and food for the soldiers, there was a drastic drop in the supply of hops, malt barley, and yeast. This endangered the beer industry that was on a rise before the war. Because, of this, the brewery owners were forced to buy ingredients and a sky-high price and also sell them at an equally high price; the acquisition of raw materials for the beer was thought of as strategic supplies for the war, and thus were bombed by the enemy forces, this happened to the Fuller's when their boat of grain was brought from the river Thames (Good Beer Hunting, 2018). Fullers however did survive the war era with some ups and downs and eventually started to recover from the war.
Consolidation
Post-war, Fuller's has made many acquisitions and mergers. In 1990, Fuller's had bought 44 sites from Ind Coope – the pub division of Allied Breweries. Later in 2005, Fuller acquired a rival family brewery called Gales Brewery in Horndean, Hampshire along with its 111 pubs for 91.8 million pounds. In the year 2018, Fuller's acquired the West Sussex-based Dark Star Brewing for an undisclosed sum. Later that year in May 2018, Fuller's acquired 4 sites from a London-based wine bar operator We Are Bar Group. Fuller's had also acquired Bel & The Dragon in the year 2018 along with 6 sites across Surrey & Berkshire. In the year 2019, January, Fuller's has agreed to sell its brewing business including its flagship London Pride ale to a Japanese beer group called Asahi for a total of 250 million pounds (Morning Advertiser, 2021).
Marketing & Branding
Fuller's Marketing and branding strategies have been revolving around the term 'Pride' since London Pride is the Pride of Fuller's brewery. Fuller's makes an analogy with Lions, as they are as prideful as London Pride. Fuller's also includes its rugby team with 'Pride'. Another connection that Fuller's make is that it connects 'London' with 'Pride' showing that "we, London are proud of 'London pride'".
Fuller's has been using a campaign to promote its product, the campaign's name is Made of London; it aims to bring to life the stories of London and the people who make them proud of the great city, 'London'.  Thus, making 'London Pride' (Fuller's 2014, April 21).
Video Source: https://youtu.be/DCcUvBSuX-E?t=47. Fuller's London Pride – The Official Beer of The British & Irish Lions,
Modern Era
Fuller's had launched a collaboration project called 'Fuller's & Friends' in 2017, in which Fuller's had invited 6 regional breweries to create a uniquely delicious selection of bottled beers. Each team had the freedom to decide on its beer style, flavor, ingredients, name, and design. The 6 beers were packaged together and stocked exclusively by Waitrose (Fuller's 2017, Sep 21).
Fuller's once again launched 'Fuller's & Friends' in 2018 called Fuller's & Friends Collaboration Is Back due to the great success it had back in 2017. But this time they are inventing people not only from the UK, but also abroad; and they once again had Waitrose for the project (Fuller's 2018, Sep 21).
References
Asahi. (2022). Fuller's beers. Retrieved from https://www.fullersbrewery.co.uk/beer/
Evening Standard. (2014, September 09). History of Fuller's Brewery. Retrieved from https://www.standard.co.uk/advertorials/history-of-fuller-s-brewery-9721821.html
Fuller's. (2014, August 11). Fuller's Launches Past Masters 1914 Strong X. Retrieved from https://www.fullers.co.uk/media-and-pr/press-releases/fullers-launches-past-master
Fuller's. (2014, April 21). London Pride Made of London Campaign. Retrieved from https://www.fullers.co.uk/media-and-pr/press-releases/made-of-london-campaign
Fuller's. (2017, September 21). Introducing Fuller's & Friends. Retrieved from https://www.fullers.co.uk/blog/beer-articles/fullers-and-friends
Fuller's. (2018, September 21). Fuller's & Friends Collaboration Is Back. Retrieved from https://www.fullers.co.uk/blog/beer-articles/fullers-and-friends-round-two
Fuller's. (2019, February 26). How To Make Beer, According To A Brewer. Retrieved from https://www.fullers.co.uk/blog/beer-articles/how-to-make-beer
Fuller's. (2019). Fuller's Story. Retrieved from https://web.archive.org/web/20190729122526/https://www.fullers.co.uk/history-and-heritage
Good Beer Hunting. (2018, March 21). Dealing in Lifetimes – Fuller, Smith & Turner in London, England. Retrieved from https://www.goodbeerhunting.com/blog/2018/3/19/dealing-in-lifetimes-fuller-smith-turner-in-london-england
Morning Advertiser. (2021, November 30) A look back at Fuller's mergers and acquisitions. Retrieved from https://www.morningadvertiser.co.uk/Article/2021/11/30/How-many-sites-has-Fuller-s-acquired-in-its-history
Wikipedia. (2022, January 28) Fuller's Brewery. In Wikipedia, The Free Encyclopedia. Retrieved 12:22, February 6, 2022, from https://en.wikipedia.org/wiki/Fuller%27s_Brewery