56

Heineken
Introduction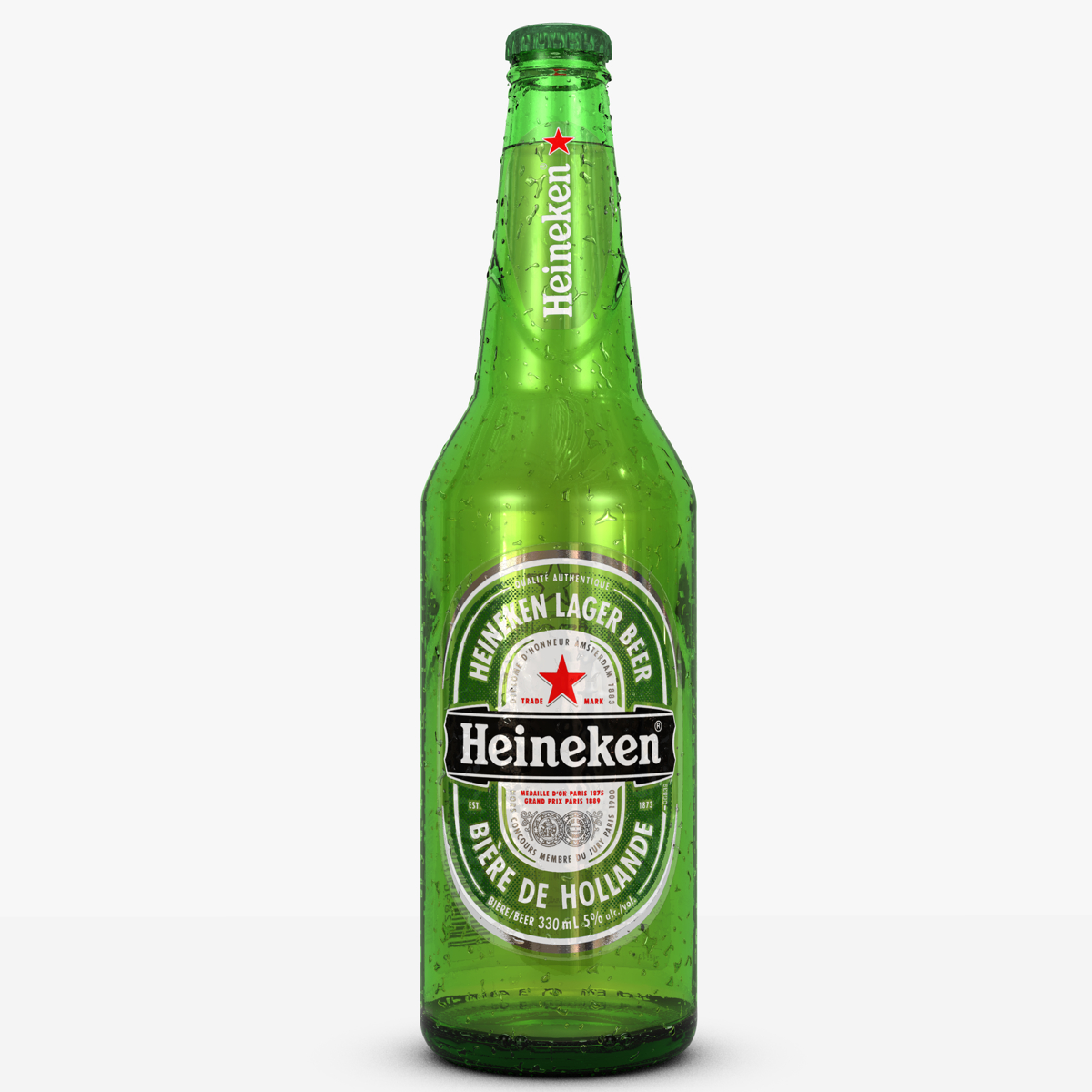 Heineken was founded by Gerard Adriaan Heineken, a 22 year old, in 1864. It was first established in Amsterdam and now they operate 167 different breweries in 70 different countries. Heineken produces over 300 international, local, regional, and specialty beers/ciders. Their motto is "Brewing a better world" which helps them aim to be more sustainable and better for the world. With all of its beers Heineken produces, it makes a total of 188.3 million hectolitres in 2015 along with earning a global revenue of 20 Billion Euros globally (Age-gate, n.d).
Origin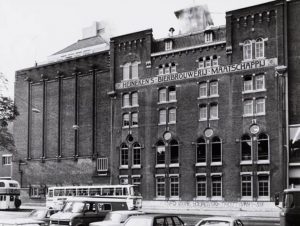 In 1864, the Dutch brewing industry was declining and the brewing businesses were closing down. Gerard Adriaan Heineken saw this and took it as an opportunity to buy the brewery in Amsterdam for a reasonable price to create his own beer. He was only 22 at the time (Age-gate, n.d). He then expanded and bought another brewery in Rotterdam in 1874. In 1886, a Heinken chemist came out with a Heineken A-yeast which is still used as their signiture ingredient in the production of Heinken (Louis Pasteur and the mysterious yeast, n.d). After Gerard Adriaan Heinken, it was later run by his son, Henry Pierre Heinken, which was passed down to his son, Alfred Henry Heinken, which was then passed onto Charlene de Carvalho-Heinken, the current CEO (Blenkinsop, 2014).
Key Milestones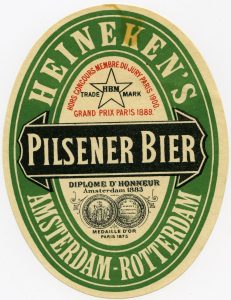 1864 – Gerard Adriaan Heineken bought the Haystack Brewery (Age-gate, n.d).
1889 – Heineken is honoured with the "Diplome de Grand Prix" in Paris (Age-gate, n.d).
1933 – America had finally lifted the ban on alcohol and Heineken quickly raced into the market beating every other alcoholic beverage and dominating the market for alcohol (Age-gate, n.d).
1968 – Heineken purchased Amstel, its leading competitor in the brewing industry (Age-gate, n.d).
2010 – On January 12, Heinken purchased FEMSA, a Mexican brewing company and merged with the company, expanding its berand htroughouht Latin Ameirca (Heineken International: Ownership Structure, n.d.).
2015 – On 10 September, Heineken acquired 50% stake in Lagunitas Brewing Company (Swindell, 2018).
2017 – In February, Heineken bought Brasil Kirin's 12 breweries in Brazil for US$700 million (HEINEKEN statement in response to press speculation on Kirin in Brazil, n.d).
2017 – On May 4, Heinkeken purchased the remaining 50% of Lagunitas, making it the sole owner (Swindell, 2018).
Questions
https://ecampusontario.pressbooks.pub/gned1478/wp-admin/admin-ajax.php?action=h5p_embed&id=335
https://ecampusontario.pressbooks.pub/gned1478/wp-admin/admin-ajax.php?action=h5p_embed&id=336
Brewing Science and Industrialization 
Heineken is proud in the way they produce their beer. They use four simple, natural ingredients. These ingredients are Barley, hops, water, and yeast. They brew in more than 70 countries globally which makes them the most international brewer  with a global range of 300 international, regional, local, and craft beers (The Heineken Company, n.d). They stick by their brewing motto in "brewing a better world" by cutting emissions from their production and also reducing their water use when they can. The 'magic' ingredient in the Heineken is its special A-yeast which is responsible for its fresh pure taste.
Beer Style 
The Heineken beer is a pale lager with 5% alcohol by volume. When Henry became CEO, he focused on how to keep the beer in a constant high quality and worked on preserving the beer. The ingredients and recipe for the Heineken beer has stayed the same since it was first created. The four ingredients include Barley, hops, water, and yeast. Heineken understands that consumer tastes and preferences evolve so they try to stay ahead on trends. They continue to increase their beer styles with what is desired by consumers. Different beer styles such as craft beer, low or no alcohol beer, and many other beer and ciders.
https://ecampusontario.pressbooks.pub/gned1478/wp-admin/admin-ajax.php?action=h5p_embed&id=420
The WI and WWII Era
During the WWI and WWII period beer was impacted drastically around the world. Beer production in Europe dropped by 70% causing all breweries to suffer. Heineken, being located in Europe was one of the beer brands affected by this. With everyone being worried about the war, the governments were able to implement prohibitions towards alcohol and the consumption amount to restrict the drinking of alcohol. Some short term consequences is that production of beer was decreased a lot. Another short term consequence was that the cost of beer had to increase due to the lack of resources and with so many restrictions in place. The long term consequences from WWI and WWII was that because of the lack of so many resources to produce beer, other substitutes had to be found to produce beer which is why they have a lot of different kinds of beer now. The war board made the beer industry official and started charging taxes on beer to help fund the wars.
Consolidation and Globalization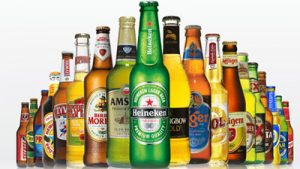 After the war restrictions had been lifted from the US, Heineken was one of the first beers to be exported into the US which helped it dominate the market share as there were not many options at the time. As stated above, Heineken was founded in 1864 by Gerard Adriaan Heineken, and since then the Heineken company has remained within the family. Being passed down to Henry Pierre Heineken and then to Freddy Heineken. With their good marketing, Heineken is looked at as a universal beer. They have made several purchases of other brewing companies which has expanded their large portfolio. Brewing companies such as Amstel, FEMSA, which expanded the companies market to Mexico, and many other brewing companies around the world have been bought over by Heineken.
https://ecampusontario.pressbooks.pub/gned1478/wp-admin/admin-ajax.php?action=h5p_embed&id=406
Marketing and Branding 
Heineken targets a fairly young market ranging from the age of 18 – 30. It positions itself as a 'premium' lager beer and finds a lot of its loyal customers by being a big sponsor of events such as football and formula 1 racing because according to research done by the company, there is an 80% chance that the watchers of these sports drink beer. Sponsoring these popular sports gives Heineken a status of higher quality and that of a noble beer.  It is known around the world for its green bottling with the red start centered on the bottle. The company has a brand promise stating that Heineken is a beer you can trust and get no matter where you go in the world. It is marketed as a universal beer with its logo being "Open your World".  Heineken continues its strong efforts in marketing as it has to compete with the other big brands such as ABinBev, Molson Coors, and SABMiller.
Contemporary Trends
Heineken has been around for over 100 years. It has made it through World wars and great depressions and has still remained as one of the top beer brands. There are many trends which have impacted the brand recently. Trends such as people wanting to drink more responsibly with low to zero alcohol content, carbon emissions, and specialization has impacted the Heineken brand. The decrease in the demand for beer worldwide has also affected Heineken (2020 trends that will influence the beer industry, 2020).
Responsible drinking and those who are trying to cut out alcohol from their diet have found themselves having to drink soft drinks whiles everyone around them are drinking beers and having fun. This trend of looking out for our health has been growing and Heineken decided to tap into this market and create zero alcohol beer beverage for those who still wanted to drink beer but did not want the alcohol content. Heineken launched this beer in June of 2019.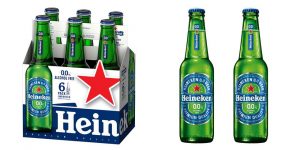 Heineken has been called out recently for taking part in dog fighting from an image that circulated around the internet. This has caused them a lot of backlash and they have recently tried to fix it. They have posted about it and taken investigations into the matter to find out what had really happened. After finding out about what went on, Heineken removed all beers and terminated their relationship with this bar in Mongolia to prove how they were very against the activities that happened.
Regarding carbon emissions and trying to be sustainable in today's world, Heineken has decreased their carbon emissions by 49% in the last 12 years. They continue to try improving their sustainability and have been exceeding their goals. Heineken has also tried reducing the water consumption and have so far managed to reduce it by 33%. For every 3.4 hectolitres of water being used, 1 hectolitre of beer is made. On the same not of sustainability, The company is aiming to be 70% powered by renewable electric and thermal energy (Heineken almost halves carbon emissions since 2008, 2020).
With all the competition in the beer industry now, it has made it difficult to survive in this market. In markets such as Europe beer consumption has dropped by 10% between 2007 – 2014. With the emergence of many other alcoholic beverages, including wines and ciders, beer consumption continues to decrease. The market has also seen an increase in the premium and super premium beers in the market. Unfortunately for Heineken, it falls in the category of premium beers which give the company a lot more competition (A perfect storm brewing in the global beer business, n.d.).
References
Age-gate. (n.d.). Retrieved February 2, 2020, from https://www.theheinekencompany.com/About-Us/Our-History
Blenkinsop, P. (2014, September 15). Four generations on, Heineken family won't loosen grip. Retrieved February 2, 2020, from https://www.reuters.com/article/us-heineken-m-a-family/four-generations-on-heineken-family-wont-loosen-grip-idUSKBN0HA19H20140915
Blenkinsop, P. (2017, January 20). Heineken in talks over Kirin's struggling Brazil business. Retrieved February 2, 2020, from https://www.reuters.com/article/us-kirin-holdings-m-a-heineken-nl-idUSKBN154120
Heineken International: Ownership Structure. (n.d.). Retrieved February 2, 2020, from https://web.archive.org/web/20140415011510/http://www.theheinekencompany.com/investors/governance/ownership-structure—publish-only
HEINEKEN statement in response to press speculation on Kirin in Brazil. (n.d.). Retrieved February 2, 2020, from https://www.theheinekencompany.com/media/media-releases/press-releases/2017/01/2072492
Louis Pasteur and the mysterious yeast. (n.d.). Retrieved February 2, 2020, from https://heinekencollection.com/en/stories/louis-pasteur-and-mysterious-yeast
Swindell, B. (2018, November 29). What's next for Lagunitas after sale? Retrieved February 2, 2020, from https://www.pressdemocrat.com/business/6958589-181/heineken-buys-the-remaining-50
Age Gate – THC. (n.d.). Retrieved March 29, 2020, from https://www.theheinekencompany.com/our-company/what-we-do/beer-and-brewing
Heineken® – USA. (n.d.). Retrieved March 29, 2020, from https://www.heineken.com/beerandtech/about-heineken
History of Heineken International. (n.d.). Retrieved March 29, 2020, from https://mentalitch.com/history-of-heineken-international/
Perch, D. (2020, March 15). Marketing Strategies of Heineken, Corona and Budweiser. Retrieved March 29, 2020, from https://thesocialgrabber.com/marketing-strategies-heineken-corona-budweiser/