Equivalent Payments
This section explores the concept of equivalent payment streams. This involves equating two or more alternative financial streams to ensure that neither party is penalized by any choice. You then apply the concept of present value to loans and loan payments.
The Fundamental Concept of Equivalency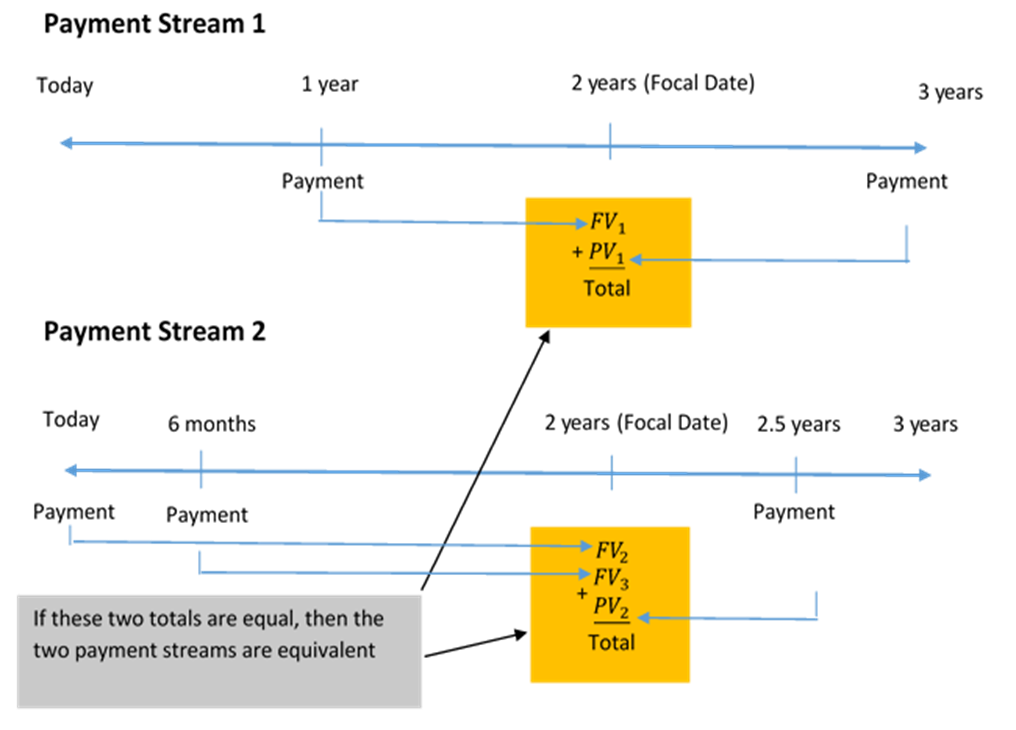 The fundamental concept of equivalency states that two or more payment streams are equal to each other if they have the same economic value on the same focal date. As illustrated in the figure, the two alternative financial streams are equivalent if the total of Payment Stream 1 is equal to the total of Payment Stream 2 on the same focal date. Note that the monies involved in each payment stream can be summed on the focal date because of the fundamental concept of time value of money.
Image Descriptions
Figure 9.4.0: The figure illustrates that two alternative financial streams are equivalent if the total of Payment Stream 1 is equal to the total of Payment Stream 2 on the same focal date. Note that the monies involved in each payment stream can be summed on the focal date because of the fundamental concept of time value of money. [Back to Figure 9.4.0]
Figure 9.4.1:  A timeline showing: $1,000 payment at Today moving forward to 6 months (Focal Date) as FV at 6% semi-annually. $1,000 payment at 1 year moving back to 6 months (Focal Date) as PV at 6% semi-annually. At 6 months (Focal Date), FV = $1,030 and PV = $970.87, and the sum of FV and PV is $2000.87. [Back to Figure 9.4.1]
Figure 9.4.2: Timeline: PV1= $4,500 at Today moving to 9 months as FV1. PV2 = $6,300 at 3 months moving to 9 months as FV2. At 9 months, FV = FV1 + FV2 [Back to Figure 9.4.2]
Figure 9.4.3: Original Payment Stream Timeline: $3000 at Today moving to 2 years (Focal Date) as FV1. $2500 at 2.25 years moving back to 2 years as PV1. $4,250 at 3 yeears, 11 months moving back to 2 years as PV2. At 2 years (Focal Date) FV1 + PV1 + PV2 = Total. 9.84% monthly through out. Proposed Payment Stream Timeline: $3,500 at 9 months moved to 2 years (Focal Date) as FV2. x at 2 years. At 2 years (Focal Date), x + FV2 = Total.  9.84% monthly throughout. [Back to Figure 9.4.3]