12

Staying one step ahead of the competition with Porter's Value Chain Analysis
By: Saji N, Hoffman N, Kaiser F and Abraham N.

---
Strategy is about making choices, trade-offs; it's about deliberately choosing to be different.

"
---
– Michael Porter
About Porter's Value Chain
The concept of the value chain was first presented by Michael Porter in the book 'Competitive advantage: Creating and Sustaining Superior Performance' published in 1985 (Kumar & Rajeev, 2016).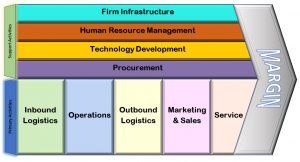 The value chain consists of different stages that are needed to bring a conceptual product from raw materials to end customers (Kumar & Rajeev, 2016).

The value chain model analyses what value can be added to each phase in order to maximize profit
without compromising the quality of
the product and the customer service (Kumar & Rajeev, 2016). This can either be by decreasing the manufacturing cost or by increasing the price of the product or service when they are of high-value (Free-management-ebooks, n.d).
The model consists of nine activities which are divided into two categories: Primary activities and Support activities. (Kumar & Rajeev, 2016)
Primary Activities
Primary activities include inbound logistics, operations, outbound logistics, marketing & sales, and service (Kumar & Rajeev, 2016).
The primary activities are directly involved in the production and distribution of products and service. The support activities are indirectly involved across the primary activities to synchronize all the primary activities (Kumar & Rajeev, 2016).
Inbound Logistics: include transport, receiving, storage, redistribution of goods coming into the business like raw materials (Harrison, 2018).
Operations: involves processes that turn the raw materials into finished products (Harrison, 2018).
Outbound Logistics: include packing, shipping, transporting, and delivering the final product to customers (Harrison, 2018).
Marketing & Sales: activities involved in the promoting and selling of products to customers like distribution channels, advertisements, and competitive pricing (Harrison, 2018).
Service: comprise activities that ensure that the end product meets the expectations of the customers like product installation, warranty, repairing, customer training, or replacement of product when necessary (Harrison, 2018).
Support Activities
These activities are not directly involved with product manufacturing but support the primary activities. Without support activities, the primary activities are not able to create valuable products.
Procurement: activities involved with purchasing all the resources to operate and create products. It is directly linked to all primary activities. Bargaining power, or getting the best possible prices from vendors is what affects the total cost of the product later on.
Human resource management: is one of the most important parts to run a company successfully. To recruit and hire promising personal and train and motivate them can be an advantageous part.
Technology Development: is related to the use of modern technology (operation, outbound logistics), the management of gained information (marketing & sales, service) and state of the art procedures in manufacturing. It is very important to maintain the costs within a certain range.
Firm infrastructure: is needed to support and maintain the daily operations of a company. It includes accounting, legal, general management, and the company's infrastructure to run the daily business.
Value Chain Analysis
Michael Porter initially based the concept of the value chain on the manufacturing industry. However, the tool is not just limited to this industry! With a little bit of tweaking, it can be applied to other businesses as we will see in the latter sections.
Understanding the competitive advantage of a company against its competitors is key to measuring the potential value in each activity, involved from accessing raw materials to service delivery (Ensign, 2001). Successful coordination between different sections of the company is "The value chain analysis tool can be used to generate cost advantage and differentiation advantage"important as this is important to improve the company's competitiveness.
Such integration between activities is very important in today's world where raw materials produced from different p arts of the world are shipped to a different country for assembly and then sold in a different market (Ensign, 2001). Well-coordinated companies can rapidly change their working strategies to match changing consumer demands, which makes them successful in their field (Ensign, 2001).
Steps behind value chain analysis
In order to carry out a value chain analysis, it is key to identify activities that provide more value to the company. This analysis is what helps a business weigh its advantages and disadvantages in comparison to a competing business.
There are three main steps to conducting a value chain analysis.
Step 1 – Activity Analysis
This step involves identifying and listing all the client facing and non-client facing activities that add value to the finished product or service. The activities identified can range from supply chain management, production processes, advertisement, customer relation management, recruiting & training of employees, etc. (Value Chain Analysis, n.d.)
Step 2 – Value Analysis
This step determines the level of importance that each activity contributes towards the value, as seen by consumers, of business outputs (Value Chain Analysis, n.d.)
Step 3 – Evaluation and Planning
Following the value analysis, a list of suggestions that can be implemented to improve customer satisfaction is generated. The list is then narrowed down to highlight changes that add value to the customer (Value Chain Analysis, n.d.). Finally, it is important to conduct a cost-gain analysis to decide which changes are worth implementing and prioritize them for sequential implementation. Enacting all changes at once can disrupt the proper working of the company as the people and the infrastructure may not be prepared to absorb the changes (Value Chain Analysis, n.d.).
What does a value chain analysis achieve?
The value chain analysis tool helps companies develop strategies to either generate a cost advantage or a differentiation advantage (Jurevicius, 2013).
Cost Advantage: used by a company whose primary objective is to bring the product to market for a competitive price (Jurevicius, 2013).
Differentiation Advantage: used by company's whose primary objective is delivering

premium products

to the market rather than focus on reducing the price. Here, the development of unique features to differentiate a particular product from a competitors product is key! (Jurevicius, 2013).
Example 1. To buy or not to buy… that is the question!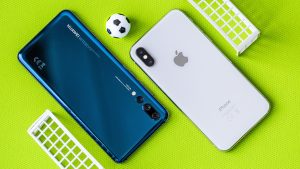 Companies use different strategies to
thrive in competitive landscapes. So, one company may offer the same product, but at a fraction of the cost compared to its rival.
However, other companies may choose instead to create superior products they know customers are willing to pay for.
---
On to the Case Study!
Applying Porter's Value Chain Model
Company Profile – Wellington Brewery
Wellington Brewery is one of Ontario's oldest known microbreweries based in Guelph. The brewery was founded in 1985 by Phil Gosling.
The company produces craft beers and is famous for their original products including Special Pale Ale (which won a medal at Ontario's 2018 Brewing Awards), County Brown Ale and Arkell Best Bitter. The company also features other innovative blends such as Chocolate Milk Stout in addition to seasonal products like Helle's Lager and recently, for Valentine's Day 2019 a Baltic porter lager – Dissolved Splendor.
The brewery prides itself on being the first in North America to produce real English Style Ales –an un-adulterated beer which has been left to mature in wooden casks. Paramount to Phil Gosling's vision, the production process and serving style is highly reminiscent of the 1900s pub culture in Britain.
Two years following the company's establishment, Wellington Breweries began packaging their beers in 1 litre PET bottles. Since then, the company has witnessed steady growth through the nineties and leading to the early 2000s when the company ownership transitioned to Doug Dawkins and Michael Stirrup. Business expansion continued under the helm of these two co-owners whose primary focus was to introduce their craft beers to restaurants and bars.
Upon the sudden passing away of Doug Dawkins and retirement of Michael Stirrup, the brewery is now solely owned by Brent Davies.
Currently, Wellington breweries products are distributed through the brewery itself, LCBO and Beer Stores and beer is available in cans, bottles, and growlers. Additionally, the company also set up an online store carrying some of their iconic craft beers and store merchandise.
The company is actively involved with the community and hosts events where individuals can learn more about the beer-making process and even gain hands-on experience creating their own brews.
Value Chain Analysis for Wellington Breweries
The primary activities of the company are listed below.
Raw Material
Supplier
Yeast
Possibly White Labs (US)
Escarpment Laboratories (Canada)
Barley or often times, malt
Canadian 2-Row (Canada)
Specialty Malts (UK, Germany)
Hops
Primarily US-based
Clear Valley Hops (Canada)
Hayhoe Hops (Canada)
Other Ingredients: Fair Trade Cocoa, Oats, berries
Variety of suppliers
Wellington Breweries also maintains their own warehouse located within a 10-minute distance from the brewery where they store their key ingredients and finished product.
Operations


Location
Operations
Equipment
Wellington Breweries (Taproom and retail store) is located at:
950 Woodlawn Road West
Guelph, ON N1K 1G2
Beer brewing
Brew Kettle
Fermentation Vessels
Beer Aging tanks
Brite tanks
Cartridge filters
Canning line*
Wellington Breweries (Warehouse)
510 Governor's Road
Guelph, ON N1K 1E3
Packaging
KRONE's packaging line
Partnership with a farmer who obtains the 'spent' or used up grain as cattle field. The manure produced via this process ultimately is used as fertilizer.
Waste Management
N/A

*In 2007, the company was also packaging their product into 473 ml beer cans using Cask Brewing Systems Inc which produced 24 cans a minute and relied on manual labor to stack the cans onto the machines conveyor belt.
Outbound Logistics


Type of Outbound Logistic
Mode of achievement
Product distribution
Retailers: LCBO, Beer Store, Wellington Brewery retail store
E-commerce
Delivery
Wellington Brewery vans and trucks
Canada post for online orders
Product inventory
Warehouse at Governor's road location*
Cold storage

*The company in 2015 expanded its warehouse space to include 12,000 sq feet of floor space to allow for more inventory to be stored.

The company hired an experienced sales team with representatives for parts of Toronto as well as South Western Ontario. The team also has an Event Coordinator as Wellington Brewery sponsors charitable events as well as workshops where beer lovers and the general public alike get hands-on experience brewing beer. In terms of sales, the company offers discounts (online store) when customers buy in bulk. Beer is available in various quantities and packaging to cater to individual tastes and needs. You can buy cans and bottles for personal consumption, or growlers that are ideal for sharing with friends or even a whole keg for large parties or to have in your Kegerator at home. Wellington Brewery products, from beer cans to apparel, typically contain their trusted and iconic rubber boot logo sometimes accompanied by the phrase "Try A Welly On". It is visible on all Wellington Brewery tap handles to let customers at licensed restaurants know that Wellington beer is available on tap. The company also has an Instagram page, Facebook and Twitter page where new and upcoming products are highlighted and marketed directly to consumers.
The company is very active in the community and sponsors charity events. In this way, the company gives back to the community as well. Wellington Breweries also organizes tours of its facilities along with beer samplings to reinforce its brand. The breweries also offer warehouse space to host events and as an example, the company also hosted a contemporary art exhibition in September 2018 as a positive move forward to support local artists. The company also offers customers the option to sign up for a Newsletter and learn of new and upcoming products in the pipeline. Wellington Brewery is also a member of the Guelph.Beer association consisting of all Guelph Breweries which includes Sleeman, Royal City, Brothers Brewing and Fixed Gear Brewing. This association was created to foster cooperation, responsibility, conservation, and quality in the industry as well as enhancing the Guelph community.
The support activities of the company are listed below.
Wellington Breweries currently has an Administrative and Production team. This team includes the current president and owner of the brewery – Brent Davies. The company also has a purchasing manager to communicate with suppliers as well as logistics and distribution manager. In terms of overseeing production, the company has a lead brewmaster. The company also has a marketing and sales team whose tasks entail event coordination, managing sales across the GTA and so forth.
Human Resource Management
The company does not have a human resources department or a team, rather it consists of one person – a human resources representative. Important human capital consists of the Brewmaster Marvin Byck and other brew staff, Taproom staff with good beer knowledge as well as motivated sales staff to acquire licensing sales. Of course, Logistics and Purchasing managers, as well as good general managers critical to ensure day to day operations, run smoothly and seamlessly.
Wellington Breweries has partnerships with certain hops farmers in Ontario to create certain craft beers. Additionally, they also have collaborations with Escarpment Laboratories and have recently begun purchasing liquid yeast cultures that have been harvested from regions in Ontario. Other items to that are procured include equipment for brewing and for the taproom operations, glassware and merchandise, bottles/cans/growlers for packaging (if not made on-site).In 2016, the company received a $184,000 in federal and provincial grants which were invested towards a completely automated, state of the art KRONE's packaging line.
Technological Development
Due to increasing demand for their craft beer, the company switched to state of the art Krone system bottle and can packaging systems for improved efficiency. The company also increased tank capacity; all-in-one fermentors to enable faster turn-around time. Now the company is able to brew beer 24/7 at their facility. Increased warehouse space for inventory to around 12,000 sq feet. Research and development is another big aspect in terms of product development as the company follows craft beer trends and is vital to product differentiation.
---
On to the Class Activity!
The class activity has two parts – an interactive case study and a worksheet to be completed at the end of the class.
Interactive Case Study segment
An interrupted format case study was designed centered on the Wellington Brewery. This activity was executed the following way:
The Activity Analysis portion was already completed for the class. This information was presented to the class on Powerpoint slides 'interrupted' with questions based on the information presented.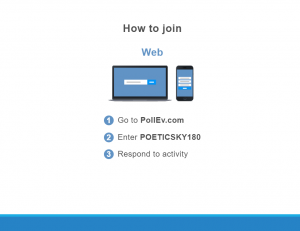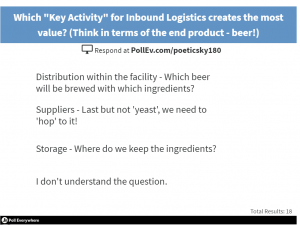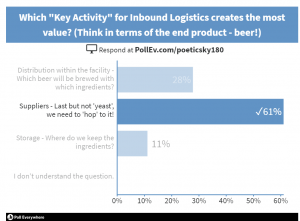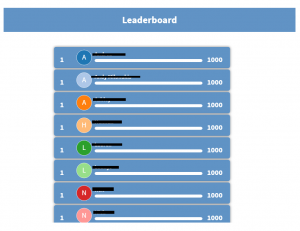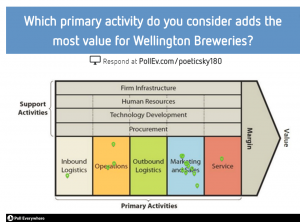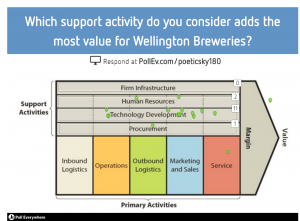 Hands-on worksheet segment
This class activity demonstrated how to construct a value chain map for Wellington Brewery and then apply competitive advantage by differentiation in order to identify the value producing steps to make a cannabis-infused beer.
Steps for execution:
Hand out Blank Value Chain Maps to students prior to the Wellington Brewery Case study.
Have the students follow along and fill out the Value Chain Map as the case study proceeds.
The completed Value Chain Map may look similar to what is presented below:


Step 1. What the completed value chain map may look like.

Inform the class we will be looking at a way to achieve differentiation advantage.


Step 2. A question on competitive advantage – specifically product differentiation.

Steer the class through the identification of the related linkages as observed below.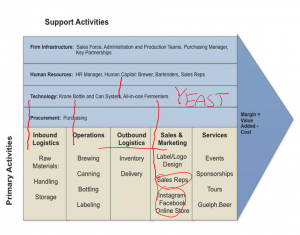 Conclusion:
The porter's value chain is a useful tool in understanding the strengths and weakness of the company relative to its competitors. This information can be used to increase the value of a company's product or service. This model can be tailored to meet the needs of different types of business using value chain analysis. Overall, the model can be used to reduce the cost, and improve profit by bringing competitive products to the market.
Wellington Brewery's competitive advantage is product differentiation.
Further improvements to operations and marketing and sales could boost value within primary activities.
Further improvements to technology and development could boost operations.
References:
Ensign, P. C. (2001). Value Chain Analysis and Competitive Advantage. Journal of General Management, 27(1), 18-42. doi:10.1177/030630700102700102
Harrison, K. (2018, September 18). What Is a Value Chain Analysis? Business News Daily. Retrieved February 25, 2019, from https://www.businessnewsdaily.com/5678-value-chain-analysis.html
Jurevicius, O. (2013, April 25). Looking at your Value Chain will make you Smarter. Retrieved from https://www.strategicmanagementinsight.com/tools/value-chain-analysis.html
Kumar, Dilip & P.V. Rajeev, Prof. (2016). Value Chain: A Conceptual Framework.
http://www.free-management-ebooks.com/news/porters-value-chain-analysis/ Accessed: 02/19/2019
Our vision. (n.d.). Retrieved from https://www.wellingtonbrewery.ca/about