46

Aleafia Health Inc.: A Novel Approach in Medical Cannabis
By Fatemeh Ameli  
Introduction
Cannabis or marijuana, one of the oldest documented medicines in history, is prepared from a plant belonging to the Cannabaceae family and the Cannabis sativa species which encompasses 545 chemical compounds. Amongst more than 70 psychoactive compounds of cannabis called "cannabinoids", Delta 9-tetrahydrocannabinol (delta 9-THC) is the main active component with psychoactive and analgesic effects. In addition, Cannabidiol (CBD) and cannabinol are two other important constituents found in Cannabis [1]. The 2004 Canadian Addiction Survey, which surveyed 13,909 Canadians aged 15 and older, found that 44.5% reported using cannabis at least once in their lives and 14.1% reported using it during the 12 months before the survey [2]. Furthermore, approximately 4% of Canadians over the age of 15 (1 million persons) report consumption of cannabis in the previous 12 months prior to the survey for treating their self-defined diseases. According to the 2012 Canadian Alcohol and Drug Use Monitoring Survey which interviewed 27,767,855 Canadian residents aged 15 years and older, approximately 1.6% of Canadians (approximately 420,000 persons) used marijuana for medicinal purposes [3].
Medical Cannabis is conditionally permitted to be used for therapeutic purposes in some countries including Canada. Medical marijuana is cannabis and cannabinoids which are prescribed by physicians for therapeutic purposes. The 'Medical Marihuana Access Regulations' (MMAR) was established in Canada in 2001 by the (Liberal) federal government. MMAR defined an authorized medical marijuana user as someone confirmed by the physician to be suffering from a severe/chronic medical disease. Such individuals can obtain their required medical cannabis directly from Health Canada, grow it or obtain it from determined suppliers. (Medical Marijuana programs: Implications for cannabis control policy – Observations from Canada)[4]
According to literature, lack of evidence on safety and efficacy of cannabis is the main obstacle to physicians' therapeutic decisions [5]. Although studies have reported in favor of the efficacy of Cannabis in chronic pain, the debate about the usefulness and safety of marijuana has remained unresolved. Despite the potential advantages of using marijuana in the management of pain, it has also shown a number of harmful and potential disadvantages [6].
Given the uncertainties regarding the use of medical cannabis for treatment purposes and the existing gap in the literature, Aleafia Health Inc. was established to resolve the conflicts through a systematic approach including well-networked clinics, advanced cultivation and distribution facilities, evidence-based research, and qualified education.
About Aleafia
Julian Fantino established the Aleafia Total Health Network in Vaughan, Ontario in 2016. He was the Chief of Toronto Police Service, as well as a Member of Parliament and the Minister of Veterans Affairs before leading this company [7]. Aleafia, as a vertically integrated national company, focuses on cannabis cultivation in addition to providing health care services and cannabis research and development. The Aleafia Inc., as a distinguished company, has a health clinic run by qualified health care professionals which provides health care services to patients suffering from chronic pain and disabling diseases. This corporation, as a federally licensed producer and vendor of cannabis, aims to produce 98,000 kg of dried cannabis annually as of 2019 [7].
As a well-networked company, Aleafia takes a holistic view of healthcare, treating patients with cannabis as a pharmaceutical product. What has made it distinct is that it uses an interrelated model of medical services. Using a patient-centered, interdisciplinary approach, it focuses on how early intervention leads to successful treatment rather than only considering rehabilitation after an injury [8]. Aleafia Health now possesses and runs the largest physician-led referral medical cannabis clinic network in Canada. It has 40 clinics across Canada providing cannabis services by assessing and monitoring the most appropriate prescribed cannabis for patients.These clinics benefits from specialized doctors and qualified health care providers, specifically trained to evaluate if patients are fit to use medical cannabis, recommend appropriate doses and follow treatment progress over the time.
Aleafia team contains former government and law enforcement leaders, as well as successful growers and entrepreneurs. They started with friends and family funding and now are harvesting cannabis for medical and recreational use. Although this company is a newcomer, it has made a great progress over the past 18 months [7]. In Feb 2019, the Toronto Stock Exchange (TSX) selected Aleafia as one of the top 50 performing companies of the year based on share price, market capital, and liquidity [9,10]. The market capitalization of Aleafia has had a drastic rise from $26-million to $226-million during the year of 2018. This company has various plans for expanding 337,000 sq. ft. of the facility to increase 38,000 kg of cannabis cultivation annually. Construction work on this facility is nearing completion soon [7,19].
As the largest cannabis clinic network in Canada, Aleafia can collect a large amount of data and provide patients with the best cannabis care. This fact contributes to customer loyalty and has led to a 7.62% increase in market capital. It is noteworthy to mention that Aleafia's shares tripled in just three weeks last year (see Exhibit 1)[11,12,19]. Aleafia intends to invest on substantial opportunities including cannabis production, health care services, cannabis education and research on consumer experience to internationally expand its market [7]. In the following sections these 4 major strengths of this company will be evaluated.
Cannabis Cultivation
In terms of the indoor facility, the Aleafia site has a 7,000 sq. ft. hydroponic facility in Port Perry located on Aleafia Health's farmland. In Oct 2018, Aleafia has started launching the outdoor expansion. Beside the operational Port Perry indoor cultivation facility, there is a 30-acre land which has a capacity of growing 60,000 kg of cannabis. Note that this land has obtained local regulatory approval. This outdoor cultivation site can minimize capital investments and operating costs. The company has planned to start the first harvesting in the upcoming summer. It also has the capability of creating 80 to 100 more job opportunities. To respect corporate social responsibility, Aleafia hires workforce from the local areas [7,12,13].
Aleafia plans to enhance its capacity in producing cannabis by the end of 2019. In July 2018, this company has started building a 160,000 sq. ft. automatic Greenhouse in Niagara. This greenhouse, as one of the most advanced facilities in Canada, has a well-equipped irrigation and automatic moving container bench system. This system can produce one of the lowest costs and highest quality medication for patients. The phase one of this project is completed and ready to operate [7,12,13].
Medical Cannabis Healthcare Services
On December 22, 2017, Aleafia Inc, announced that it has started a business partnership with Canabo Medical Inc. According to this agreement, Aleafia acquired 22 medical cannabis clinics across Canada, with more than 30,000 patients. What makes this company distinct from others is that it has the largest medical cannabis database in the world with R&D activities. These facilities allow Aleafia to concentrate on 17.4 million treatable conditions across Canada and provide suitable context for innovative research, insurance, and well-being services [14]. Canabo Medical Clinic, as a part of Aleafia Health Inc., is keen on providing medical cannabis care to Canadians all over the Canada through using distribution facility as well as conducting cannabis related research. The experimental knowledge and proven evidence about the effectiveness of medical cannabis use for treating different health conditions, driven from available data, can help inform cannabis prescription with confidence. This issue can also assist physicians to avoid making clinical decisions based on trial and error. New patients are provided with learning sessions and appropriate consultation to ensure that they are undertaking the most efficient treatment which fulfills their needs [15].
On December 19, 2018 Aleafia Health Inc. and Emblem Corp. signed an agreement under which Aleafia obtains all issued and outstanding common shares in an all-share transaction related to Emblem valuing around $173.2 million.16 This acquisition can lead to the following outcomes: 1) It will make the largest medical cannabis clinic network in Canada by including 40 medical clinics and education centers providing health services to 60,000 patients. Furthermore, this will allow Aleafia to take an advantage of the extraction and product innovation offered by Emblem to sell medical cannabis directly to patients. 2) Aleafia patients can access the Emblem's unique and profitable products such as capsules, oils and oral sprays as well as the high-quality customer service and e-Commerce system. 3) Aleafia can leverage Emblem's Health Canada License to accelerate the process of producing medical cannabis products [16,17,18].
Medical Cannabis Research
Aleafia's product innovation center is located on a 25000 sq. ft. campus. This center extracts different products such as oil, tinctures, sprays, and gel caps. The expansion of phase Ⅱ, including the formulation and analytical laboratories, is in progress right now [7]. Aleafia campus labs try to enhance the scientific knowledge regarding the benefits of using medical cannabis by organizing "Big Data" to affect patients' health. Their mission is to supply the best health care professionals, knowledgeable doctors and patient support. These services are based on the data evoked through comprehensive research, advanced strategies and the most recent industry findings. Numerous historical data provided by Canabo medical clinic along with the new cannabis products produced in Aleafia campus lab can enhance the efficiency of the products at the highest level [7]. These efforts are made to provide evidence-based information regarding medical cannabis products and the best approaches for treating opioid dependence and chronic diseases such as chronic pain, sleep disorders (e.g. insomnia) and mental health problems (e.g. anxiety, and eating disorders) [37].
The results of a recent study conducted by Aleafia indicated that 45% of patients stopped using Benzodiazepines after being treat with medical cannabis. Since in 2017 the global market value for prescribing sedative drugs and opioids has been $2B and $23B respectively. Aleafia's recent result can be considered as a good opportunity for medical cannabis companies to look at the cannabis as a potential substitute [20,21].
Medical Cannabis Education
In November 2018, Aleafia Health signed an international agreement with D2L (Desire2Learn) Corporation and launched global cannabis education platform with it. Educational program is taking advantage from Aleafia's experience and professional expertise regarding medical cannabis. This opportunity can provide knowledgeable and practical content used in persuasive and interactive educational materials for training different communities across the world. The available intellectual property such as huge patient data bases as well as D2L's leadership are also used in the cloud-based learning programs. According to Aleafia's chief medical officer Dr. Michael Verbora, "Our education and online learning platform will grow cannabis awareness and understanding across all sectors". He also mentions that "Our new LMS platform will ensure patients receive better care while providing medical professionals with a data-driven approach to diagnosing and treating chronic illnesses with medical cannabis" [7,22].
The Challenge of Medical Cannabis Distribution
Despite all of the above-mentioned advantages, Aleafia has no direct sale to provincial distributors [11]. To address these limitations, it has recently made two agreements, including a supply agreement and an investment agreement with the Canntrust and CannaPacific companies respectively.
On January 14, 2019, Aleafia Health Inc. sold two cannabis crops to CannTrust Holdings Inc., the top "Licensed Producer of the Year" who received the 2018 Canadian Cannabis Awards. This agreement was the first deal that required Aleafia to supply 15,000 kg cannabis in 2019 [23]. According to Aleafia's chief executive officer (CEO), Geoffrey Benic, "The continued strategic agreement between Aleafia and CannTrust has provided measurable benefit to both companies, allowing Aleafia to rapidly accelerate the execution of its business plan"[24,25]. According to this contract, CannTrust has a right of first refusal to Aleafia's products. The contract with CannTrust is the only recreational market access of Aleafia. CannTrust can, but is not forced, to buy Aleafia's cannabis.
It seems that, based on a ratio of enterprise value-to-production capacity, Aleafia was offered a reasonable price in comparison with other companies; however, based on a ratio of enterprise value-to-supply agreements, the offered price was comparatively cheap. Since the profit is shared with CannTrust, Aleafia's enterprise value-to-supply agreements probably receive less revenue compared to other competitors that have access to provincial distributors to sell their products directly. The two crops sold out to CannTrust were harvested at an indoor Port Perry cultivation facility. They will supply high-quality cannabis for CannTrust which has an ever- growing number of patients (more than 58,000 registered customers) using this drug, and also for its four recreational brands including liiv, Synr.g, Xscape and Peak Leaf [24,25].
Furthermore, on Jan 18, 2019, Aleafia Health Inc. signed an investment agreement with CannaPacific as a licensed medical cannabis corporation in Australia. Through this agreement, Aleafia obtained 10% of the ordinary shares of CannaPacific. This agreement provided Aleafia with shortcut access to the Asia market via available trade contracts made in this area [26,27].
Aleafia's Financial Results
As of September 30, 2018, the company has earned CA$ 22.8 million, a 2.071% increase over their earnings in December 2017. The company is trading at 32x forward revenues, which is significantly higher than most cannabis producers. According to the financial statements, 49% of the total amount of assets includes intangible assets and goodwill, which can be a negative point from an investor's perspective (see Exhibit 2) [12,28].
It is expected that Aleafia Health Inc. will become one of the most important competitors in the cannabis industry, because of its capacity in producing approximately 15,000 kg. of cannabis in 2019, and its target capacity of 60,000 kg. Despite the advantages mentioned above, some market experts believe that this company should not currently be considered as a real opportunity for investors, and that the market is counting on its future developments [11].
On the other side, according to the evidence synthesized in this company based on research studies, investors may consider the cannabis-based treatments offered by Aleafia Health as an enormous market opportunity. More importantly, the studies conducted on opioid treatment in Aleafia are suggesting great evidence of opioid dependence. This fact can help inform the importance of cannabis as a potential substitute with a high margin market, as compared to opioids and sedative drugs which have a high global market value [12,28].
The revenue of Aleafia increased from a very small amount in 2017 to CA$ 2.97 million over a period of 9 months, ending in September 2018, which is very interesting for investors. Consultation services and research are two important factors which have had a key role in this income increase (see Exhibit 3). In this period, the expenditures remained almost stable, as in the same period in 2017. In the same duration, the net losses were reduced from CA$ -8.8 million to CA$ -6.5 million. Although Aleafia still needs to take a lot of steps to reach the break-even point, this net loss reduction is appreciated by investors. A supply agreement signed with CannTrust is expected to significantly enhance the earning of Aleafia in 2019 [12,19].
It seems that Aleafia Health Inc. has a very stable financial status and its cash flow is almost good. It is valuable that no financial debt was reported on the balance sheet untill September 30, 2018. In terms of the equity structure, investors should know that using available warrants may contribute to share price depreciation [28]. It is of great importance for investors to realize that cannabis is a young industry and the inherent risk of investment obtained from stock market volatility should be considered to be the main concern of investors; however, among different stocks in the OTC Markets, the stock of Aleafia Inc. should not experience dramatic volatility [12,19].
SWOT:
In the following sections, the potential strengths, weaknesses, threats, and opportunities of Aleafia will be examined from different perspectives.
Strengths:
Aleafia, as a vertically integrated national company, probably ensures systematic control over its supply chain through focusing on a multifunctional approach including cannabis cultivation, cannabis research, and education, as well as providing cannabis- related health services. This fact helps Aleafia minimize operational costs and optimize the quality control over the supply chain.
It contains the largest network of medical cannabis clinics and user's database in Canada. This fact gives Aleafia the chance to be the world leader in providing physicians with an innovative method of cannabis health and wellness care based on data, research, and experience. These efforts are aimed at developing evidence-based treatment methods and products.
Although Aleafia has some famous major competitors, from the gem seekers' perspective, being less famous may provide a good opportunity for investors. Indeed, growth investing seeks companies that are growing well and are less known about by investors [12].
Weaknesses:
Experienced and outstanding companies would be Aleafia's competitors. For instance, Canopy Growth Corporation as the largest cannabis company in Canada, having strong collaborations with different companies in Brazil, Australia, Germany, and Colombia. In addition, Aurora Cannabis (ACB) exports cannabis to different countries, and has a current capacity of producing 150,000 kg.
Aleafia, as a federally licensed producer and vendor of cannabis, has no direct sale to provincial distributors.
Shortage of liquidity is also another concern. Aleafia's financial records indicate that approximately half of their total amount of assets are intangible assets and goodwill [12].
Opportunities:
Canada is the first G7 country to legalize recreational cannabis. This has led to a high market size of around CA$22.6 billion [29].
The international medical cannabis market is anticipated to reach 455.8 billion by 2025 [30].
The ever-growing market of new cannabis products, including edibles, beverages, oils, and beauty & skin care products, brings profitability to the cannabis industry.
Research findings obtained by Aleafia show that treating with medical cannabis can limit the use of sedative drugs and opioids, creating less of a market for these alternatives [21].
Threats:
From a health research perspective, there is no strong evidence regarding the efficacy of medical cannabis. Therefore, insurance companies are not interested in covering medical cannabis prescriptions [5]. Furthermore, the fear of cannabis dependence and its documented adverse events are the other challenges that should be taken into consideration [31].
From a socio/cultural perspective, although medical marijuana is legal in Canada, some individuals suffering from pain may resist a trial of cannabis due to the associated stigma [32]. Although public opinion regarding cannabis has changed, medical cannabis users still experience a certain amount of stigma, especially from authorities. Medical cannabis users are usually exposed to different levels of disapproval from their friends and relatives, leading them to avoid disclosure of use [33]. These concerns can be attributed to the societal stigmatization of cannabis.
From a political perspective, a) the Access to Cannabis for Medical Purposes Regulations (ACMPR) allows patients to grow their own plants or to have a designated person grow the plants, b) a change in government in Canada may affect the current cannabis related rules [4,34].
From a financial perspective, since cannabis is still federally illegal in the United States, there are some limitations on the number of institutional investors. Hence, the big American investment companies may not be able to invest in this industry [35].
Questions Moving Forward:
Aleafia is engaging with different challenges which can impact its market negatively. To address these challenges, the CEO needs to evaluate the following alternatives and make an optimum decision.
Due to the shortage of tangible assets, Geoffrey Benic needs to find an appropriate answer to this question: "What is the best way for Aleafia to enhance its cash flow?" Other questions that should be considered include:
Since the acquisition strategy with Emblem has increased the liquidity and capital market [17,18], does another partnership agreement with other international or national companies have the same result?
Since Aleafia has the largest medical cannabis user's database, can capitalizing on this data source generate revenue for its business?
How can Aleafia provide researchers, policy makers, and academia with its rigorous data and evidence?
Would establishing a pre-sale agreement with distributors help Aleafia enhance its cash position?
In terms of market expansion:
Emblem Inc. has a partnership with a German medical wholesaler named Acnos Pharma Inc. [16], and it is also likely that cannabis will become legalized in Europe. If so, is it a suitable time for Aleafia to explore more international opportunities through Europe's market, a population of approximately 82 million?
Given the recent agreement signed with CannaPacific Inc. in Australia, is there any possibility for Aleafia to access the Asia – Pacific market?
Would different kinds of partnership agreements, like acquisition or joint venture, help Aleafia expand its market in South America? Can collaboration with CannTrust facilitate Aleafia's presence in Brazil and Colombia's market?
Where should Aleafia go from here?
Aleafia can focus on product development via Emblem's modern product innovation center [16]. According to the differentiation strategy, is it beneficial for Aleafia to develop various cannabis products such as beverages, edibles, and concentrates for both medical and recreational markets?
It is noteworthy to mention that, on Sep 20, 2018, Aleafia started a joint medical cannabis study with the Cronos group Inc. to modify the treatment of insomnia and sleep disorders [36]. Can Aleafia promote medical cannabis as an alternative to prescription sedatives? Would medical cannabis be considered as a substitute for opioids used by professional athletes?
In terms of social and cultural limitations:
Can Aleafia leverage its extensive knowledge of the cannabis patient's experience, and its professional expertise, to clarify public opinion and minimize stigma regarding cannabis use?
As a part of business model differentiation, holding educational workshops and courses not only can educate practitioners, but also can build trust between Aleafia and health care providers. To overcome the related health concerns among physicians and insurance companies, does it make sense for Aleafia to provide learning sessions and continuous consultations to assure them about the efficiency of treatment and products?
Aleafia has a plan to produce a target value of 98000 kg cannabis in 2019; however, it has no direct sale to provincial distributors.
Does it make sense for this company to increase its bargaining power by making new supply agreements with distributors alongside Canntrust?
Emblem Inc. has the opportunity to supply cannabis to different provinces in Canada through connecting to medical distributors like Shoppers Drug Mart and retail distributors such as Fire & Flower and Starbuds [17]. Under such circumstances, can Emblem's approval facilitate Aleafia's national distribution platform?
References:
Greenwell GT. Medical marijuana use for chronic pain: risks and benefits. J Pain Palliat Care Pharmacother. 2012; 26(1):68-9.
Adlaf E M, Begin P, Sawka Canadian Addiction Survey (CAS): A national survey of Canadians' use of alcohol and other drugs: Prevalence of use and related harms: Detailed report.2005. Ottawa: Canadian Centre on Substance Abuse.
Canadian alcohol and drug use monitoring survey (CADUMS): summary of results for 2012 [Internet]; 2014. Available from: http://www.hc-sc.gc.ca/hc-ps/drugs-drogues/stat/_2012/summary-sommaire-eng.php
Belle-Isle L, Walsh Z, Callaway R, Lucas P, Capler R, Kay R, Holtzman S.Barriers to access for Canadians who use cannabis for therapeutic purposes. Int J Drug Policy. 2014 Jul; 25(4):691-9.
Ware MA, Wang T, Shapiro S, Collet JP; COMPASS study team. Cannabis for the Management of Pain: Assessment of Safety Study (COMPASS). J Pain. 2015 Dec; 16(12):1233-42.
Wilsey B, Marcotte T, Tsodikov A, Millman J, Bentley H, Gouaux B, Fishman S: A randomized, placebo-controlled,crossover trial of cannabis cigarettes in neuropathic pain. Pain.2008; 9:506-521.
" Aleafia Health Inc. Announces Closing of Business Combination Between Canabo Medical Inc. and Aleafia Inc." The Cannabis investor, 26 03 2018. [Online]. Available: https://www.globenewswire.com/news-release/2018/03/26/1453212/0/en/Aleafia-Health-Inc-Announces-Closing-of-Business-Combination-Between-Canabo-Medical-Inc-and-Aleafia-Inc.html
" Globe says Aleafia Health named top TSX-V performer" StockWatch, 22 02 2019. [Online]. Available: https://www.stockwatch.com/News/Item.aspx?bid=Z-C%3AALEF-2721893&symbol=ALEF&region=C
" WATCH VIDEO: TSX Venture 50 Names Aleafia Health Top Performing Company of the Year " The Cannabis investor, 21 02 2019. [Online]. Available: https://www.thecannabisinvestor.ca/tag/canabo-medical/
" Aleafia: 3x Gains In 3 Weeks on Upstart Canadian Cannabis Producer" Seeking Alpha, 28 o9 2018. [Online]. Available:https://seekingalpha.com/article/4208932-aleafia-3x-gains-3-weeks-upstart-canadian-cannabis-producer
" Aleafia: Expecting Total Capacity Of 60,000 Kg., But Overvalued" Seeking Alpha, 1 03 2019. [Online]. Available: https://seekingalpha.com/article/4245626-aleafia-expecting-total-capacity-60000-kg-overvalued
" Aleafia Health is Looking to Create a Cannabis Industry First " SmallCap Power, 15 11 2018. [Online]. Available: https://smallcappower.com/companies/alef/articles/aleafia-health-canadian-cannabis-stocks/
" Canabo Medical Inc. Announces Proposed Business Combination with Aleafia Inc." Newsfile, 22 12 2017. [Online]. Available: https://www.newsfilecorp.com/release/31596/Canabo-Medical-Inc.-Announces-Proposed-Business-Combination-with-Aleafia-Inc.
" Aleafia Health Inc. to Acquire Emblem Corp. to Create New Medical Cannabis Leader" Globe News, 19 12 2018. [Online]. Available: https://www.globenewswire.com/news-release/2018/12/19/1669388/0/en/Aleafia-Health-Inc-to-Acquire-Emblem-Corp-to-Create-New-Medical-Cannabis-Leader.html
" Aleafia Health and Emblem Announce Closing of Arrangement" Globe News, 14 o3 2019. [Online]. Available: https://www.globenewswire.com/news-release/2019/03/14/1753038/0/en/Aleafia-Health-and-Emblem-Announce-Closing-of-Arrangement.html
Brik Patrick "Marijuana Stock: Aleafia Stock Has Found Its Footing and Is Set to Rise", Profit Confidential",14 01 2019, [Online]. Available: https://www.profitconfidential.com/stock/aleafia-health-inc-stock/otcmkts-aleaf-stock-found-footing-rise/
" Aleafia Health Study Indicates 45% of Patients End Benzodiazepine Use Following Medical Cannabis Treatment" Globe news, 25 01 2019. [Online]. Available: https://www.globenewswire.com/news-release/2019/01/25/1705462/0/en/Aleafia-Health-Study-Indicates-45-of-Patients-End-Benzodiazepine-Use-Following-Medical-Cannabis-Treatment.html
" Aleafia Health Study Indicates 45% of Patients End Benzodiazepine Use Following Medical Cannabis Treatment" The Cannabis investor, 25 01 2019. [Online]. Available: https://www.thecannabisinvestor.ca/tag/canabo-medical/
" Aleafia Health to Launch Global Cannabis Education Platform with D2L" The Cannabis investor, 14 11 2018. [Online]. Available: https://www.thecannabisinvestor.ca/aleafia-health-to-launch-global-cannabis-education-platform-with-d2l/
" Aleafia Fulfills First Transaction Under Cannabis Supply Agreement with CannTrust" Globe news, 14 01 2019. [Online]. Available: https://www.globenewswire.com/news-release/2019/01/14/1690921/0/en/Aleafia-Fulfills-First-Transaction-Under-Cannabis-Supply-Agreement-with-CannTrust.html
" Aleafia Completes First Transaction with CannTrust Under Their 15,000 kg Cannabis Supply Agreement" The Cannabis investor, 14 01 2019. [Online]. Available: https://www.thecannabisinvestor.ca/aleafia-fulfills-first-transaction-with-canntrust-under-cannabis-supply-agreement/
" Aleafia Health Completes Strategic Investment in Australia's CannaPacific Pty Limited" Globe news, 18 01 2019. [Online]. Available: https://www.globenewswire.com/news-release/2019/01/18/1701896/0/en/Aleafia-Health-Completes-Strategic-Investment-in-Australia-s-CannaPacific-Pty-Limited.html
Benzie Robert, " Recreational weed could be a $22B industry:Study,"thestar.com, 27 10 2018. [Online], Available: https://www.thestar.com/news/queenspark/2016/10/27/recreational-weed-could-be-a-226b-industry-study.html
Grand View Research," Medical Marijuana Market Size to reach $55.8B by 20205,"press release, 19 01 2017. [Online]. Available: https://www.prnewswire.com/news-releases/medical-marijuana-market-size-to-reach-usd-558-billion-by-2025-grand-view-research-inc-612868123.html
"Canadian Medical association says Doctors Hesitant to prescribe Medical Marijuana," BNN.ca, 14 09 2017. [Online]. Available: https://www.bnnbloomberg.ca/commodities/video/canadian-medical-association-says-doctors-hesitant-to-prescribe-medical-marijuana~1208511
Palamar JJ. A pilot study examining perceived rejection and secrecy in relation to illicit drug use and associated stigma. Drug Alcohol Rev. 2012Jun; 31(4):573-9.
Bottorff JL, Bissell LJ, Balneaves LG, Oliffe JL, Capler NR, Buxton J. Perceptions of cannabis as a stigmatized medicine: a qualitative descriptive study. Harm Reduct J. 2013 Feb 16; 10:2.
"Production of cannabis for your own medical purposes", Government of Canada, [Online]. Available: https://www.canada.ca/en/health-canada/topics/production-cannabis-for-your-own-medical-purposes.html
Williams Sean, "The 5 Hidden Risks of Owning Marijuana Stocks", 22 02 2018, [Online]. Available: https://www.fool.com/investing/2018/02/22/the-5-hidden-risks-of-owning-marijuana-stocks.aspx
https://www.globenewswire.com/news-release/2018/09/20/1573569/0/en/Aleafia-Partners-With-Cronos-Group-on-Medical-Cannabis-Sleep-Study.html
Ferdinand Benjamin, "Aleafia Health Inc (CVE:ALEF) Graduation to TSX & Emblem Corp (CVE:EMC) Agreement", Midas Letter RAW, March 2019, [Online]. Available: https://www.youtube.com/watch?v=MX9jqt6sh
Appendix: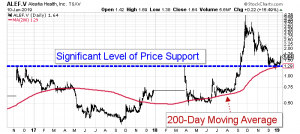 Exhibit 2: Aleafia's list of assets in 2018, Source:
https://seekingalpha.com/article/4245626-
aleafia-expecting-total-capacity-60000-kg-overvalued