5.9 Structural ambiguity in morphology
Ambiguity in derivation
It isn't always the case that affixes can only attach in one order. Sometimes both orders (or all orders, if there are more than two) meet the selectional requirements of all affixes involved.
When a string is compatible with more than one structural representation, it is structurally ambiguous—but not only are both trees potentially correct, they're often associated with different meanings.
Consider again the prefix un- but now in a word like untieable.
The word untieable is ambiguous. Pause for a moment and try to come up with its two interpretations.
The two interpretations of untieable are:
Able to be untied.
For example: the knot most people use for their shoelaces is chosen because it's easily untieable.
Not able to be tied.
For example: if you haven't learned to tie knots, a celtic knot might seem untieable.
As you might be able to see from the paraphrases I've given here—a paraphrase is a different way of saying the same thing—we can account for the ambiguity of untieable by attaching the two affixes in different orders.
For meaning 1 "able to be untied", we first attach the prefix un- to the verb tie, producing the verb untie (to undo a knot). Then we attach the suffix -able to untie to turn it into the adjective untieable.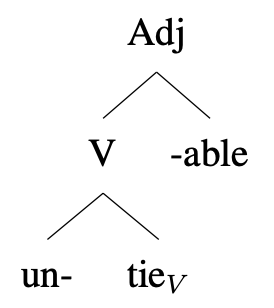 For meaning 2 "not able to be tied", by contrast, first we attach the suffix -able to the verb tie, producing the adjective tieable (capable of being tied). Then we attach the prefix un- to this adjective. Now un- has its adjectival meaning, so we end up with an adjective meaning "not capable of being tied".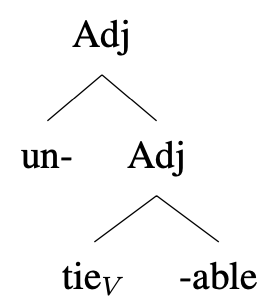 This type of ambiguity in derivational morphology requires that at least one affix be able to attach to bases of more than one category. We'll see that structural ambiguity is even more common in the case of compounds.
Structural ambiguity is different from the type of ambiguity we find with homophones—words that sound the same but have different meanings. If I say that I went to the bank, without more context you don't know if I went to the kind of bank that's a financial institution or the kind of bank that's the edge of a river. There's nothing structural in this ambiguity, instead there are just two different roots that sound the same.
Ambiguity in Compounding
Just like with derivational morphology, you can have structural ambiguity in compounds! In fact, it's even easier to create structurally ambiguous examples, at least in languages that easily build compounds, because any string of noun roots (for example) could hypothetically combine in many different ways.