Professors at Confederation College require you to format your assignments according to APA conventions and use the APA method for any paper or presentation that contains information taken from a .
Always use the Confederation College APA Manual as a guide to ensure your work is correct.
After completing this chapter, you will be able to
format a paper according to APA style conventions
create an APA title page
APA Formatting
An APA-style paper must follow APA formatting for spacing, fonts, and indentations. It must also have a specially-formatted title page, which is the first page of the document.
Here is an example of a correctly formatted title page: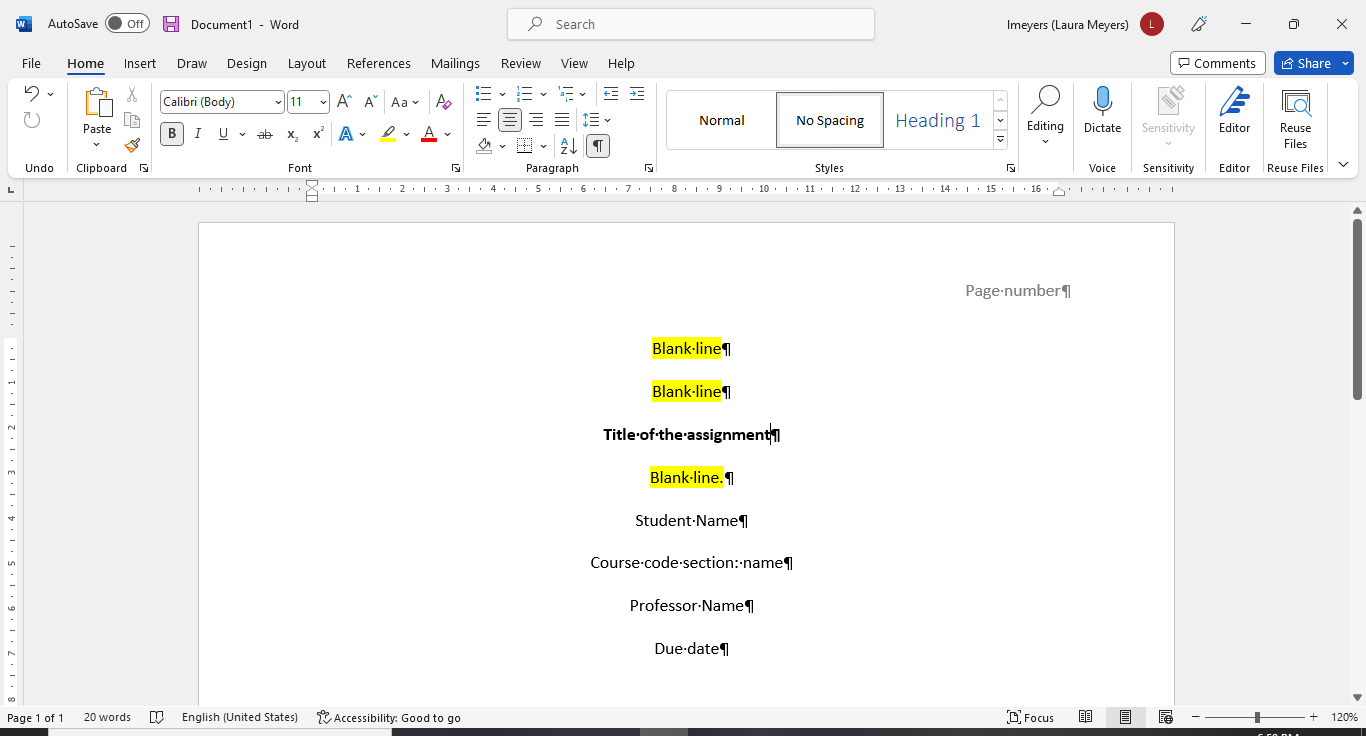 Notice that all of the text information on the title page is centered in the top half of the page (not in the middle of the page). Also notice that APA 7th edition does not require student papers to have running heads; unless your teacher specifies that you need a running head, you should not include one.
Watch this video to learn how to create an APA title page using Microsoft Word [1]:
Additional Resources to Help you Format your Paper in APA Style
Consult the following resources to ensure your paper is formatted correctly:
APA in Presentations
The official APA Style Guide does not give specific information on how to cite sources within a PowerPoint Presentation. However, remember that the same rules apply to presentations as to written documents: you must ensure that your audience knows where your information came from. This enables you to have integrity and avoid plagiarism and it shows your audience that you did sufficient research to support your claims. Well-researched presentations are much more persuasive.
This video gives advice on how to format citations and references in a PowerPoint-style presentation: APA in PPT. Always check with your professors to ensure that you are meeting their APA requirements
---
Business Communication Process & Product
Intercultural Communication (Chapter 3)
Understanding Culture
Every country or region within a country has its own common heritage, joint experience, or shared learning. This shared background produces the culture of a region, country, or society. For our purposes, culture may be defined as the complex system of values, traits, morals, and customs shared by a society. Culture teaches people how to behave and conditions their reactions. It is a powerful operating force that conditions the way we think and behave. The purpose of this chapter is to broaden your view of culture and help you develop a flexible attitude so that you can avoid frustration when cultural adjustment is necessary.
Characteristics of Culture
Culture is shaped by attitudes learned in childhood and later internalized in adulthood. As we enter this current period of globalization and interculturalism, we should expect to make adjustments and adopt new attitudes. Adjustment and accommodation will be easier if we understand some basic characteristics of culture.
Culture Is Learned.
The rules, values, and attitudes of a culture are not inherent. They are learned and passed down from generation to generation. For example, in many Middle Eastern and some Asian cultures, same-sex people may walk hand in hand in the street, but opposite-sex people may not do so. In Arab cultures conversations are often held in close proximity, sometimes nose to nose. But in Western cultures, if a person stands too close, the other may feel uncomfortable. Cultural rules of behaviour learned from your family and society are conditioned from early childhood.
Cultures are Inherently Logical.
The rules in any culture originated to reinforce that culture's values and beliefs. They act as normative forces. Rules about how close to stand may be linked to values about sexuality, aggression, modesty, and respect. Acknowledging the inherent logic of a culture is extremely important when learning to accept behaviour that differs from our own cultural behaviour.
Culture Is the Basis of Self-Identity and Community.
Culture is the basis for how we tell the world who we are and what we believe. People build their identities through cultural overlays to their primary culture. When North Americans make choices in education, career, place of employment, and life partner, they consider certain rules, manners, ceremonies, beliefs, language, and values. These considerations add to their total cultural outlook, and they represent major expressions of a person's self-identity.
Culture Combines the Visible and Invisible.
To outsiders, the way we act—those things that we do in daily life and work—are the most visible parts of our culture. In India, for example, people avoid stepping on ants or other insects because they believe in reincarnation and are careful about all forms of life. Such practices are outward symbols of deeper values that are invisible but that pervade everything we think and do.
Culture Is Dynamic.
Over time, cultures will change. Changes are caused by advancements in technology and communication, as discussed earlier. Local differences are modified or slowly erased. Change is also caused by such events as migration, natural disasters, and conflicts. One major event in this country was the exodus of people living on farms. When families moved to cities, major changes occurred in the way family members interacted. Attitudes, behaviours, and beliefs change in open societies more quickly than in closed societies.
Dimensions of Culture
The more you know about culture in general and your own culture in particular, the better able you will be to adapt to an intercultural perspective. A typical North American has habits and beliefs similar to those of other members of Western, technologically