Will delete this page when we are ready to go live. But putting everything here for now so it's easy to find.
Pressbooks
Pressbooks User Guide – A text-based resource that goes into detail about all of the functionality and capabilities of Pressbooks. This guide is maintained by the Pressbooks team. It's very detailed, but if you need to know how to do something specific, it's helpful.
Accessibility Toolkit – This resource can help make your content accessible in Pressbooks.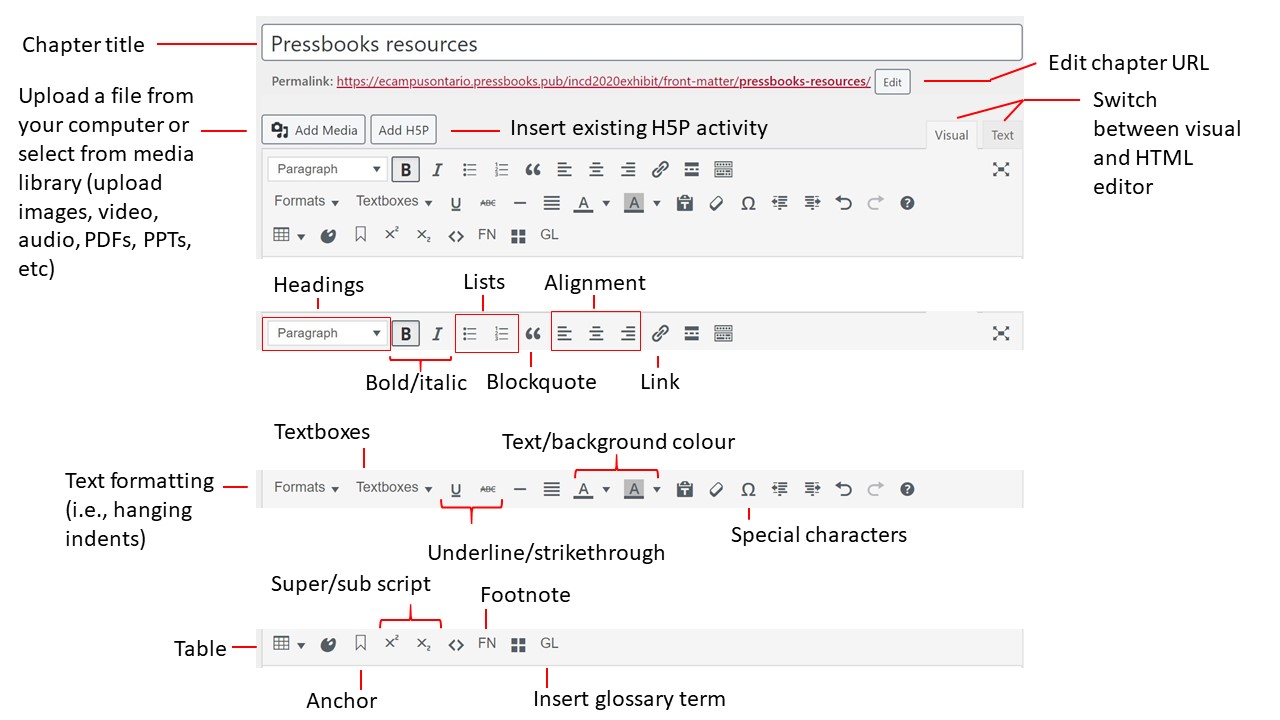 Here are some video tutorials that may be helpful:
Links
Images
Media attributions (If you need to credit images, the Media Attributions tool will handle that for you.)
Add other types of content
H5P
H5P Tutorials – Here are a collection of tutorials for creating different kinds of H5P activities. If you are thinking about how to include interactivity in your section, this is where to start.
H5P Accessibility – A list of H5P activities that have been tested for accessibility. This list may be out of date, but provides a guideline.
The H5P Kitchen – A site with a number of webinars and blog posts created to support instructors using H5P in their class.
Authorship, Intellectual Property, and Sharing
Do you want to give others permission to share, use, and build on your work? If so, you can share it under one of the Creative Commons Licenses.
The following video describes creative commons licences. Skip to 50 seconds.
Marking yourself as the author/selecting a CC License
And the end of each chapter, you can set a number of settings for that chapter:
Allow comments
Allow trackbacks/pingbacks
Add yourself as the author (required for each of your chapters) – if left blank, the book-level author will be applied.
Select the license for your chapter (required for each of your chapters) – if left blank, the book-level license will be applied.
Once added, it will appear in the webbook footer as follows:
Open Content
Open images shared by Caleb
https://unsplash.com/
https://www.pexels.com/
https://cc0textures.com/
https://vimeo.com/creativecommons/cc0
https://99designs.ca/blog/resources/public-domain-image-resources/
https://thenounproject.com