4.6 The Impact of the COVID-19 Pandemic on Death-Related Practices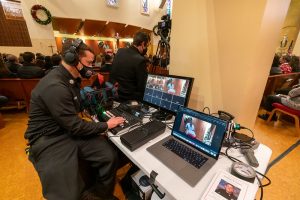 The COVID-19 pandemic transformed the way we deal with dead bodies and the end of life (Mikles, January 26, 2022). These changes were tied to the sheer volume of deaths and resulting number of bodies that had to be processed, as well as safety concerns tied to bodies of people who died of COVID-19 (Lale, January 6, 2021). Large numbers of dead meant that normal religious requirements for burying the dead, such as the Jewish practice of burial within 24 hours, were difficult to follow. Delays in access and COVID-19 safety protocols made the organizing and performing of religious rituals on or for the dead by family and religious officials (e.g., washing and shrouding the body, sitting vigil with the body until burial), more challenging, difficult, and sometime impossible (MacNeil et al., 2021). Safety guidelines for the funeral industry, such as those detailed by the World Health Organization (September 4, 2020), further altered normal practices. For example, WHOs guidelines included recommendations to avoid embalming bodies and prohibiting family and loved ones from touching or kissing the body.
Local, regional and national public health restrictions, capacity limits, and social distancing requirements further impacted traditional death-related practices (MacNeil et al, 2021). At various points during virus surges and shutdowns, funeral homes were either unable to allow people inside or only a few at a time (Kohn & Gould, 2020). Traditional rituals and ceremonies were virtually eliminated (e.g., Christian practice of visitations prior to a funeral and Jewish Shiva customs of visitations after the funeral) (Watts, August 16, 2021). This served as an impetus for the evolution of virtual forms of visitation and funeral attendance, as well as the popularization of alternative means to sharing condolences, memories and other information via social media (Kohn & Gould, 2020; Conway, 2020) (See Chapter on Loss, Grief & Bereavement). These changes may well become a normal part of funerals after COVID to accommodate loved ones who are not able to travel to attend end-of-life events, who prefer online services (Stewart, January 16, 2022), and/or to reduce funeral related costs. Funeral homes are now offering live-streaming as part of funeral packages or as an alternative to the traditional funeral for the budget conscious (Virtual Funerals, n.d.; Funeral Companion, n.d.).

Click the links to learn more about funerals and COVID-19:
Small Funerals, Online Memorials and Grieving from Afar: The Coronavirus Is Changing How We Care for the Dead
Coronavirus Is Changing Funerals And How We Deal With The Dead