Menu of post-performance activities
"The story of When My Home is Your Business didn't end with the performance. Discussions between audience members, the comments they left on index cards, their graffiti-like posts about what they thought life could be like in Hamilton if things changed for the better, all added to the story the play had started to tell."

— J. Adam Perry, TSDC research and workshop team member, School of the Arts.
In our efforts to extend the moment during which audiences are moved beyond the performance event itself and to creatively engage audiences in co-imaginative acts of purposeful play we are always exploring ways to expand our repertoire of post-performance activities.
Here's a menu of some post-performance activities we've used (and a few that are ideas in progress):
Fill-in-the-blank audience response prompts
Our number one go-to post-performance activity is the fill-in-the-blank response prompt:
These are stories of people who…

In a City where…
One reason we consider this such a valuable post-performance activity is that it provides audience members with a simple and immediate way of publicly honouring the performers and sharing information about what meaning they are taking from the performance. Another reason we often begin with this prompt is that it signals to audience members that we are asking them to shift from their work-related modes of reflection and engagement by inviting them to focus not on the 'problems' of the play's characters, or on institutional and policy-related questions, but on the broader collective meaning of the story they witnessed.
Because of the prompt's familiarity to performer-advocates, using this prompt during post-performance reflections helps establish a dynamic wherein the performer-advocates are situated as experienced participants in the kinds of creative post-performance activities that we are introducing. On another level, the prompt's repeated use throughout the workshop process has imbued it with the quality of a group ritual. Inviting the audience to take part in this ritual is a way of saying, "Come, be part of our creative world-making public."
In order to accommodate different communication styles, responses to the prompt can be elicited in a variety of ways:
Fill-in-the Blank post-performance activity
Call-and-response, wherein the event facilitator calls out the first part of the sentence — These are stories of people who… — several times, pausing after each time to give audience members a chance to respond by calling out a word or phrase to fill-in-the-blank. They then repeat the process with the second part of the sentence — in a City where… Using colored markers, volunteers write the responses on a white board or a large sheet of paper that has the prompt written across the top.

Audience members can be encouraged to write their responses onto post-it notes that volunteers collect and place on the large sheet of paper. Once all the responses have been gathered, the volunteers can then read aloud the prompt along with the responses.

Seating can be set-up cabaret-style with the tables covered in paper and colored markers on hand. Audience members can be encouraged to begin by first writing out their responses on the table. Then, when the facilitator calls out the prompt, anyone at the table can read a response out loud. In addition to offering audience members an opportunity to formulate some thoughts before speaking, this model also supports audiences to think collectively.
Whichever approach we choose, it always includes a mechanism for documenting audience responses. This provides the performer-advocates with a chance to revisit the comments at the end of the evening (and to document them if they choose). This is important because, as anyone who has performed knows, it can be difficult to fully absorb information in the immediate aftermath of a performance.

Image Theatre
"After the first performance of When My Home is Your Business, there were group discussions and, while successful, it was similar to what we typically do. It doesn't matter how skilled the facilitator is, you end up having some voices being heard and some not being heard. There's not an equal opportunity to participate, because only some people feel comfortable speaking in particular group settings. But some of TSDC's post-performance activities were really different and addressed the barriers inherent in group discussions. For example, the 'complete an image' [Image Theatre] exercise — while not everyone is comfortable doing it, it's not a hard task, just a different one. With a focus group, it can be intimidating because service providers have a certain language for talking about these topics. Asking us to complete an image was a good way to shake things up, to try to do things a bit differently. TSDC offered different ways to engage the community, do research, do evaluations, and give voice."

— Patti McNaney, Social Planning and Research Council of Hamilton.
Like the fill-in-the-blanks response prompt, Image Theatre is a technique that's used throughout the TSDC performance creation workshop process. While the basics of the post-performance Image Theatre activity is similar to how it's done in the workshops, the goals are different. In the workshops, Image Theatre is used as a form of live storyboarding, or a way of constructing the story of the play.
As a post-performance activity Image Theatre is used to:
Provide insight into the creative approach used to create the play.
Introduce an embodied mode of collective world-making.
Give audiences an opportunity to step outside of habitual modes of communication.
Create an opportunity where performer-advocates occupy leadership roles by modeling the activity.
When we were planning post-performance activities for When My Home is Your Business at the National Conference to End Homelessness in Hamilton, we were acutely aware that the audience would be made up of people who were very knowledgeable about many of the issues and concerns the play addressed. We were also aware that over the past days they had spent a lot of time in rooms discussing policy related to housing and homelessness. A post-performance Image Theatre activity seemed like a wonderful opportunity to both give the audience a peek into the process of making the play, while also inviting them to 'get on their feet' and try something new.
Catherine began by explaining that we'd like to do an Image Theatre demonstration so we could give the audience a sense of how the material for the play was generated using theatre-games, and without pre-planning content, as might be done in a training session. Here's what the exercise looked like:
Image Theatre post-performance activity
The play's performer-advocates initiated the exercise by re-enacting two of the first images they created in the workshop. One of what a better future Hamilton would look like for people with experiences similar to theirs, and a second of what life was like now. (Sketches of the images were also available on the program flyer).
Once the image was recreated, Catherine invited audience members to come up and join the performer-advocates in the "what life was like now" image which we dubbed 'the apartment building from hell': They were encouraged to "add themselves to the image, put someone in this image, and show us how people act and react when it's really bad."
After a number of people had added themselves to the image, Catherine let them know that she would put her hand on people's shoulders and ask them to respond to complete a phrase. Phrase-prompts included: "I wonder…" "I want…" "I am afraid that…" "It really pisses me off that…"
They were then invited to imagine what it would be like if the conference achieved its goal and we ended homelessness, ended precarious housing: "Show us what it would look like, when you see people interacting like this, you know things are good."
The rest of the audience were invited to respond to the following questions: What title would you give this image?
Here are some of the audience headlines the conference audience generated:
Power and solidarity!
A HOME — Not just a house
Community building
Safe and affordable!
Rental dreams come true!
A happy home = Less stress
Meeting the needs of a variety of people
Welcome to a more free and safe home
Smile, you are in our building
Isn't this great — I'm so happy to be here
Storyboarding
As with many post-performance activities, our Storyboarding activity developed out of our experience working on a particular play with a particular group. While working with youth connected to Hamilton's Good Shepherd Youth Services to develop the script for Choose Your Destination a member of our research and workshop team, Sarah Adjekum, began sketching the youth (with their permission of course!).
The youth loved Sarah's sketches! Also, perhaps because of the familiarity of comics and graphic novels, the sketches became a useful way of talking about the creative process of developing the play's story arc. We explained that the embodied images and vignettes they created using Image Theatre was a kind of live storyboarding, similar to a comic strip and Sarah's sketches.
The following Storyboarding exercise was inspired by Sarah's sketch "Dreaming," which documented a live image the youth created early in the workshop series that became the play's poignant final scene. In the scene, the play's four characters — Joanne, Moon, Snow, and Amelia — step away from problem-solving in their fictional world, sit facing the audience, and describe their 'dream' of having a place a place to chill, a place where they can sit and watch Netflix together, where they feel safe and happy.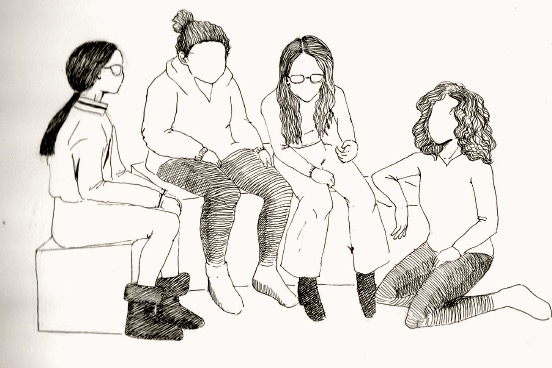 Just as the sketches became a useful way of talking with the youth about the relationship between Image Theatre exercises and the construction of the story of the play, we figured it could also be a useful resource for providing the audience with some insight into the workshop process while simultaneously engaging them in a creative world-making activity.
Here's what the storyboarding activity looked like…
We began with the performer-advocates leading a short Image Theatre (live storyboarding) demonstration (and inviting any 'brave souls' to join them). Jennie, as event facilitator, then segued from the Image Theatre exercise to an introduction of the storyboarding activity: "You've seen the live storyboard image on the stage. Now we're going invite you to participate in storyboard drawing exercise."
In addition to verbally explaining the exercise to the audience, everyone was given a sheet of paper with a four-panel Choose Your Destination storyboard (below) on one side…
…and the following written information/directions on the reverse:
Creative storyboarding post-performance activity
Imagining some stops along the way from here to there!
Square 1:
'Dreaming' — Final scene of play.
Next: your own images! No drawing experience necessary! If you can imagine, draw stick-figure people, and create speaking/talking bubbles, you have what you need to participate. Or you may want to team up with one person doing the drawing.
Squares 2 & 3:
Imagine two 'transfers' or stops on route to our collective destination. Where are you? Who is here with you? What are you doing? What is the intention that collectively moves you toward your destination?
Square 4:
Image of your imagined destination. What would a better Hamilton for youth, a place where youth can relax and feel safe, look like?
Larger sheets of paper divided into four panels, with the 'Dreaming' sketch taped into the first panel were also available at each table for those who wanted to work collectively on creating a storyboard.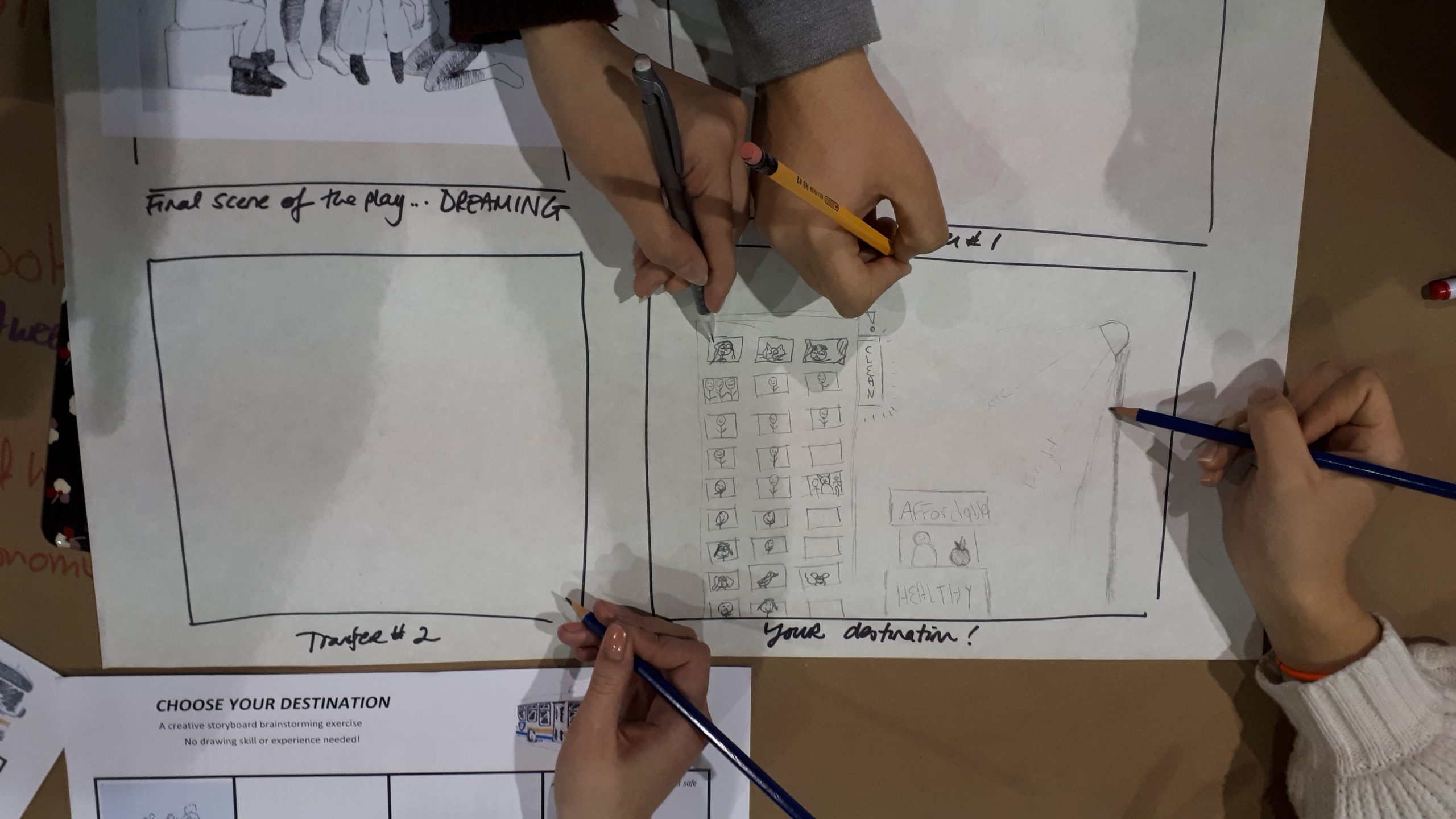 When they were done, audience members were invited to take a photo of their storyboard and email it to us so we could post it on the TSDC blog and twitter accounts or to share via Twitter. Audience members were also invited to take home a blank storyboard sheet (or two or three or four) and continue the exercise of imagining stops along the route to a City where the problems confronting youth have been solved or, "To tell a friend about the performance and invite them to join you in imagining stops along the route to your future destination."
In addition to giving audience members a sense of how the Image Theatre process was used to develop the play, the storyboard activity:
Gave people an experience of a creative activity that could itself be taken forward into other settings.
Interrupted typical communication patterns and moved towards a kind of parity of participation by allowing people for whom speaking in groups is less comfortable to assume a more central role in the response process.
Creatively invited audiences to think about the multiple different kinds of relationships they have with youth in the City — besides being frontline workers, or theatre artists or researchers, we are friends, neighbours, sisters, aunties, peers, parents, citizens, activists.
Things to keep in mind:
Since 'drawing' can be an intimidating activity for many people, it's very important to stress that, "

No drawing experience is necessary!"

— People are invited to draw stick figures, etc.
Extending the play's metaphor of the bus supports collectivity by emphasizing that there is no single correct or direct route to the destination, and you will certainly encounter others on route.
This activity is only possible in a setting that has tables which are necessary to provide a drawing surface while also facilitating collaborative creative exchange.
Ideally, instructions should be given both verbally and in writing. The written instruction sheets with the four-panel storyboard template offer an opportunity for audience members to share the activity.
Below are some examples of post-performance storyboards created by Choose Your Destination audience members.
Symbolic objects as prompts: Seeds, doors, rocks, and ribbons
Simple and usually reflective of our larger everyday world, the objects that make up TSDC Sets & Props are rich with symbolic meaning. Post-performance activities can build on and extend the themes of the play by taking advantage of the everydayness and symbolism of these objects and their relationship to the play's story. For example, our Storyboarding activity extends the metaphor of the bus as a vehicle that can take us to destinations of our choosing but one that requires us to encounter others and make transfers along the route. Likewise, when we do Image Theatre activities after performances of When My Home is Your Business, doing the exercise on the stage, allows participants in the activity to make use of the set's doors as a symbol of 'home.'
Here are a few other ways we've used (or considered using) symbolic objects as prompts to invite audience members to carry forward the themes of the play:
Seeds & Doors: When My Home is Your Business
In the final scene of the play, after "Emma" has shared flower seeds with her neighbours (even one who she had been in conflict with throughout the play), the performers break character to speak directly to the audience. The play closes with these words:
"A beautiful garden is made out of many flowers — and all great gardens need rich soil and time to grow. We want to imagine our City as a beautiful garden, but we need your help."
Audience members are given flower seed packets to take with them. This simple offering adds weight to the final words of the play by creating a tangible link between those attending and those performing. If resources permit, instead of seed packets, advocacy communities can create seed bombs and invite audiences to think of a neglected place in the City where they might plant and nurture their seeds.
In addition to interacting with the doors when audience members participated in Image Theatre exercises at the National Conference to End Homelessness, we also invited them to use the doors as a backdrop to send a message via social media. Drawing on the play's metaphor of seeds, as part of the post-performance ACT III we invited audience members to participate in a "Twitter seed planting action" by writing a message on a white board and then having their photo taken holding the message while they stood, sat, or poses in some way with one of the doors from When My Home is Your Business.
The prompt we gave them asked them to:
Think of a door in a building you know.

If this door could speak, what would it say?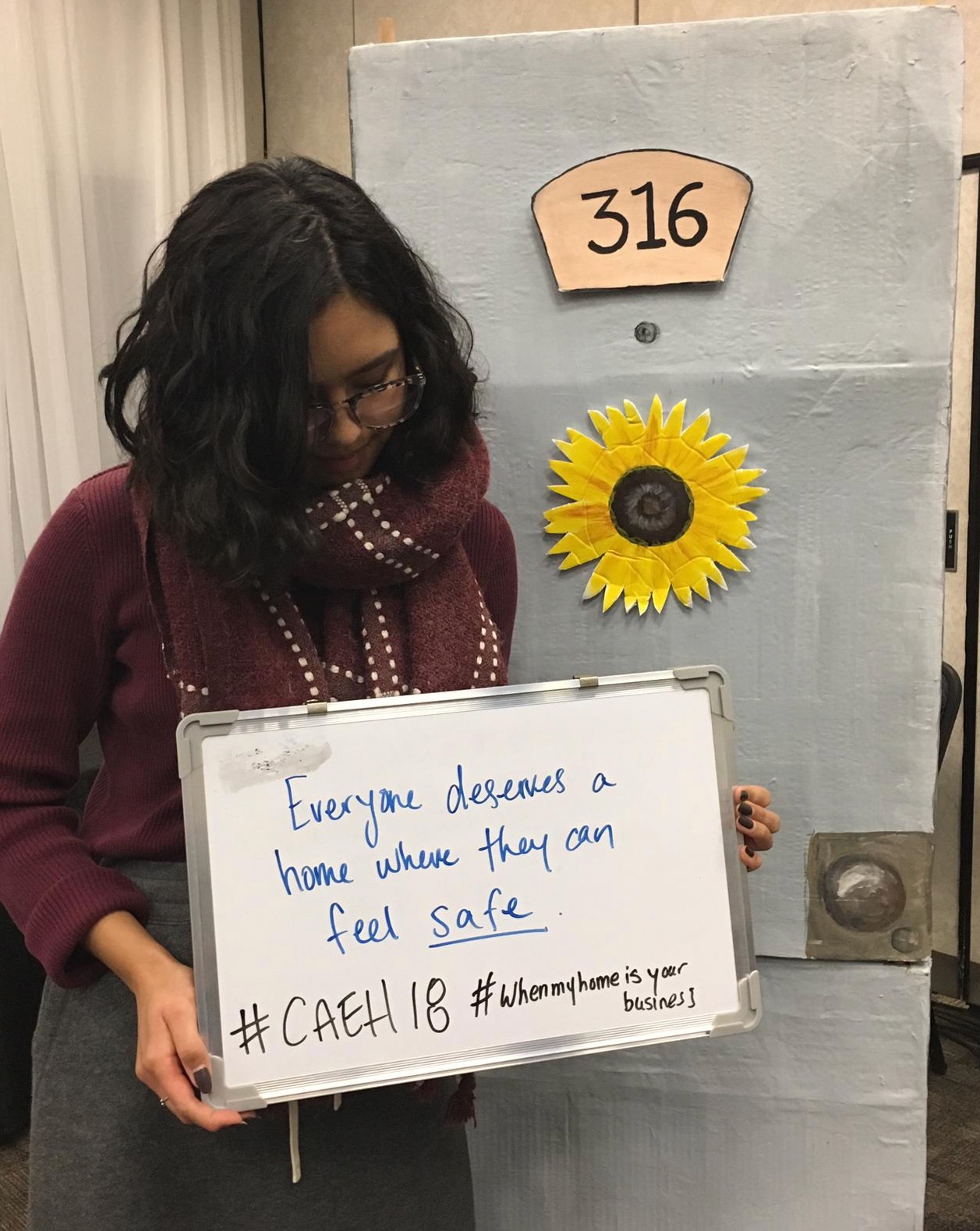 Rocks & Ribbons: We Need to Talk! and All of Us Together
"I think those stones are the kind of things that some of those people are going to take with them into their career, as like look, 'This is really something that's going to remind me to think about the people that I'm dealing with, that they're not just numbers. And that the system may not work for them, but I'm here to work for them, you know.'"

— Performer-advocate, We Need to Talk!
In addition to being performed as individual plays, We Need to Talk! and All of Us Together were presented together as part of a Performance Exchange. We consider these exchanges to be wonderful opportunities for performers and audiences to consider the relationships between the concerns raised in performances by different constituencies. At the event, audience members were given symbolic objects from each of the plays — stones (aka mini-rocks) and ribbons.
First a little about the role of the objects in the context of the plays…
Rocks: The five women who performed in We Need to Talk! carried armloads of paper mâché rocks with them throughout the play as they repeatedly approach three different social service agencies (Income Support, a Foodbank, and Housing Support). For the women, and the audience, the rocks symbolized the multiple things they needed to juggle. They were also a creative resource for dramatically illustrating how the small boxes that the agencies make available are rarely big enough to contain the all rocks each woman carries, and how difficult it is to navigate multiple agencies for women who already have their hands full.
Ribbons: At the end of All of Us Together the performer-advocates dropped out of character and asked the audience, "Who will you stand beside?" and "Whose dreams will you fight for?" They also tossed the coloured ribbons they had used throughout the play to weave their stories together. The ribbons became a metaphor for solidarity and connection.
Here's how we used the objects both as a way of initiating discussions about the performances and as an invitation to audience members to carry forward the themes of the play in the days to come:
"I want my rock to keep reminding me to challenge my preconceived notions of what it is to be successful. Like, if you want to work, you can work, and then you have money. That's what we're told all the time." — Performance Exchange audience member.
We Need to Talk! was performed first. Each audience member was given a small stone (a mini rock) to take away with them and remember the performance by. The stone was accompanied with this prompt: "As you think about leaving with this stone what will it mean to you? What are you carrying away today?" The audience was also invited to reflect on the meaning of the play and the stone by taking part in a post-performance dialogue in response to a prompt that was inspired by the play's final scene: What do we need to talk about?'
After the second play — All of Us Together — was performed, audience members were given ribbons and once again invited to participate in a post-performance conversation where they were invited to bring the stones and the ribbons as symbolic and literal objects into dialogue with each other:
"You've all received a ribbon. Unlike the stone which is for you to keep reminding you of what you learned today, the ribbon is meant to be given away. Our hope is that you will share the ribbon and what you learned with someone in your world. It could be family, neighbours, co-workers, decision makers… Given that, we'd like to hear from you: Who might you share the ribbon with? Who do you think needs to understand what you learned from today's performances? Why them? Thinking about both performances: What would you tell the person you are sharing the ribbon with? How would you describe what you've seen today and why it's important for them to know about it?"
Zines
Our work with storyboarding inspired us to think about zine-making as a possible post-performance activity. The more we talked about the zines as a resource for potentially extending the performance beyond the performance event, the more excited we became!
Here are some of the ways we've thought about using zines:
Recruitment flyers
Performance invitations
Informational flyers created by community and self-advocates around an issue
Performance programs
Templates for post-performance activities
Chapbook-zines of play scripts that performer-advocates and community partners could share
Unfortunately, like so many, we had to put all in-person gatherings on hold in response to COVID-19, which also meant temporarily shelving our plethora of collective zine-making plans. At the time, we were working on a plan with community partners from the Social Planning and Research Council of Hamilton to have participants in the Tools for Tenants' Rights project create an informational zine about tenants' rights to be presented at a performance of When My Home Is Your Business that was scheduled to take place at the Hamilton Public Library. We remain excited about the potential of zines as a resource to creatively extend the world-making moment of the performance.