"To be truly visionary we have to root our imagination in our concrete reality while simultaneously imagining possibilities beyond that reality."

bell hooks. Feminism is for Everybody: Passionate Politics.
We began writing this workbook in Spring 2020. Ontario had just entered the first wave of the Coronavirus pandemic. Now, as we prepare to launch the book, we're deep into the pandemic's second wave. Gathering in public, once a straightforward daily occurrence for most people, has become fraught and complicated in some settings, a distant dream in others. Theatre practitioners are asking if we'll ever have theatre again. Activists, community and self-advocates, and community service providers are working tirelessly to find new ways to organize, connect, and meet the needs of the community.
We find ourselves in the odd position of sharing a practical guide to working in shared spaces with community groups to create plays to be performed for live audiences — at a time when we know it's not possible. So much of the pleasure of our work in TSDC has come through being together. It's in how we share space, conversation, and food. How we create and imagine together. Yet, for the time being, it's clear that friendship and solidarity involve not being together in these ways we hold dear.
So as we prepare to send this workbook out into the world we're reminded of the closing scene from Choose Your Destination, a play we created with youth from Good Shepherd Youth Services. The play's four fictionalized characters speak to one another as they rearrange the seats of their makeshift bus and transform it into a couch that faces the audience:
JOANNE: You know what would be nice right now? Right now! This destination, taking us to a spot where we could just chill, nothing to worry about.

MOON: A place where we could all just relax, somewhere with a huge TV. We could all just watch Netflix and hang out.

SNOW: maybe something like this… (starts to move the seats and the others follow her lead)

JOANNE: Okay, but no horror movies, because I hate horror movies.

AMELIA: …and popcorn, but the fancy kind — with extra butter.

MOON: Don't have to worry about late bills…

JOANNE: …late bills, imagine being in a place long enough to set up the wifi …

SNOW: …imagine being safe and happy!

JOANNE: Girl, you're dreaming…

SNOW: …yeah, but isn't it a nice dream…

ALL: [sigh, nod and look out into the audience]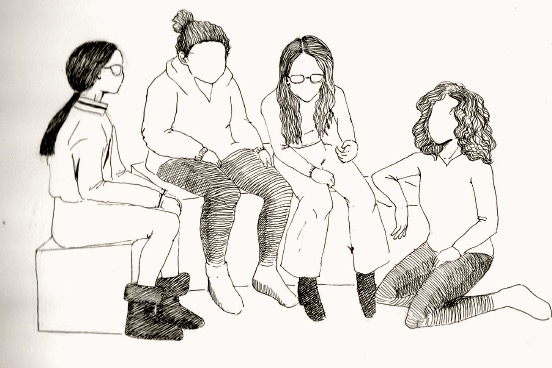 A simple desire. Yet, for the characters in the play (and their creator-performers), one that was so far removed from their concrete reality that it seemed like a dream. In visionary fashion, it was a dream they dared to imagine. Likewise, as we struggle to navigate these upside-down times where solidarity means not being together, we share this book as an affirmation of the power of the imagination to generate possibilities in the face of limitations.