Centennial College is proud to be a part of a rich history of education in this province and in Toronto.
We acknowledge that we are on the treaty lands and territory of the Mississaugas of the New Credit First Nation. We honour and pay tribute to their citizens and ancestors for their spirit and energy. We pay tribute to their legacy and the legacy of all First Peoples of Canada, as we seek to strengthen ties with the communities we serve and build the future by providing educational opportunities for all their relations. The Mississauga Nation has a strong story about its heritage and history. We are all people of stories, and these stories are our legacy.

Today the traditional meeting place of Toronto is still home to many Indigenous Peoples from across Turtle Island, and we are grateful to have the opportunity to work in the communities that have grown in the treaty lands of the Mississaugas. We acknowledge that we are all treaty people and accept our responsibility to honour all our relations.
Our Stories: First Peoples in Canada was generously funded by eCampus Ontario with financial assistance from the Office of the Academic Vice-President and Chief Learning Officer of Centennial College. Without this financial support we would never have dared to undertake a project of this significance and magnitude. We are honoured to have been able to produce an Open Educational Resource, which is freely available to all who are interested in hearing truth through storytelling.
This text was developed as a resource to support our Indigenous Studies: First Peoples in Canada stackable credential launched in 2014. This credential is an optional companion to our diploma programs and allows students to graduate with a diploma in a chosen field of study and a certificate of specialization in Indigenous Studies. The topics covered in this etextbook support the learning outcomes of our program; we acknowledge that they are not exhaustive nor representative of all topics that could have been included. The content of the etextbook will be reviewed on a yearly basis and enriched as we continue to develop resources in the years to come.   
Centennial College has been fortunate to have the opportunity to work with members of Indigenous communities and Nations who have shared their knowledge and guidance over the years. We acknowledge the significance of these relationships in providing us with the insight and direction required to undertake this work. It is through developing these relationships that we were able to engage in conversations and honour the stories shared with us by Indigenous citizens and community members.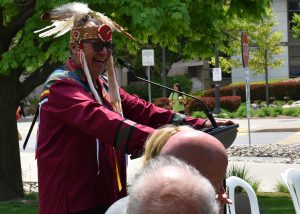 We have endeavoured to tell Indigenous truths through storytelling. Truths about the times before the settlers, truths about the interactions of Indigenous communities, clans, and Nations, and the settlers, and truths about the ways we must move forward towards reconciliation. Laying bare the facts has not been easy, but it is essential if we are to honour our commitment to move forward and heal. We believe this etextbook to be one of a kind and hope it will be welcomed by all as a respectful contribution to Truth and Reconciliation.
The stories that informed this etextbook were gifted to Centennial College by citizens of Nations and members of Indigenous communities. We recognize that these are not our stories, and we claim no ownership of them. We wish to express our gratitude to those who shared their stories with us.
As with all major undertakings many people contributed their skills, talents, and gifts to bring this dream to life. We acknowledge the many hours our contributors devoted to this etextbook.
Thank you to the following people for their knowledge, time, generosity and patience in working with us.
Andrew Wesley, Michael Cheena and the staff at Council Fire, Toronto

Aura

Brianna Olson

Carolyn Myers Boone, Patsy L. McArthur and Jenna McGuire, Historic Saugeen Métis

Chief Duke Peltier, Wikwemikong Unceded First Nation

Chief James Marsden, Alderville First Nation

Chief Lady Bird

Chief Phyllis Williams, Anne Taylor, and Louise Musgrave, and DJ Fife, Curve Lake First Nation

Chief Stacey Laforme

Constance Simmonds

Corrine Michel

Derek Kenny

Edmund Matatawabin

Faye Martin

Grand Chief Patrick Madahbee

Grand Council Chief Glen Hare

Harmony Nadjiwon

Jason Provost

Joseph McQuabbie

Julia Candlish, Chiefs of Ontario

Laura Colwell

Leigh Simpson

Len Fortune

Ma-Nee Chacaby

Maria Montejo, Dodem Kanonhsa, Toronto

Members of Centennial College's Aboriginal Education Council

Native Child and Family Services Toronto

Native Women's Resource Centre

Peter Sackaney

Rhiannon Johnson

Rob Lackie

Samantha Boshart

Shalane Rodriguez

Shane McLeod

Smokii Sumac

Staff at Anishnaabe Health Toronto

Susie Kicknosway Jones

Tamara Tran

The ENAGB program at the NCCT

The Native Canadian Centre of Toronto (NCCT)

Wilamina McGrimmond