Module 5: Indigenous Pedagogies and the Benefits for All Learners in Ontario
Authors: Jaimie Kechego, University of Windsor, Lorie Stolarchuk, University of Windsor
---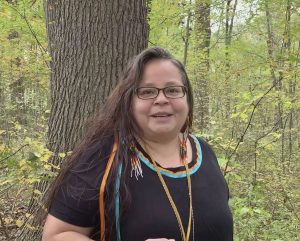 Aanii /Boozhoo, Niiganaaskwe nindizhinkaaz. Deshkaan Ziibing ndoonjbaa. Aajijaak ndoodem.
Hello, my name is Leading Light Woman. I am from Deshkaan Ziibing, otherwise known as Chippewa of the Thames First Nation. I am from the Crane clan.
I use this introduction as it connects me to my Indigenous heritage. I am the Indigenous Curriculum and Pedagogy Project Coordinator at the University of Windsor. You will get to know me throughout this module and its videos.
Introduction
This module has been designed to introduce you to Indigenous pedagogies, which are a collection of teaching methods and practices that support the development and passing on of Traditional Knowledge. While many areas may intersect or touch on a Western approach to education, Indigenous pedagogies focus on a holistic and relational approach to teaching and learning and a symbiotic connection to the land.
Before going any further, watch the short Introduction to Indigenous Pedagogies [2:15] video, where Jaimie introduces the concepts from her land at the Chippewa on the Thames First Nation.
Note: You can access closed captioning, add your own notes, download transcripts, adjust video settings or download media from the Video Controls in the media player.
Please note also that unlike other videos in this resource, the videos in this module are licenced as CC BY-NC-ND, which means that while you are free to use them at no cost, they cannot be used for commercial purposes, and cannot be altered in any way.
No conversation about inclusivity and learning in this land we call Canada would be complete unless Indigenous perspectives are also involved, so we are inviting you on a very small journey into that world. This module will model some traditional Indigenous pedagogies using a combination of text, images, and storytelling videos. We encourage you to draw upon your knowledge of UDL, AODA and EDI, and compare and contrast those principles with the Indigenous pedagogies that follow.
While we will not be covering "decolonization" and "indigenization" in this module, they are important topics for post-secondary education in Ontario and we encourage you to learn more about them using Pulling Together: A Guide for Curriculum Developers (eBook)

, an open educational resource, and/or review the resources provided at the end of this module.
Important Notes
This module is not an exhaustive representation of all Indigenous pedagogies, nor does it cover all the various Indigenous People's viewpoints and perspectives, which are as diverse as the Peoples themselves.
According to Statistics Canada, "The Canadian Constitution recognizes three groups of Indigenous peoples: First Nations, Inuit, and Métis. These are three distinct peoples with unique histories, languages, cultural practices and spiritual beliefs" cited in Indigenous Services Canada, 2021). We are providing here an introduction to common teaching and learning concepts and encourage you to seek more knowledge, permissions, and conversations with local Indigenous Peoples to learn more about traditions and knowledge in your area.
Some topics or approaches may trigger some discomfort or excitement for readers. Please seek support if you get overwhelmed. Also, please consult with local Indigenous Knowledge Keepers to accurately incorporate stories or content into your curriculum. Some stories or practices are sacred and require permission or appropriate context to be able to be shared.
Please watch the Using Indigenous Content [1:40] video to further explain considerations on connecting your course to Indigenous material.
Learning Outcomes
Upon successful completion of this module, you  should be able to:
Compare and contrast key Indigenous pedagogies and braid them together into your own teaching and learning practices
Describe important principles to consider when weaving Indigenous pedagogies into your curriculum
Describe where UDL and Indigenous pedagogies intersect and diverge and where you can find support to explore further
Learning Activities and Assessments
Reflect on questions throughout the module
Application activities
Time Commitment
Approximately 120 minutes
---
References
Indigenous Services Canada. (2021, Nov 3). Annual report to Parliament 2020. Retrieved Jan 4, 2021,from https://www.sac-isc.gc.ca/eng/1602010609492/1602010631711