5.4: Connecting Indigenous Pedagogies to UDL
The UDL Guidelines directly relate to, and are supportive of, implementing Indigenous Pedagogies in post-secondary education in Ontario. Please review the UDL Guidelines below. Should you wish to learn more about UDL, please access the content in Module 1 and 2 of the UDL for IDEA project.
As indicated in Module 1 and 2 of this guide, the UDL Guidelines are based on three primary brain networks:
Affective
Recognition
Strategic
Each network is then identified by a principle:
Multiple means of engagement
Multiple means of representation
Multiple means of action and expression
Each principle contains checkpoints emphasizing elements to support learner diversity, equity, inclusion, and access:
Multiple Means of Engagement

Options for recruiting interest
Options for sustaining effort and persistence
Options for self-regulation

Multiple Means of Representation

Options for perception
Options for language, math, and symbols
Options for comprehension

Multiple Means of Action and Expression

Options for physical action
Options for expression and communication
Options for executive functions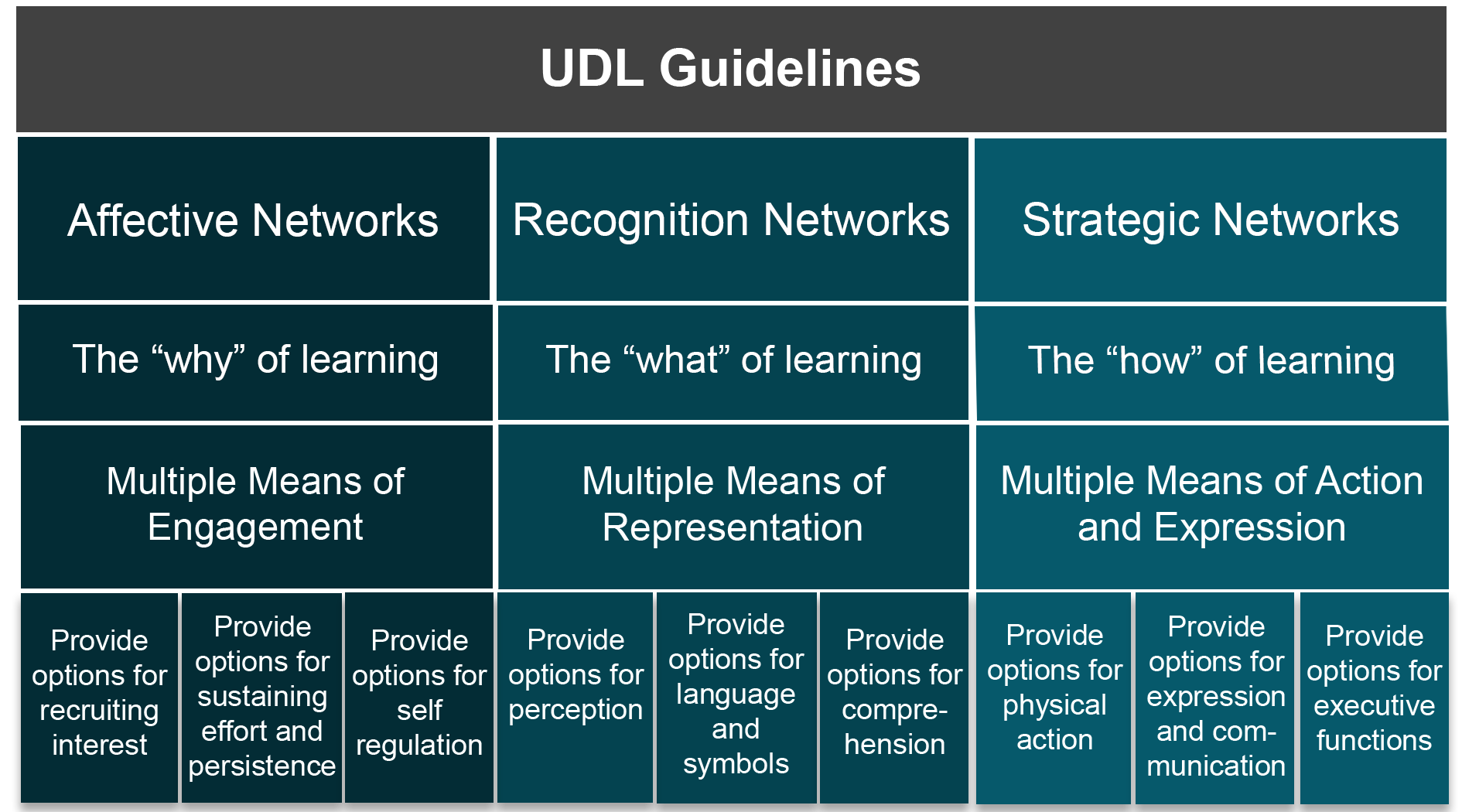 There is a strong connection between Indigenous Pedagogies and UDL. Below you will find a variety of examples, organized by UDL network, outlining how Indigenous Pedagogies can work in conjunction with UDL.
Indigenous Pedagogies Suggestions for Multiple Means of Engagement
Provide options for sustaining effort and persistence by using the Medicine Wheel structure to illustrate the cycle of goals and support learners to divide long-term course or assignment goals into smaller short-term objectives.
Provide options for self-regulation by referring to the Indigenous principle of responsibility for self and have learners reframe course objectives into their own personal learning outcomes.
Provide options for recruiting interest by employing Place-based learning and creating assessment or learning activities that ask learners to engage with a "real" audience and have a clear real-world purpose.
Indigenous Pedagogies Suggestions for Multiple Means of Representation
Provide options for language by pre-teaching important vocabulary and abbreviations in ways that connect to prior knowledge to support relational learning.

Consider researching terms from your discipline to see if there are corresponding terms in an Indigenous languages or similar concepts. Connecting with your local Indigenous community may support you to explore further.

Provide options to improve learning by including multimedia resources and experiential opportunities to support storytelling and experiential learning wherever possible.

In addition, should you wish to include Indigenous knowledge in your content, look for to openly available and authentic Indigenous sources and resources that connect to your discipline and your local area.
Indigenous Pedagogies Suggestions for Multiple Means of Action and Expression
Design your learning environment with options for physical action by embedding experiential learning opportunities within your content.
Provide options for personalized expression and communication by creating opportunities for learners to communicate their knowledge in a variety of formats where appropriate and relevant. Include space in your content, learning activities, and assessment activities for storytelling.
Develop executive functioning by using the Medicine Wheel process to encourage reflection and self-monitoring of a learner's whole being, encouraging them to observe their own learning progress and growth.
Thinking of your own discipline area:
Choose an Indigenous Pedagogy or Learning Principle that really spoke to you in this module.
Reflecting on your discipline, take one of the UDL checkpoints and determine how you could employ an element of Indigenous Pedagogies to provide options to all of your learners?
---
You are invited to record your application in the way that works best for you, which may include writing, drawing, creating an audio or video file, mind map or any other method that will allow you to document your ideas and refine them at the end of this module.
Alternatively, a text-based note-taking space is provided below. Any notes you take here remain entirely confidential and visible only to you. Use this space as you wish to keep track of your thoughts, learning, and activity responses. Download a text copy of your notes before moving on to the next page of the module to ensure you don't lose any of your work!
---
References
Mohawk College. (2019). Universal Design for Learning [Graphic]. http://www.mohawkcollege.ca/employees/centre-for-teaching-learning/universal-design-for-learning