3.2: AODA and the Learning Environment
In 2005, the Ontario Government established the Accessibility for Ontarians with Disabilities Act (AODA) with the goal of making Ontario fully accessible by 2025. The focus was to ensure persons with disabilities could fully participate in everyday life in our communities and the economy.
Educational institutions operating in Ontario have a legal duty to take steps to prevent and respond to breaches of the Ontario Human Rights Code (OHRC). This responsibility includes maintaining accessible, inclusive, discrimination and harassment-free education environments that respect human rights. The Integrated Accessibility Standards help with doing just that.
The video, Discover: An Educator's Introduction to the AODA [3:27] by OntarioUniversities (2013), provides an overview of the AODA and how it applies to educators. It also shows some examples on how instruction can be made more accessible to all students.
The AODA established the Integrated Accessibility Standard Regulations (IASR), a grouping of legal requirements that institutions must follow to help identify, remove, and prevent barriers faced by persons with disabilities. These requirements are divided in two categories: General Requirements and Accessibility Standards.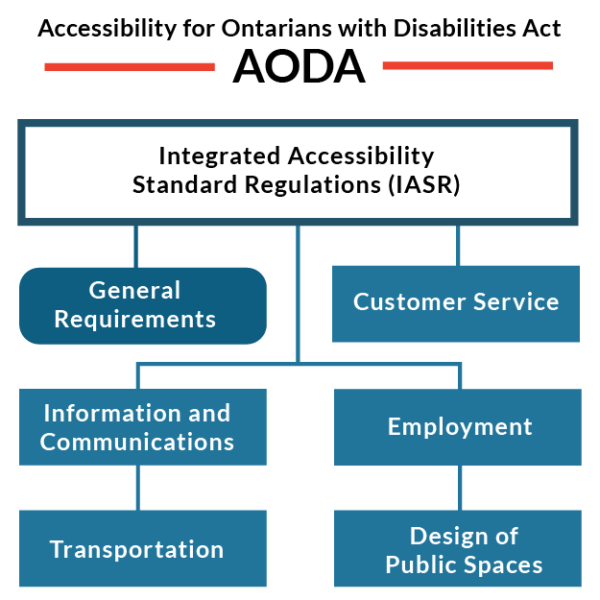 General Requirements
The General Requirements include training, procurement, planning, accountability (reporting), and policies and processes.
Did You know?
Accessibility training for employees and volunteers is mandatory under the AODA. Check with your institution on whether that training is delivered and ensure you have taken it. 
Accessibility Standards
At this time, the Accessibility Standards comprises of five requirements necessary to ensure a basic standard of accessibility in the following key areas of day-to-day life:
Customer service
Information and Communications
Employment
Transportation
Design of Public Spaces (Built Environment)
Note: Each standard is alternatively being reviewed every five years. When deemed necessary, requirements and implementation timeframe are added or modified. Changes to the standards may require institutions to re-train all employees on its developments.
Roles and Responsibilities of Educators under the IASR 
Following the requirements under the IASR in the learning environment can take many forms, such as accessible information and communications. The information and communications standard outlines requirements for creating, providing, and receiving information and communications in ways that are accessible for people with disabilities. This includes:
Websites and web content
Educational training resources and materials
Training to professors and other educators
Libraries of educational and training institutions
1. Websites and Web Content 
All internet websites and web content, including web-based applications, must conform with the World Wide Web Consortium Web Content Accessibility Guidelines (WCAG) 2.0 Level A and AA

other than,
Did You Know? 
If you intend to make any of your course content publicly available through an internet website, you must comply with the Information and Communications Standard's requirements as it relates to websites and web content. Check with your campus on what resources are available to assist you in meeting the information and communications standards. 
2. Educational Training Resources and Materials
Upon request, institutions must provide students who have disabilities educational or training resources or materials in an accessible format that takes into account the accessibility needs of the person with a disability by:
procuring through purchase or obtaining by other means an accessible or conversion-ready electronic format of educational or training resources or materials, where available, or
arranging for the provision of a comparable resource in an accessible or conversion-ready electronic format, if educational or training resources or materials cannot be procured, obtained by other means or converted into an accessible format.
Consider This:
The Portable Document Format (better known as PDF) is an open standard, maintained by the International Organization for Standardization (ISO). Your students can easily view these compressed files around the world on any smart phones, Windows or Mac OS using the free Acrobat Reader DC software. These compressed files also need less bandwidth to be uploaded.
Follow Microsoft Accessibility video training to learn how to create accessible Word documents and PowerPoint presentations ready to be converted into an accessible PDF.
Once you convert your Microsoft document into an Adobe Acrobat PDF document, follow the tutorial Create and verify PDF accessibility to learn how to use the accessibility tool provided in Acrobat to do the final accessibility touch ups. Please note that this step requires the paid licence Acrobat Pro version 10 or 11. The free Acrobat Reader DC software is not enough.
Exceptions
When the materials requested are deemed unconvertible, an explanation must be provided to the requester, along with a summary of the information. More information on how to respond to such requests can be found in your academic accommodation policy.
Did You Know?

Producers of educational or training textbooks for educational or training institutions are also required to make accessible or conversion-ready versions of the printed materials available. Work with your institution's library services to assist you in sourcing accessible formats for your educational materials. 
Now think about this question: how does using an accessible learning platform and selecting accessible or conversion-ready format educational materials help students with disabilities feel more included?
3. Additional Training to Professors and Other Educators
Institutions are required to provide training to educators with accessibility awareness training related to accessible program or course delivery and instruction and keep a record of the training provided, including the dates on which the training is provided and the number of individuals to whom it is provided.
Did You Know?
By following this training, you are already working on this requirement. If you believe you need more support, please ask your supervisor or your manager about more training, resources available and support services to help you create an inclusive learning environment for students with disabilities. 
4. Libraries of Educational and Training Institutions
When requested, and where available, institution libraries shall provide, procure or acquire by other means an accessible or conversion-ready format of print, digital or multimedia resources or materials for a person with a disability, upon request.
Applicability 
Print resources can include but are not limited to, books, magazines, posters, journals, newspapers and newspaper articles.
Digital or multimedia resources are usually a combination of text and audio and include, but are not limited to, materials such as films, videos, CD-ROMS and DVDs.
Unconvertible Information 
When the requested materials or resources are unconvertible, the library needs to explain the reason why and provide a summary of the information in a format that takes into account the accessibility needs of the person who made the request.
Did You Know? 
The Marrakesh VIP Treaty is a treaty allowing for copyright exceptions to facilitate the creation of accessible versions of books and other copyrighted works for visually impaired persons. For more information, please contact your library service 
Remember: Accessibility is a proactive solution to providing equal access for all. It is the baseline of equal service. Accessibility is what we should expect to be ready for us without asking or planning ahead. It can be provided by following an easy-to-implement set of standards and practices that make "adaptation" unnecessary. We can benefit from accessibility without announcing or explaining our disabilities (Pulrang, 2013).
Activity 2: Reflect on AODA Requirements
Review your current course/training plan. Do all your information, platforms, source materials, etc. meet the AODA requirements?
How would you go about implementing the IASR requirements in your hyflex course?
Read this AODA Checklist (PDF) or AODA Checklist (Word) to find out steps with tools and resources.
---
References
Accessibility Services Canada. (n.d.). About the AODA [Chart]. https://accessibilitycanada.ca/aoda/
Ontario Human Rights Commission. (2004). Guidelines on accessible education. http://www.ohrc.on.ca/sites/default/files/attachments/Guidelines_on_accessible_education.pdf
OntarioUniversities. (2013, Dec 3). Discover: An Educator's Introduction to the AODA [Video]. YouTube. https://youtu.be/4AxaWGbf4mk
Pulrang, A. (2013, Aug 17). Accessibility vs. Accommodation [Blog post]. http://disabilitythinking.blogspot.com/2013/08/accessibility-and-accommodation.html