Once an account and book have been created in Pressbooks, the Dashboard or Dashboard page is where the account holder is automatically directed after logging in. The account holder is automatically assigned as the Administrator and has access to all functions listed on the Dashboard. Lesser roles, such as Editor, Author, Contributor, and Subscriber do not see/access all of these tools. (See Provide Access to Others.)
The Dashboard is also where an author will spend most time writing and where links to various tools and functions can be found. This chapter will provide an overview of the Dashboard.
IMPORTANT: If you have been assigned a user role other than Administrator, you will not have access to the "Users" or "Settings" panels.
Chapter table of contents
My Catalogue
The My Catalogue link in the top red toolbar allows you to add a new book, clone a book, and see and select all books in your Pressbooks Catalogue. (See Add a New Book and Clone a Book.) So if you've got more than one book, you can rapidly switch between them right here. You can also locate the Dashboard for a specific book as follows:
Scroll over "My Catalogue."
Select the arrow by a book.
Select "Dashboard" to access the edit view.
Select "Visit Book" to access the webbook or reader view.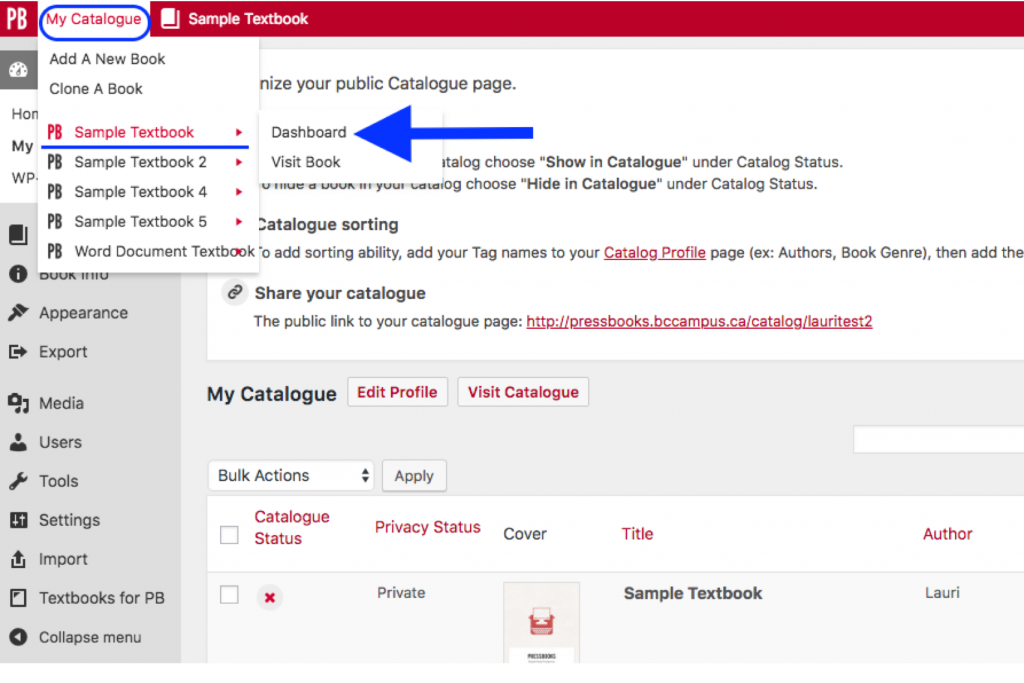 On a book's Dashboard, various tools are listed in the left-hand column Dashboard menu, the parts and chapters of the book are in the middle, and users who have access to the book are shown in a Users box on the far right.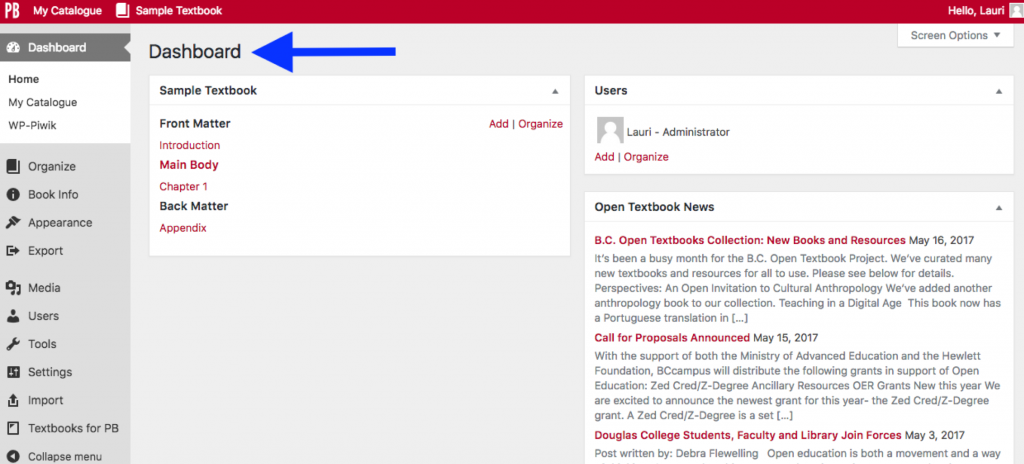 | | |
| --- | --- |
| | For more information, see My Catalog in the Pressbooks Userguide. |
Most of the major Pressbooks features are found on the Dashboard menu. These are described below.
Organize
Clicking on Organize reveals a drop-down list that provides links to these functions:
Notice too the Add | Organize options inside the table of contents in the middle of the Dashboard. "Organize" is the same as the Organize tab on the Dashboard menu and "Add" allows the addition of a chapter.
The Users box on the right side also has an Add | Organize option. This is where an Administrator can add new users or organize existing users, i.e., change their role or remove access. (See Users.)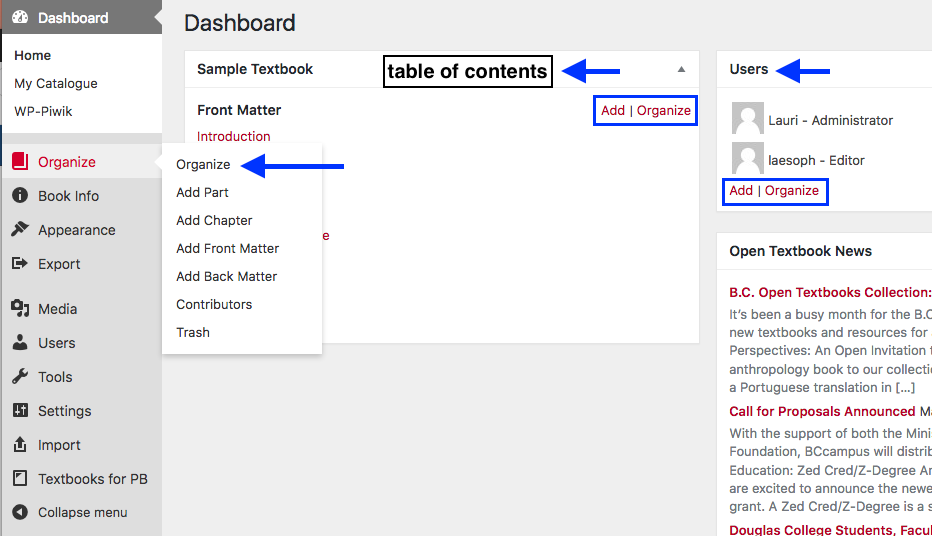 Book Info
The Book Info page is where information is added or edited regarding your book, including book title, authors, editors, publisher, copyright owner/year/notice, licence type, descriptions of the book, keywords, and more. Much of the data entered on this page displays on the home page of the webbook and as part of the various exported file formats.
It is suggested that the author and/or publisher fills this page out as the book is being written and as information becomes available. This page can be updated as needed.
| | |
| --- | --- |
| | For more information, see Book Info in the Pressbooks Userguide. |
Appearance
| | |
| --- | --- |
| | For more information, see Appearance in the Pressbooks Userguide. |
The Appearance tab provides access to the following:
Themes
Pressbooks core has created 20 themes, each with different styles (font, headings, etc.) and features. These can be viewed and activated from navigating to the Appearance tab in the Dashboard menu and clicking "Themes." Scrolling over a specific theme option reveals a Theme details box that, when clicked, describes the theme.
The BCcampus instance of Pressbooks provides eight of the 20 themes. They are:
Open Textbook
Austen Classic
Clarke
Donham
Fitzgerald
Jacobs
Luther
McLuhan
Theme Options
In Theme Options, you can customize the appearance and functionality of your entire book. There are four tabs on this page, with each affecting different parts of your book. It is suggested that Administrators "play" with these features during set up to understand how they work and to assist with decisions about which options to use. Options include the following (by tab):
Global Options (these will affect the entire book in all formats)

Parts and Chapters Numbers: Parts are numbered with Roman numerals and chapters are numbered with Arabic numbers.
Two-Level TOC: Enables a two-level table of contents (TOC). Headings marked as Heading 1 will display under chapter titles in the table of contents.
Language and Script Support (See Language and Script Support.)
Chapter Licenses: Offers choices about the display of copyright licences on export formats (none, at end of table of contents, at end of each chapter). The default is at end of table of contents.
Option to change the header, header background, and background colours of specialized textbooks (See Textboxes)

Examples
Exercises
Key Takeaways
Learning Objectives

Web Options (webbook)

Enable Social Media (Facebook, Twitter, Google+)[1]
Webbook Width (narrow, standard, wide): Changes the width of text content in the webbook. The default setting for BCcampus Pressbooks instances is "standard."
Paragraph Separation: Chose between "indent paragraphs" (which will have no spaces between paragraphs) and "skip lines between paragraphs" (which will have no indents).
Display Part Title: Have the part title displayed at the top of each chapter. This helps orients readers when they are reading a chapter.
Collapse Sections: Collapse all content under Heading 1 headings.

Tabbed Content: When these features are turned on, tabs appear at the end of each chapter in the lower left-hand corner of each chapter.

Display revision history for each chapter with everyone.
Display book information for each chapter with everyone.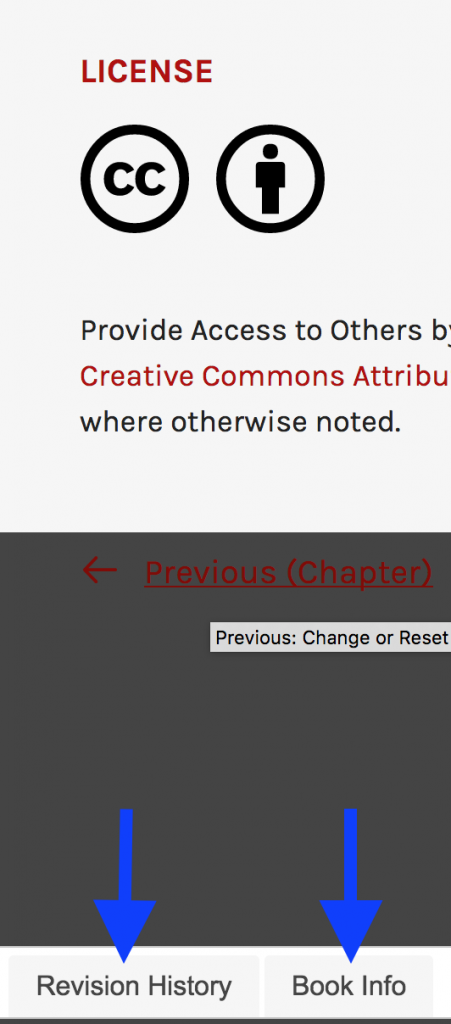 PDF Options: These options apply to Digital and Print PDF exports. (See Export Files.)

Body Font Size: The default setting is 11 pt; heading sizes are proportional to the body font size and are affected by this setting.
Body Line Height: The default setting is 1.4 em.
Page Size: This drop-down list offers a variety of page sizes; the default setting is US Letter (8.5″ x 11″).
Margins: The settings for outside, inside, top, and bottom margins; default setting for each margin is 2 cm. Margins must be expressed in CSS-compatible units, e.g. '8.5in' or '10cm'. IMPORTANT: If you plan to use a print-on-demand service, margins under 2cm on any side can cause your file to be rejected.
Hyphen: Enable hyphenation.


Ebook Options: These options apply to EPUB and MOBI exports.

Ebook Start Point: Select that Ebook start point from a drop-down list of all chapters.
Paragraph Separation: Choose between "indent paragraphs," which has no spaces between paragraphs (recommended for ebooks for more manageable reading on mobile devices), and "skip lines between paragraphs," which does not use indents.
Compress Images: Reduce image size and quality (chosen by default) for more manageable reading on mobile devices.
Custom Styles
Export
Media
The Media tab is where all media for a book—images, videos, audio—are uploaded. Click "Add New" to upload media content or click "Library" to see and manage media you have uploaded previously. Media in the Library can be embedded or linked to in the content of your book. (See Images and Files.)
Users
The Users tab is where a book Administrator can add other people to their book. (See Provide Access to Others.) It has the following options:
All Users
Add New
Your Profile
Tools
Settings
The Settings tab contains numerous options for privacy and exporting and for displaying formulas with the LaTeX tool (used for rendering mathematical formulas).
Sharing & Privacy

Textbooks for PB (settings)

Search and Import tab
Hypothesis tab: as the administrator of a book, add annotation functionality to book pages. This feature replaces the need to download the hypothes.is browser plugin.
Import
The Import tool pulls content into Pressbooks from various file types. (See Add Content.)
Textbooks for PB
The Textbook for PB (Pressbooks) panel contains tools for importing content from other open textbooks.
Textbooks for PB
This page defines open textbooks and other OER, lists their benefits, and describes the 5 Rs behind the CC or open-copyright licence. A link is provided to the Textbooks for Pressbooks settings page.
Search and Import
The Search and Import tool allows you to import content (whether it be an entire book or individual chapters) from books in the same or other instances of Pressbooks. (See Search and Import a Pressbooks File.)
Download Textbooks
The Download Textbooks tool allows Pressbooks users to download open textbooks directly from the B.C. Open Textbook Collection. This is a feature unique to the B.C. Faculty Pressbooks instance.
---
Books published by BCcampus enable this feature. ↵