The Contents and the Author
The Book
Trust Systems presents a social-annotation-enhanced personal view of trust and its workings, more specifically computational trust, attained through more than three decades of research and practice in the field. It is aimed primarily at senior undergraduate and graduate students looking for an accessible introduction to the concept that points toward more in-depth works. It is also written for general interest science in the hope that they find it interesting. It was written as an electronic book but can be happily printed and read on good old-fashioned paper.
Whilst much of the focus is on trust as a computational concept, it is applicable to readers in the social science who are interested in trust, since it also discusses the phenomenon with reference to sociological and social-psychological works.
The book explores trust and trust systems from first principles through to examining their role in many of the tools and technologies we encounter today. It also explores some of the future and what that means for us as humans, whilst explicitly acknowledging that humans are emphatically not the only beings that can, and do, think in terms of trust.
The Writer
My name is Steve (the good looking one in the picture is Sally, who is in training to be my next Service Dog).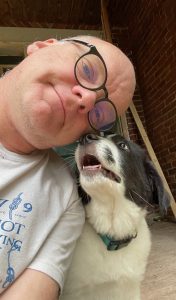 I've been working in the field of Computational Trust for more than thirty years. I actually founded it, which is a bit of luck because I guess that means I can also write about it like this. I was born in Dudley, England, was educated in Gornal, Malvern (all Primary schools), Upton upon Severn (Junior High), Hanley Castle (High School), Stirling University (BSc in Computing Science and PhD in the same, but basically Computational Trust). I taught for a while in Stirling University before being offered a Postdoctoral Fellowship with the National Research Council (NRC) of Canada in 1996, and moving over to Canada as a result. This turned into being a Research Associate and eventually Research Officer at the NRC, where I worked on ACORN, an agent-based information system that delivered information to people based on interests and recommendations and the idea of Socially Adept Technology. I also helped start up the PST (Privacy Security and Trust) conference as well ask the IFIPTM Conference (which followed on from iTrust). After NRC I went to work at the Communications Research Centre in Ottawa (also Canadian government) where I worked on things like privacy and information security and (of course) trust. In 2012, I went to work at Ontario Tech University (then UOIT) where I am currently associate professor of trust systems.
Phew.
I teach introductory management courses, a senior undergrad level course on Trust Systems (which this book started out being for), graduate level courses in Trust Systems as well as Information Security Policies and Risk Management, and have taught a bunch of Information Systems courses. In my past life in Stirling I taught programming courses mostly, and helped create a brand new first year program for computing science.
I live in Eastern Ontario on a tiny farm where we have a few animals and try to grow things to eat. I'm good at tomatoes.