11

Yvonne Williams, Toronto

Career and St. John the Evangelist

Iraboty Kazi
A leading figure in twentieth-century Canadian stained glass design and education, Yvonne Williams (1901-1997) forged a distinct and influential contemporary style that contributed to the development of modern stained glass.
Williams was born in Port of Spain, Trinidad to Canadian parents. In 1918, her family returned to Canada. She enrolled at the Ontario College of Art in 1922 to study sculpture but soon switched to painting with Arthur Lismer, Fred Varley and J.E.H. MacDonald. Williams' interest in stained glass led her to do an additional year of college to focus on fine art metal and glass with instructor Grace Coombs. She worked and trained in studios in Toronto, St. Louis, Philadelphia, and the Connick Studio in Boston, supplemented with trips to Europe to study medieval stained glass cycles. In 1932, Williams opened her first studio but initially struggled to launch her career. As her business and reputation grew along with the economy, Williams built a large studio in North Toronto in the late 1940s. The studio operated for nearly thirty years and saw over four hundred commissions for churches, schools, hospitals and residences across the country. It was well-known for its high quality and its unique organization, which deviated from the strict hierarchy and defined tasks of a traditional glass studio.
Firsthand observations of Medieval stained glass and the Gothic revivalist style of her mentor,  Charles J. Connick inspired her early work in the 1930s and '40s. Throughout the 1950s and '60s, she developed her more contemporary, abstract, and graphic style. Her windows show a continuous evolution, experimentation with various painting techniques and playing with light and colour to progressively move towards abstraction. In her illustrious career, she brought attention to stained glass as a medium expressing the ideas of contemporary society. Even after her retirement, she continued to design windows and be a source of encouragement and inspiration for the work of younger artists.
Bibliography
Baldwin, Judith. Industry into Art: The Yvonne Williams Studio 1932-71 and Beyond. N.P.: 1992.
Crawford, Gail. A Fine Line: Studio Crafts in Ontario from 1930 to the Present. Toronto:  Dundurn Press, 1998.
Fulford, Robert. "The Artist Behind the Window." Mayfair 28:12 (December 1954).
Gannon, Mo. "Lives Lived – Yvonne Williams." The Globe and Mail (Toronto, ON), Dec.  24, 1997.
Kuprowsky, Helena. "50 Years of Modern Work." Canada Crafts, (Oct/Nov 1978).
MacDonald, Colin S. "Williams, Yvonne." The Dictionary of Canadian Artists. Written by Colin S. MacDonald (Volumes 1-8) and Anne Newlands and Judith Parker (Volume  9). Ottawa: National Gallery of Canada, 2009.
McCarthy, Pearl. "Art and Artists." Globe and Mail (Toronto, ON) Dec. 12, 1936.
Spicer, Elizabeth. Trumpeting Our Stained Glass: The Church of St. John the Evangelist, London, Ontario. London, ON: St. John the Evangelist, 2008.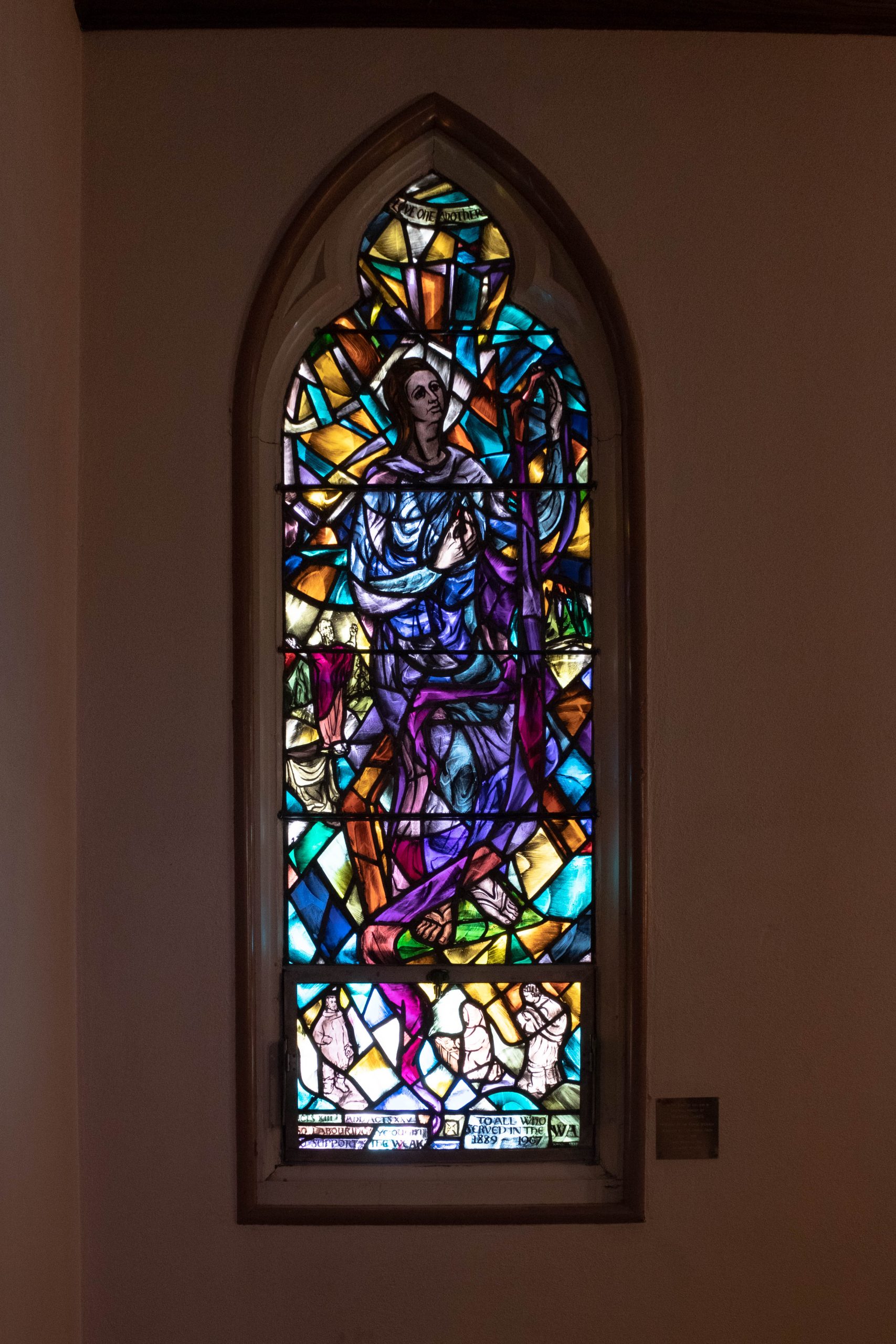 Priscilla
Artist: Yvonne Williams, Toronto, 1974
Dedication: "To All Who Served in the W.A., 1889 – 1967"
"Mirror, Mirror Hanging on the wall, which is the Fairest Window of Them All?"
The Priscilla Window stands out in the church due to Williams' abstract geometric design and jewel-like colours. In the window, Priscilla holds a strip of purple cloth and a needle. Along with her husband, Aquila, she was among the earliest of the Christian converts. They are referenced at least six times in the New Testament. They were tentmakers and Paul lived and worked with them. They represent Christian cooperation, hospitality, and service. Further, there is academic speculation that Priscilla wrote the Book of Hebrews, which is considered to be the only book of the New Testament without an author.
The window commemorates the service of devoted women of the church. According to Spicer,  the lower panel highlights the work of the Women's Auxiliary of the Missionary Society of the Anglican Church of Canada, which started in this church's parish in 1889. [1] Their weekly meetings coupled spirituality with knitting, quilting, and making garments for the missions in the Northwest Territories and India.
[1] Elizbeth Spicer, Trumpeting Our Stained Glass Windows (London: St. John the Evangelist, 2008), #19.