10

Peter Haworth, Toronto

Career and St. John the Evangelist

C. Cody Barteet
Peter Haworth was born in 1889 in Oswaldtwistle, England. He began his training at the Royal College of Art, London, England, after World War I. By 1923 he was in Toronto as a member of the staff of the Central Toronto Technical School. He served as director of the school from 1929-1955 and taught ceramics there until 1963. Of the artists that worked at St. John's, Haworth was among the more unique personalities as he took control of almost every facet of production, from design to cutting, to colouring, to installation. Haworth died in 1986.
His style differs from his precursors in Ontario as Haworth places a great emphasis on the figures than the surrounding accoutrements and farming devices. Many of his works have a sense of monumentality that relates his practice to the Early Modern era, but contains a sense of patterning rooted in the modern aesthetic. Indeed, his forms are crisp and easily discernible. The large figures offer a pleasing contrast to the patchwork of colour across his windows.
Bibliography:
Brown
, Shirley Ann. The Stained Glass of St. James' Anglican Cathedral, Toronto. Toronto

: Anglican

Archdiocese of Toronto, 2001.

Colgate
, William G. Canadian Art: Its Origin and Development. Toronto: McGraw-Hill Ryerson, 1975.

Duval
, Paul. "Canadians Revive Stained-Glass Art." Saturday Night 67.26 (12 April 1952): 13.

MacDonald
, Colin S. "Haworth, Peter." Dictionary of Canadian Artists, vol.2. Ottawa: Canadian Paperbacks, 1968.

Saltmarche
, Kenneth & Paul Duval.

Glorious Visions-Peter Haworth

.

Windsor: Art Gallery of Windsor, 1985.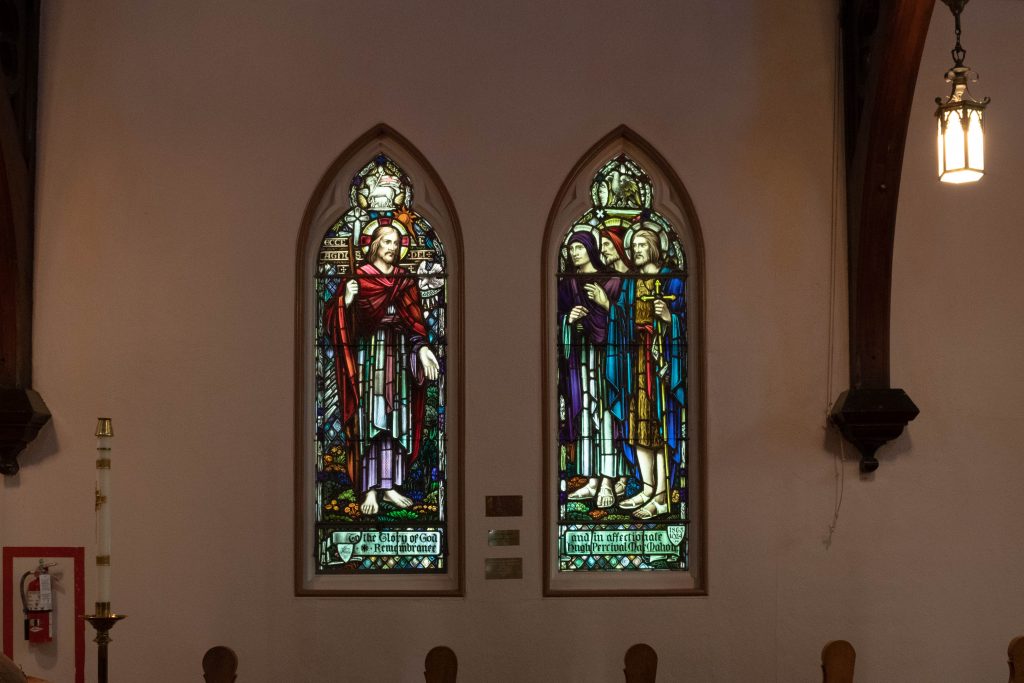 Behold the Lamb of God
Peter Haworth, 1928
"To the Glory of God in Affectionate Remembrance: Hugh Percival McMahon, 1863-1924."
Donated by his family. Unveiled April 15, 1928
Hugh Percival McMahon was a banker for Traders and the Royal Bank of Canada. He was instrumental in restoring the 1888 organ during 1921. The diptych windows illustrate the visit of Christ with St. John the Baptist, Peter, and Andrew. The works have complex symbolism like those found in the windows by Wallis.  According to scripture (John 1:29-34), after the testimony to the Jews, and in the presence of Peter and Andrew, John the Baptist states to the two future disciples, "Behold, the Lamb of God!" Within the images we see John flanked by Peter and Andrew pointing to Christ. Here Haworth relies upon Medieval and Renaissance iconography in the window of Christ.  Christ is shown crowned halo along with images of the cross, dove, and the sacrificial lamb. The flanking image depicts John, Peter, and Andrew. The figures are adorned with imagery corresponding to Early Modern conventions while the entirety of the scene is capped by the eagle of John the Evangelist.