Module 3: Assessment Strategies for a Virtual Environment
Developing a High-Quality Assessment Strategy
The purpose of this section is to demonstrate how to apply the concepts from earlier in this module towards the development of a high-quality online assessment strategy. Such a strategy helps us ensure that all students have an equal chance to meet achievement standards articulated by course learning outcomes.
A high-quality online assessment strategy incorporates principles of equity and inclusion and fosters student success in real-world contexts. It also takes into account two other key elements of assessment design:
specific and measurable course learning outcomes
assessment criteria identified by performance standards and measured through rubrics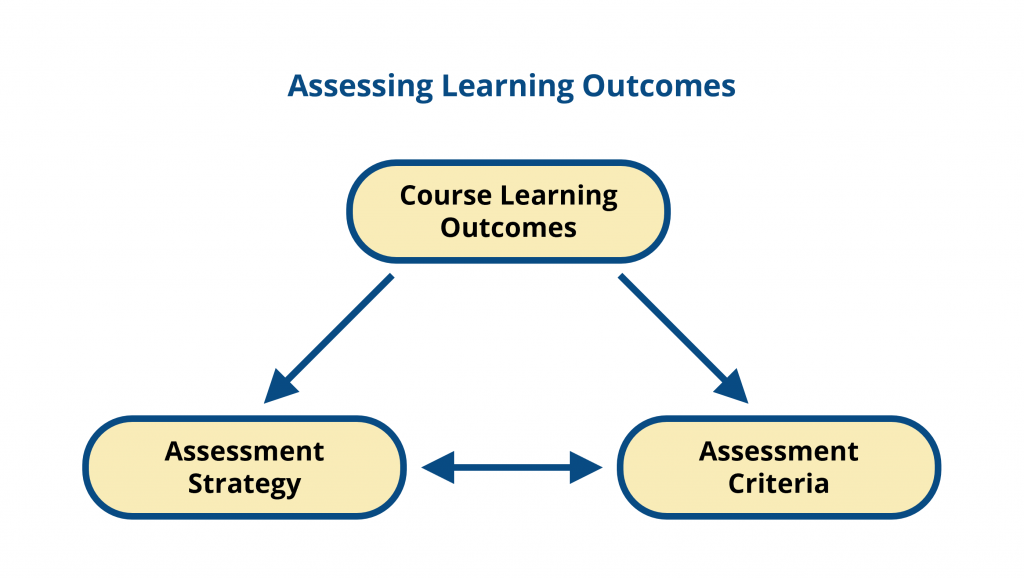 The Cycle of Assessment: Process and Product
At the course level, an assessment strategy enables us to build a rich and meaningful assessment cycle that honours learning as a process. As students progress towards a final deliverable (where they will demonstrate their learning through summative assessment), students' skill development is supported through low-stakes formative assessments while they receive ongoing feedback and reflect on their progress as they go through the course.
Developing a High-Quality Assessment Strategy: Considerations
In addition to needing clear learning outcomes and clear assessment criteria, a high-quality assessment strategy can be developed with the following considerations in mind[1]:
Select a topic below, marked with an arrowhead, to reveal more information.
Variety

Learning outcomes should be assessed multiple times and in a variety of ways.
Balance

Create a balance between graded and ungraded assessments. Weigh assessments according to the weighting of the aligned learning outcomes. Space out the assessment schedule to give students time to incorporate meaningful feedback and learn from mistakes.
Authenticity

Design meaningful, real-world tasks that help students develop skills to help them thrive in the workplace and become productive citizens.
Accessibility

Ensure that students with disabilities can meet learning outcomes with equal access to assessment materials, instructions and goals. Consider using the Universal Design for Learning (UDL) framework for assessment design.
Inclusion and Belonging

Design assessments that are relevant to students' identities, interests and needs. Check your biases and assumptions about which assessments are most appropriate for students. Avoid designing for the "average" student and, instead, design for learner variability. Invite students to contribute to assessment design by setting their own learning goals and identifying ways you can support them through formative and summative assessments.
Cultural Responsiveness

Consider how to move away from colonial approaches to assessment design. Incorporate non-Western assessment and activity topics and methods such as Indigenous Sharing Circles and interdisciplinary collaborative assessments.
Multiple Modalities

Design assessments that represent information in multiple formats (e.g., visual, text, audio), and allow students to complete tasks using modalities of their choice (e.g., visual, text, audio).
Rubrics

Design rubrics that promote learning outcomes and clearly articulate performance standards and identify learner achievement for each criteria.
Feed "Forward"

Feedback is most meaningful when it is immediate, ongoing and conversational in tone. Remember that feedback helps advance learners towards a goal, so keep comments directed towards that goal and what learners can do to achieve that goal.
Learner Reflection

Integrate opportunities for reflection throughout an assessment cycle. For each formative and summative task, leave space for students to articulate to themselves and others how their skills are developing.
Brainstorm an Assessment Strategy.
In the interactive element below, use the menu bar (☰) on the left or the arrows on the right to view the contents on all pages (2).
A high-quality assessment strategy improves student learning when you balance a variety of low-stakes formative assessments with summative assessments that are authentic, culturally inclusive and promote digital fluency. Assessments support learning most effectively when they reliably measure student achievement by aligning with course learning outcomes, allowing for self-assessment and providing meaningful feedback that allows students to reflect on their progress through the course.
---
Assessment. (2020). Seneca College The Teaching & Learning Centre. Retrieved December 15, 2021, from https://employees.senecacollege.ca/spaces/39/the-teaching-learning-centre/assessment ↵