Module 3: Quality course structure and content
3.5 Presenting the content (Event 4)
Select content that supports learning outcomes
Although content is often the first thing we think about when we approach course design, Gagné placed it fourth in his sequential framework, notably after defining learning outcomes(/objectives) and activating prior learning.
This reminds us that content should serve learning outcomes and build on prior learning. Content should equip learners with the resources and information they need to develop the skills identified in the learning outcomes (Barber et al., 2020) and to build on their prior learning.
In addition to supporting the course learning outcomes and building on prior learning, content should also be designed to facilitate learning. The User Experience Design for Learning (UXDL) framework provides guidance on how to do this.
Use the UXDL framework to design learner-centred content
We encourage you to explore the UXDL Honeycomb site in its entirety, but for the purposes of this course, we will focus on creating online content that is useful and accessible.
Design useful online content
In Module 2.6 Building Community Through Activities & Assessments, we looked at ways to engage learners with their peers and with you as their instructor. Here, we turn our attention to ways to engage learners effectively with online content. The useful cell of the UXDL honeycomb provides guidance on how to design online content that is useful for learning.
Why the design of online content matters
Content design strategies to avoid cognitive overload and help learners select, organize, and integrate information
Minimize distraction
To minimize distraction
Help learners process new material
Cognitive overload can also occur when essential material is complex, or when learners are novices. To help learners process complex (and essential) material more efficiently
break content into shorter segments (the segmenting principle),
introduce key terms and concepts first (the pretraining principle), and
pair narration with images, not text (the modality principle).
Why is segmenting important? Nilson and Goodson (2018) explain that
[s]egmented chunks reduce complexity, prevent students from feeling overwhelmed, and make the content easier to grasp, even if the amount of information remains the same" (p. 42).
Help learners construct a model/schema
To help learners organize and integrate information with relevant prior knowledge,
use a mix of media: pair words with images rather than using words alone, and when selecting images, focus mainly on organizational and other visuals that are conducive to learning (the multimedia principle);
use a conversational style (the personalization & voice principles); and
use human demonstration when it supports the learning task (the image principle).
Provide worked examples and opportunities for retrieval practice
Worked examples (demonstrating how to arrive at solutions to problems) reduce cognitive load by making problem-solving techniques visible (Ayres, 2015). As learners progress, this scaffolding can gradually fade to partially worked examples and finally to open-ended questions.
Retrieval practice (i.e., assessing learners, or providing opportunities for them to test themselves) helps leaners retain new knowledge longer, and transfer it to new contexts better (Roediger & Butler, 2010). Interpolating opportunities for retrieval practice throughout content has also been shown to help learners sustain their attention to learning material, reduce mind wandering, and increase note-taking activities (Szpunar et al., 2013).
Examples of how designing content with UXDL principles could work
The How Do We Create Useful Online Learning Experiences? page of the UXDL Honeycomb site provides examples of each of the principles outlined above. In addition to these discrete examples, below we offer examples of online modules designed with UXDL principles.
Design accessible online content
The Accessible cell of the UXDL honeycomb provides guidance on how to design online content that is accessible for learning. Accessibility is a primary consideration when designing online content, because learning is a nonstarter if learners are not able to access it.
As highlighted in Module 1.3 What is Quality in Online Learning? , an important starting place when designing learner-centred courses is to recognize that our learners are diverse, with various needs, goals, and constraints. To ensure that we address this diversity in ways that minimize barriers to learning, we create flexible paths to learning, paths that give every learner meaningful opportunities to learn. That's the essence of the Universal Design for Learning (UDL) guidelines: UDL provides a research-based framework to help us design learning experiences that provide meaningful content, activity, and assessment options for learners.
Below, we focus on UDL strategies that provide learners with meaningful options for online content.
Strategies for designing accessible online content
Provide multiple means of representation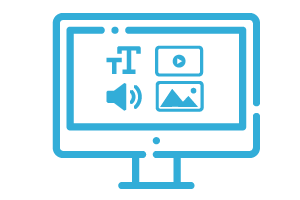 In other words, we need to present content and information in different ways.
This includes
providing options for displaying information, including alternatives for audio and visual presentations (e.g., captions and transcripts);
providing options for language, mathematical expressions and symbols, including using examples, summary visuals, and clarifications of vocabulary, symbols, and syntax; and
providing options for comprehension, including
Examples of each of these strategies are available on CAST's UDL Guidelines site, on the Provide Multiple Means of Representation page.
A (meta)example of how to provide multiple means of representation
Provide multiple means of engagement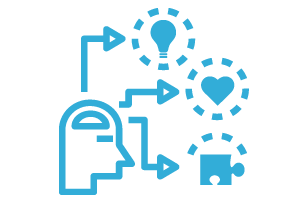 In section 3.4 above, we looked at ways of gaining learners' attention. Here, we consider ways of sustaining learners' attention. In other words, how do we motivate learners to persist and stay engaged in their learning throughout their online course?
Below, we briefly explore the UDL guidelines for
recruiting interest,
sustaining effort and persistence, and
self-regulation.
Strategies for increasing engagement and motivation
Ensure alignment
As mentioned previously, a good starting point in keeping learners engaged in their learning is to ensure that course content, learning activities, and assessments align with course learning outcomes.
Be sure to remind learners that what they're doing is contributing toward the overarching goal of the course. Showing them the relevance of what they're doing will increase their motivation to continue to engage in course activities.
Design authentic learning activities
Provide opportunities for learners to apply their learning to real-world scenarios and toward solving real-world problems, or other meaningful practical applications.
Provide options for how to achieve learning outcomes
Allow learners to choose how they will demonstrate their learning, including offering multiple topics and formats for activities and assessments.
Provide opportunities for self-assessment and reflection
Self-assessment helps learners recognize when they are making progress toward learning goals, which can be highly motivating. Providing opportunities for learners to reflect metacognitively on their developing understanding, including which concepts they've mastered, which still need to be learned, and the effectiveness of their approach to learning, boosts both motivation and performance (Barber et al., 2020).
Be an engaged instructor
Your active teaching presence in the course plays a significant role in learner persistence. When learners sense that you care about their learning, they are more likely to want to persist (Robb & Sutton, 2014, as cited by Nilson & Goodson, 2018, p. 111). For ideas of how to increase your teaching presence, take a look at Module 4.4 Building Teaching Presence During Term.
Create a learning community
Providing meaningful opportunities for learners to engage with course content, their peers, and their instructors helps learners to feel part of a community, which increases their motivation to persist in online learning.
Examples of each of these strategies are also available on CAST's UDL Guidelines site, on the Provide Multiple Means of Engagement page.
Examples of how providing multiple means of engagement could work
Develop accessible online content
It is important to ensure that course content is as accessible as possible when it is created in an online platform.
Strategies for organizing and formatting accessible course content
Making your content accessible can seem like a daunting task. The following three considerations are a good place to start:
Accessible content organization
Headings: Headings define the hierarchy of content, and screen readers and other assistive technologies rely on properly formatted headings to navigate a web page or document. Ideally, there should be one h1 per page or document, used for the title of the document/page. For subsections, use h2, h3, h4, and so on to nest content. Headings should follow logically and should never skip a level (i.e., do not go from h1 to h3). For example:
<h1> Course syllabus </h1>

<h2> About this course </h2>

<h3> Course description </h3>
<h3> Meeting time and location </h3>
<h3> Contact information </h3>

<h2>Course content </h2>

<h3> Required texts </h3>
<h3> Weekly topics </h3>
Typically, when composing text in an application (rather than directly coding), the application will have a "heading" section where the h1, h2, h3 formats are prepopulated and it is as easy as selecting the heading to insert it in your body text.
Where possible, arrange text linearly and avoid using tables to display information. Screen readers and other assistive technologies struggle to make sense of information presented in tables unless very specifically formatted.
Accessible font and colour choices
Avoid relying only on bolded text, coloured text, or font changes to indicate important information or emphasis. Screen readers and other assistive technologies do not interpret bolded or coloured text as hierarchical or of greater or lesser importance. Headings should be used to structure content, and any visual cues signalling key information should be accompanied by written cues.
When you do use colour, make sure the text and background colours have strong contrast and are presented in a legible font and font size. Avoid using busy images or bright patterns as background for your text as it is distracting to the learners' ability to read text and may result in areas of the text with insufficient contrast for readability. If not using a solid-coloured background, consider backgrounds with images or strong colours and patterns only around areas where the text will not be present or use a gradient of appropriate colours or muted images/patterns that have been "blurred out" or out of focus, so the learner can access the text. Sites like Colour Safe, the WebAIM Contrast Checker, and the University of Sussex's Accessible Colour Contrast page can help you make accessible design choices.
Also, be sure to avoid strobing, flickering, and flashing text and animations as they could trigger seizures in learners with photosensitive epilepsy. The Web Content Accessibility Guidelines (WCAG) stipulate that
. . . if the content flashes more than three times per second, is notably large (a small animating image would not cause a seizure), and has bright contrast in the flashes (especially if the colour red is present), it may cause a seizure and must be avoided" (WebAIM, n.d.-a).
Accessible links
Ensure links and buttons contain descriptive text (refer to the list of key terms on the Module Overview page for a definition of descriptive text). When naming links, avoid generic phrases such as "click here," "here," "more," "more information," "read more," etc. Link names should match the title of the page they're linking to, and links should be visually differentiated from other page content (WebAIM, n.d.-b).
Accessible multimedia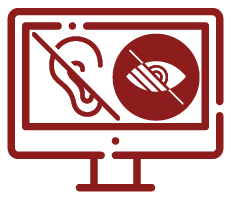 Videos and audio (live or archived) must have captions and a transcript.
For live sessions, some video conferencing applications provide live captioning. This can be more or less accurate based on a number of factors, such as content area (technical or niche language is less likely to be appropriately interpreted) or accents. To increase accessibility, and to accommodate any learners who may have difficulty connecting to a session or cannot otherwise attend, live sessions should be recorded, captions should be edited, and then posted for class access in the LMS or course web page. Note that this may not be an appropriate option if sensitive or personal topics are being discussed to help protect learners who are being vulnerable in a safe space.
For prerecorded content, you are not expected to create these captions or transcripts from scratch, though some video conferencing or multimedia recording applications have AI that automatically generates captions, which you can then proofread before adding to your multimedia file. Some institutions provide enterprise-level media players that can generate captions once multimedia is uploaded or offer automatic captioning services or captioning support, often through accessibility service units or centres for teaching and learning. These services vary, so inquire at your institution. You may also seek to pay a company for captioning and transcription services, and often educational rates are available.
Ensure all audio and video elements are controllable by the learner. This means they have, at the very least, the ability to start and stop the video/audio at any time. Most media players also allow the learner to jump forward/backward through the multimedia as needed and change its playback speed.
All these elements provide learners who need more time to perceive the content with control over their learning experience and the ability to review or pause material as needed. This assists not only learners with disabilities, but learners whose first language is not the language of instruction and any learner who might be struggling with learning the content. It is also best practice to provide learners with an indication of how long the multimedia will be before they click to play the item. This allows learners to decide whether they have enough time to effectively review and learn the content that will be presented before proceeding (WebAIM, n.d.-b).
lmages that convey information that is useful for understanding the content should have associated alternative text (alt text). If an image is just decorative and doesn't convey meaningful information, the alt text can remain empty (refer to Easy Checks – A First Review of Web Accessibility for some beginner tips).
Avoid putting text on images unless necessary, so that it remains accessible to a screen reader. Text that is in the main body of your document/web page is called "true text." We've provided some examples below.