Module 1:  Create your quality online course blueprint
Welcome to Module 1! This module begins at the conception and planning stage of course development and invites you to consider the learning needs and experiences of your learners as foundational to planning and designing your quality online course.
You will be asked to think about the following key questions:
Why have your learners chosen to learn online?
What will they need in order to succeed in your course?
What challenges might they need to overcome with online learning?
What can you do to facilitate their learning?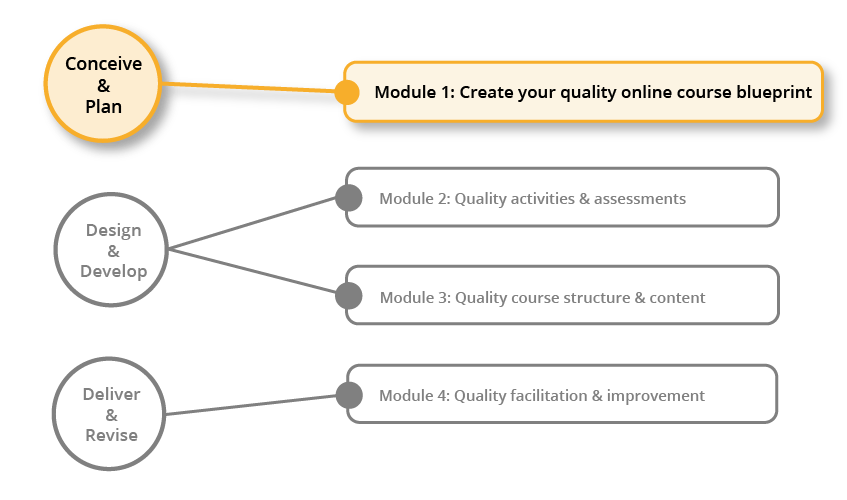 Caption: The structure of this course is shown, with the four modules mapped to the three stages of online course development. Module 1: Create your quality online course blueprint pertains to the Conceive and Plan stage.
Credit: University of Waterloo | Image Description (PDF)
Module learning outcomes
Module 1 presents opportunities for you to reflect on your learners and on your learning goals for them, so that by the end of the module, you should be able to
recognize quality in online learning as centred on learners and facilitating learning;
identify the characteristics of your online learners, including their situational context and prior knowledge, and adapt your course design plan accordingly;
develop learning outcomes for your course that provide a clear destination for your learners (i.e., that are explicit and assessed); and
reflect on ways to cultivate a sense of inclusion and belonging to a learning community that are authentic to you and your course.
Key terms
The following is a list of key terms that you might find useful to review prior to working through the content of this module:
Sections in this module
You can jump to any of the sections in this module by clicking the links below or using the left-side navigation menu.
1.2 Module examples, strategies, and templates
1.3 Introduction – What is quality in online learning?
1.4 The Nine Events of Instruction framework
1.5 Using backward design (Event 2)
1.6 Writing effective learning outcomes (Event 2)
1.7 Learning about your learners (Event 3)
1.8 Summary: Learner-centred design & the Nine Events of Instruction
1.9 Module resources for further study
Activities in this module
The module activities are designed to help you begin to plan your quality online course. For ease of use, clicking the provided links will allow you to jump directly to the location of the course where the activity is located.