45

Concentration Strategies
Learning Objectives
Name and understand the three concentration strategies.
Be able to explain horizontal integration and two reasons why it often fails.
For many firms, concentration strategies[1] are very sensible. These strategies involve trying to compete successfully within only a single industry. McDonald's, Starbucks, and Subway are three firms that have relied heavily on concentration strategies to become dominant players. Within concentration strategies, there are three sub-strategies: (1) market penetration, (2) market development, and (3) product development (Figure 8.2 "Concentration Strategies").  Interestingly, a firm can use one, two, or aspects of all three strategies in its efforts to excel within an industry (Ansoff, 1957).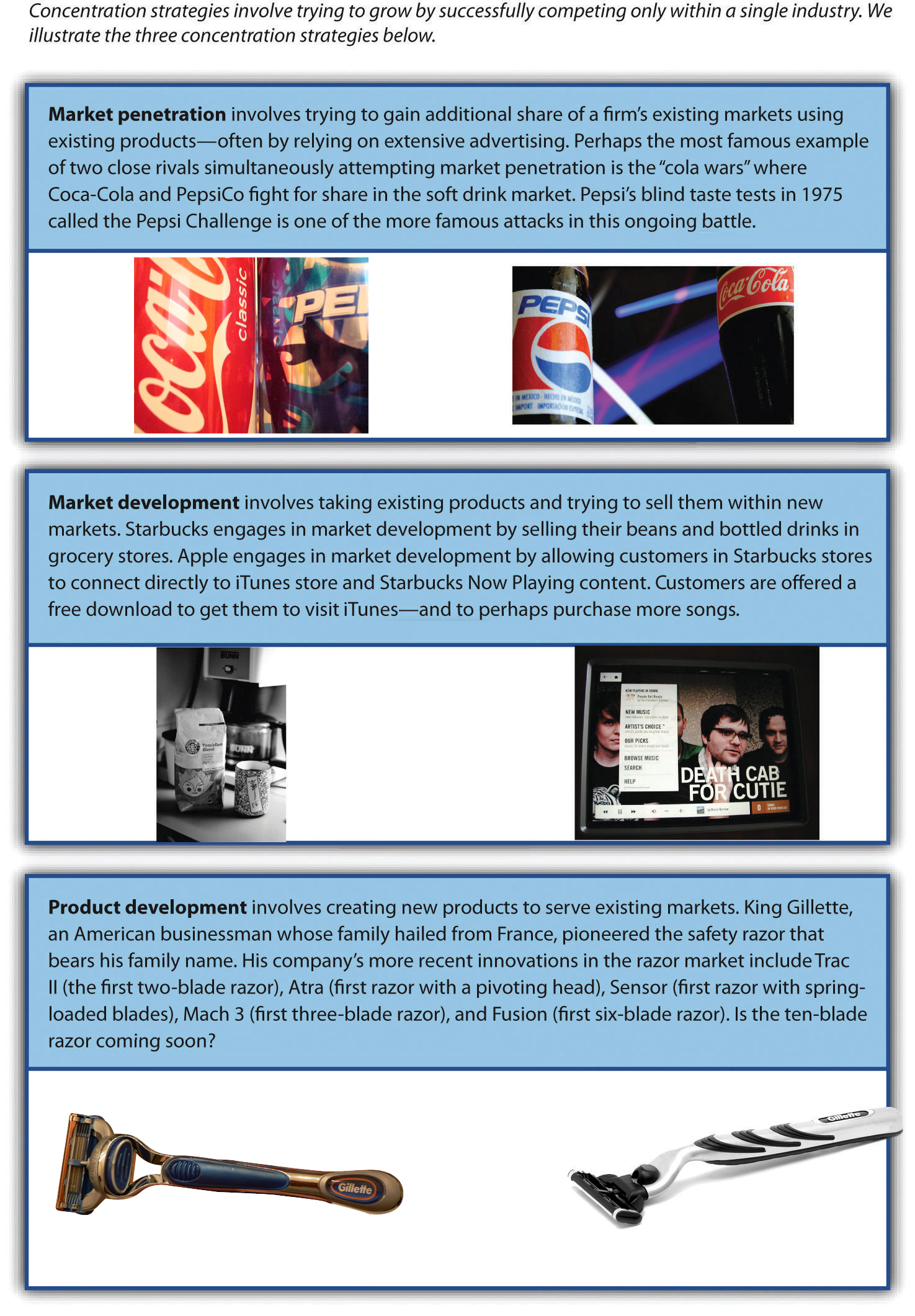 Market Penetration
Market penetration[2] involves trying to gain additional share of a firm's existing markets using existing products. Often firms will rely on advertising to attract new customers within existing markets.
Nike, for example, features famous athletes in print and television ads designed to take market share within the athletic shoes business from Adidas and other rivals. McDonald's has pursued market penetration in recent years by using Latino themes within some of its advertising. The firm maintains a Spanish-language website at http://www.meencanta.com; the website's name is the Spanish translation of McDonald's slogan "I'm lovin' it." McDonald's hopes to gain more Latino customers through initiatives such as this website.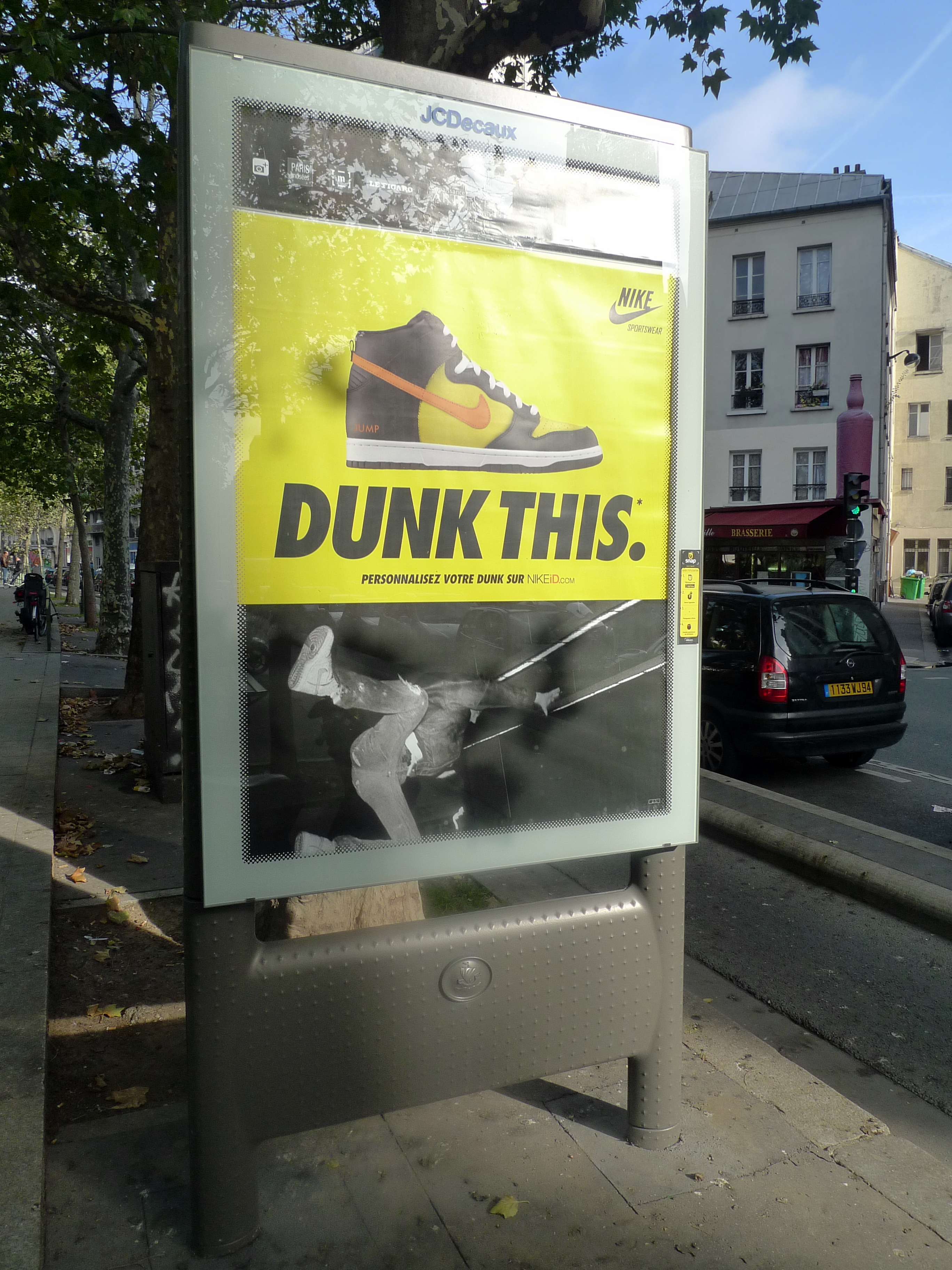 Market Development
Market development[3] involves taking existing products and trying to sell them within new markets. One way to reach a new market is to enter a new retail channel. Kicking Horse Coffee, based in the relatively tiny and remote town of Invermere, B.C. (pop. about 3,000), sells only organic fair trade coffee and organic fair trade Indian chai. It has been a mainstay of the town since the company started in 1996. Not only is Invermere the base for the 8400 m² production facility, it is home to the company's flagship (and only) Kicking Horse Café, where fans of the brew can get a close up look at the operation that has married both ethical trade and enviable business success.
Starting from a need to find good coffee for themselves—when grocery stores only stocked commercial ground brands—Kicking Horse Coffee founders Elana Rosenfeld and Leo Johnson kick-started the trend for whole bean, organic, fair trade coffee in Canada. Starting their coffee business from their garage, they focused on roasting small batches of premium specialty coffee and packaging the coffee the same day to maintain freshness. By roasting small batches, selling whole beans—rather than ground coffee—and using state-of-the-art packaging, Kicking Horse Coffee ensured quality control and consistency of product (Lee, 2012).
By now consumers are well aware of the benefits of fair trade—fair labour conditions, direct trade, democratic and transparent organizations, and community development—and organic products. Where customers may have originally sought out Kicking Horse Coffee for these qualities, they continued to do so for the taste, quality, and even the dash of B.C. that comes in the coffees, with names like Kicking Horse (after a famous and historic B.C. mountain pass and river), Kootenay Crossing, and Grizzly Claw (Kicking Horse Coffee, 2014).
Kicking Horse Coffee had an auspicious beginning, doubling its sales year after year. Today, Kicking Horse Coffee roasts over 1,800 tonnes of coffee annually from the Invermere facility and enjoys revenue of about $25 million a year with predicted growth of 10 percent annually; growth which reflects the consumer demand for premium organic coffee. Fair Trade USA reports that organic coffee imports to the United States and Canada increased in 2012 by 18 percent over 2011. The Canada Organic Trade Association reported that pre-packaged coffee (roast and ground) sales in Canadian retail stores was $47 million in 2012, compared to $27.2 million in 2008.
The CEO, Elana Rosenfeld, has been recognized several times for her achievements in business. In 2012, Leo Johnson sold all of his shares and Rosenfeld retained her CEO position, but sold a chunk of her ownership in a deal worth "under $100 million," according to the Vancouver Sun.
Kicking Horse Coffee has now stepped beyond selling coffee only from its one location. Its beans are now sold at food stores across Canada, including Loblaws, Overwaitea, Thrifty Foods, Sobeys, Shoppers Drug Mart, and London Drugs. According to AC Nielsen ratings, for the past three years in a row (2007), KHC was the number one specialty coffee (Super Premium Category) being sold in Canadian grocery stores. The company ships anywhere in Canada, and its products are available through Amazon.ca and Amazon.com. Now Kicking Horse Coffee can reach consumers that don't or can't visit its one coffeehouse in Invermere.
Product Development
Product development[4] involves creating new products to serve existing markets. In the 1940s, for example, Disney expanded its offerings within the film business by going beyond cartoons and creating movies featuring real actors. More recently, McDonald's has gradually moved more of its menu toward healthy items to appeal to customers who are concerned about nutrition.
In 2009, Starbucks introduced VIA, an instant coffee variety that executives hoped would appeal to their customers when they do not have easy access to a Starbucks store or a coffeepot. Now several blends of Starbucks coffee and Tazo tea are widely available in the popular one-cup format. The soft drink industry is an example of frequent product development efforts. Coca-Cola and Pepsi regularly introduce drinks and drink experiences.  Coca-Cola introduced Freestyle in 2009,  a touch screen soda fountain. The machine features over 125 different Coca-Cola drink products, and custom flavors. The machine allows users to select from mixtures of flavors of Coca-Cola branded products which are then individually dispensed. Coca-Cola has installed Freestyle machines in Canada in select Wendy's, Burger King, and Hero Certified Burgers restaurants, as well as entertainment venues such as Cineplex Entertainment cinemas and Canada's Wonderland.
With sales of diet beverages slumping, PepsiCo is boldly going in the opposite direction: launching products with "real sugar" in 2014.  The beverages are in regular, vanilla, and wild cherry flavors and are labeled with the nostalgic PepsiCo logo. These products appear to be taking the place of the PepsiCo's popular "Throwback" sodas, which included limited-edition, sugar-sweetened versions of its flagship cola and Mountain Dew, introduced in 2009, both of which were packaged in nostalgia-inspired cans and bottles. PepsiCo is also expected to take a significant step toward reducing the sugar and calorie content of its drinks via its partnership with flavor supplier Senomyx.
These two bottling giants are extending their product lines in an attempt to increase their own market share, and take market share away from each other and from their smaller rivals.
Originally from Vancouver, B.C., Jones Soda Co. takes a novel approach to product development. Each winter, the firm introduces a holiday-themed set of unusual flavors. Jones Soda's 2006 set focus on the flavors of Thanksgiving. It contained Green Pea, Sweet Potato, Dinner Roll, Turkey and Gravy, and Antacid sodas. The flavors of Christmas were the focus of 2007's set, which included Sugar Plum, Christmas Tree, Egg Nog, and Christmas Ham. In early 2011, Jones Soda let its customers choose the winter 2011 flavors via a poll on its website. The winners were Candy Cane, Gingerbread, Pear Tree, and Egg Nog. In 2013, Jones Soda created a poutine-flavored, limited-edition soft drink, which got international popular culture attention. None of these holiday flavours are expected to be big hits, of course. The hope is that the buzz that surrounds the unusual flavors will grab customers' attention and get them to try—and become hooked on—Jones Soda's more traditional flavors.
Horizontal Integration: Mergers and Acquisitions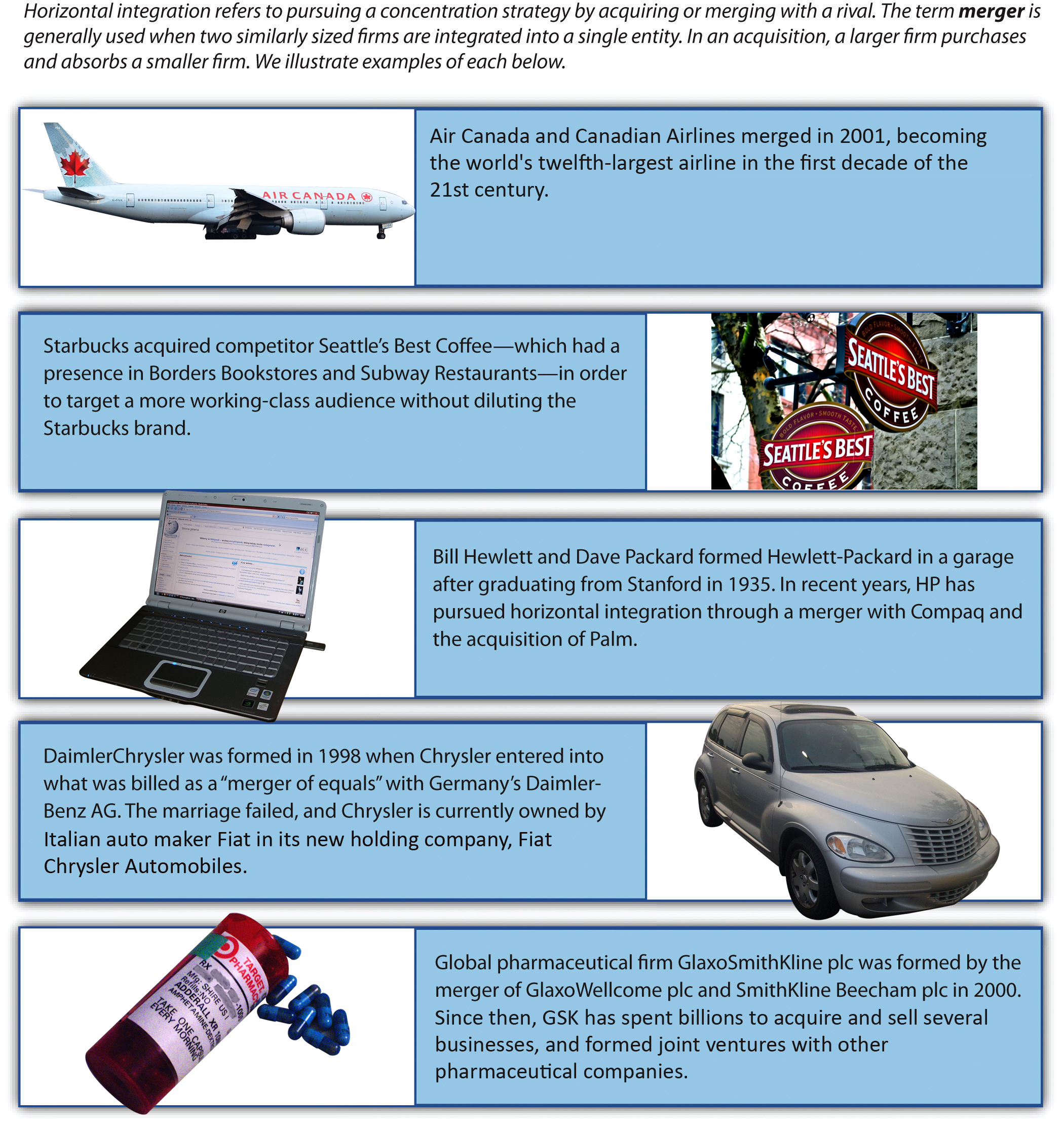 Rather than rely on their own efforts, some firms try to expand their presence in an industry by acquiring or merging with one of their rivals. This strategic move is known as horizontal integration[5] (Figure 8.5 "Horizontal Integration"). An acquisition[6] takes place when one company purchases another company. Generally, the acquired company is smaller than the firm that purchases it. A merger[7] joins two companies into one. Mergers typically involve similarly sized companies. Disney was much bigger than Miramax and Pixar when it joined with these firms in 1993 and 2006, respectively, thus these two horizontal integration moves are considered to be acquisitions.
Horizontal integration can be attractive for several reasons. In many cases, horizontal integration is aimed at lowering costs by achieving greater economies of scale. This was the reasoning behind several mergers of large oil companies, including Petro-Canada and Suncor in 1998, Exxon and Mobil in 1999, and Chevron and Texaco in 2001. Oil exploration and refining is expensive. Executives in charge of each of these six corporations believed that greater efficiency could be achieved by combining forces with a former rival. Considering horizontal integration alongside Porter's five forces model highlights that such moves also reduce the intensity of rivalry in an industry and thereby can make the industry more profitable.
Some purchased firms are attractive because they own strategic resources such as valuable brand names. George Weston Limited, for example,  acquired Keystone Bakery, a U.S. maker of frozen cupcakes, doughnuts, and cookies in 2010. That year it also bought ACE Bakery, a Canadian maker of artisan and European-style breads. Most recently, Weston Foods worked out a deal to acquire bankrupt Colonial Cookies of Kitchener, Ontario—a baker of Loblaw private label products and in particular its bestselling President's Choice Decadent Chocolate Chip Cookie. Some purchased firms have market share that is attractive. Canadian Airlines Corporation was formed in 1987 when Pacific Western Airlines purchased Canadian Pacific Airlines (which operated as CP Air for a number of years), which in turn had recently acquired Eastern Provincial Airways and Nordair. Part of the motivation behind Canadian Airlines acquiring Wardair in 1989 was to give them access to new routes including long sought-after routes to the UK and Europe. Rather than build a presence from nothing, Canadian Airlines executives believed that buying a position was more cost-effective (Wikipedia, 2014).
Horizontal integration can also provide access to new distribution channels, where a company may create or acquire production units for outputs that are alike—either complementary or competitive. Kraft Foods, Nabisco, and Cadbury were each very large, successful companies with international markets. In 1989, Kraft's parent company merged Kraft and General Foods. In 2000, Kraft bought Nabisco Holdings, and in 2009 bought Cadbury for about US$19 billion, making Kraft a "global confectionery leader." At the time, Cadbury was the second-largest confectionery brand in the world after Wrigley's (Wikipedia, 2014).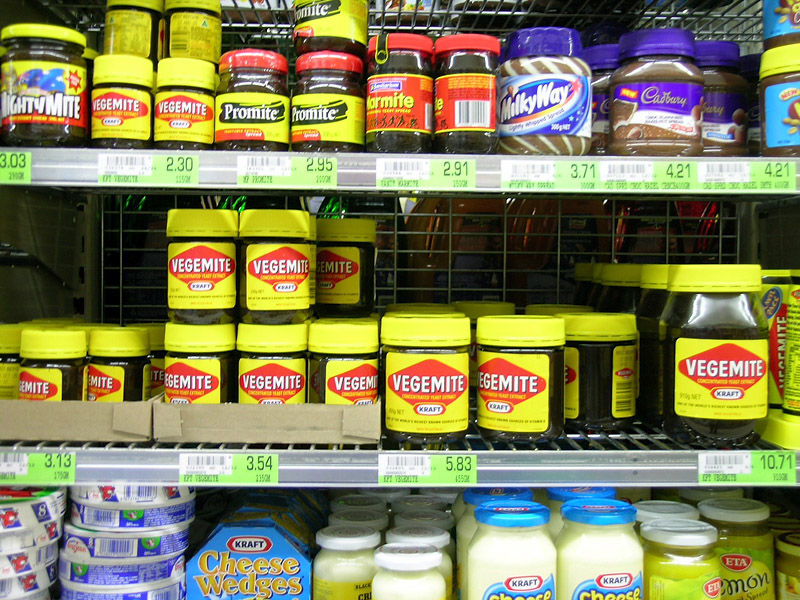 Despite the potential benefits of mergers and acquisitions, their financial results often are very disappointing. One study found that more than 60 percent of mergers and acquisitions erode shareholder wealth while fewer than one in six increases shareholder wealth (Henry, 2002). Some of these moves struggle because the cultures of the two companies cannot be meshed. Other acquisitions fail because the buyer pays more for a target company than that company is worth and the buyer never earns back the premium it paid.
In the end, between 30 percent and 45 percent of mergers and acquisitions are undone, often at huge losses (Hitt, Harrison, & Ireland, 2001). For example, Mattel purchased The Learning Company in 1999 for $3.6 billion and sold it a year later for $430 million—12 percent of the original purchase price. Similarly, Daimler-Benz bought Chrysler in 1998 for $37 billion. When the acquisition was undone in 2007, Daimler recouped only $1.5 billion worth of value—a mere 4 percent of what it paid. Thus executives need to be very cautious when considering using horizontal integration.
Key Takeaways
A concentration strategy involves trying to compete successfully within a single industry.
Market penetration, market development, and product development are three methods to grow within an industry. Mergers and acquisitions are popular moves for executing a concentration strategy, but executives need to be cautious about horizontal integration because the results are often poor.
Exercises
Suppose the president of your college or university decided to merge with or acquire another school. What schools would be good candidates for this horizontal integration move? Would the move be a success?
Given that so many mergers and acquisitions fail, why do you think that executives keep making horizontal integration moves?
Can you identify a struggling company that could benefit from market penetration, market development, or product development? What might you advise this company's executives to do differently?
References
Ansoff, H. I. (1957). Strategies for diversification. Harvard Business Review, 35(5), 113–124.
Bevnet.  (2014, April 18).  PepsiCo Eyes Summer Launch for New "Real Sugar" Colas.  Retrieved from http://www.bevnet.com/news/2014/pepsico-eyes-summer-launch-for-new-real-sugar-colas/
Canada Organic Trade Association.  (2013).  Canada's Organic Market National Highlights, 2013.  Retrieved from http://www.ota.com/pics/media_photos.171.img_filename.pdf
Fair Trade USA (2013, May 10).  Fair Trade Certified™ Coffee Imports Hit Record High in 2012.   Retrieved from http://fairtradeusa.org/press-room/press_release/fair-trade-certified-coffee-imports-hit-record-high-2012
Henry, D. (2002, October 14). Mergers: Why most big deals don't pay off. Business Week, 60–70.
Hitt, M. A., Harrison, J. S., & Ireland, R. D. (2001). Mergers and acquisitions: A guide to creating value for stakeholders. New York, NY: Oxford University Press.
Kicking Horse Coffee, The 411.  Retrieved from http://www.kickinghorsecoffee.com/files/KHC_The_411.pdf
Lee, J.  (2012, November 28). B.C entrepreneur celebrates the sweet smell of (Kicking Horse Coffee) success.  Vancouver Sun. Retrieved from http://www.vancouversun.com/mobile/business/news/Vancouver+entrepreneur+celebrates+sweet+smell/7617938/story.html
The Canadian Business Journal.  2014.  Kicking Horse Coffee Kicks it up a Notch.  Retrieved from http://www.cbj.ca/business_in_action/food_beverage/kicking_horse_coffee.html
Wagenheim, J. (2011, March 12). UFC buys out Strikeforce in another step toward global domination. SI.com. Retrieved from http://sportsillustrated.cnn.com/2011/writers/jeff_wagenheim/03/12/strikeforce-purchased/index.html
Wikipedia Organization.  (2014).  Retrieved from http://en.wikipedia.org/wiki/Canadian_Airlines#Subsidiaries
Wikipedia Organization. (2014).  Retrieved from http://en.wikipedia.org/wiki/Coca-Cola_Freestyle
Wikipedia Organization.  (2014).  Retrieved from http://en.wikipedia.org/wiki/Kraft_Foods
---