Domains of Health
There are six aspects, or 'domains', of maintaining personal wellbeing that pertain to students: social, intellectual, emotional, mindfulness & spiritual, physical, and occupational [1], the first five of which are applicable for graduate students. Maintaining health in each of these domains can help sustain work-life balance.
The following table highlights the five domains of health and offers suggestions for ways to encourage and maintain wellness in each area.
Looking at the table, consider which domains you are currently tending to and which may perhaps need more attention.  Everyone is different in their approach to health and in their abilities to pursue wellness in each area – there is no 'one size fits all' to this exercise. The key to the domains of health is to reflect on your present health habits and consider which areas you feel are at optimal 'health' and which areas may need more attention.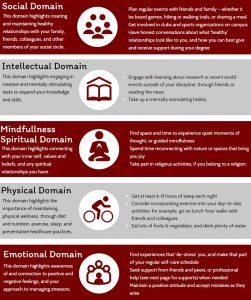 [1] Hettler, B. (1976). The six dimensions of wellness. Retrieved
from http://www.hettler.com/sixdimen.htm