11

Social Entrepreneurship, Poverty Eradication and Empowerment

Dr. Mahbub Hasan MSW, Ph.D.
TOPICS: 
1. What is Social Entrepreneurship?
2. Who is a Social Entrepreneur?
3. Poverty Eradication and Empowerment through Social Entrepreneurship
Introduction
This chapter focuses on defining the social entrepreneurship role of social entrepreneurs and discusses the Grameen Bank model. This reflective article on my social entrepreneurship experience, especially working with over 2,000 marginalized women entrepreneurs of Bangladesh, and how they overcome poverty, transform their lives and become change agents.
1. What is Social Entrepreneurship?
Social Entrepreneurship is an innovative and social value-driven activity that can occur within or across the non-profit, business, or government sectors. According to the Schwab Foundation for Social Entrepreneurship, it is about applying practical, innovative, and sustainable approaches to benefit society in general, emphasizing marginalized and poor".
2. Who is a social entrepreneur?
A social entrepreneur is an individual, group, network, organization, or alliance of organizations that seek sustainable and large-scale change. Social entrepreneurs drive social innovation and transformation in education, health, environment, and enterprise development. While providing examples of social entrepreneurship and social entrepreneurs, I provide the examples of Nobel Laureate Muhammad Yunus and poor women of Bangladesh. I share their stories because of my role as an International Development worker.
Nobel Laureate  Muhammad Yunus & Grameen Bank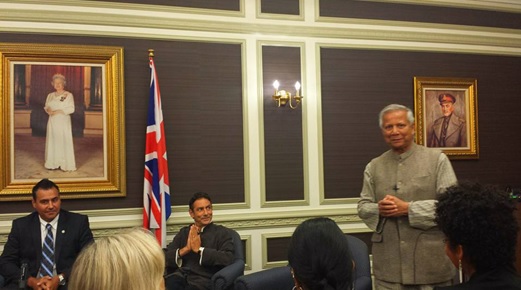 Grameen Bank provides poor women with small loans to start businesses and lift their families out of poverty. Microcredit has spread to every continent and benefited over 100 million families during the last 30 years (Yunus Centre, 2016). The Grameen Bank is based on the voluntary formation of small groups of five people to provide mutual, morally binding group guarantees instead of the collateral required by conventional banks (Grameen Bank, 2016). The loan borrowers utilize their credits in paddy husking, lime-making, manufacturing such as pottery, weaving, garment sewing, storage and marketing, and transport services. Through these small businesses, women earne income and raise their status in the family and community.
I want to share a quote from Professor Yunus about his  Grameen Bank and microcredit initiative:
"… credit without collateral is a fundamental right of the poor. Our success with this in my own country has been widely replicated all over the world including in some of the richest countries; and the Nobel Peace Prize 2006 for Grameen Bank and myself is one recognition of that success" (Yunus Centre, 2016).
Video: Grameen Bank Founder Has Tips for Entrepreneurs
Source: YouTube, https://youtu.be/SjohP7zQA2s
3. Poverty Eradication and Empowerment through Social Entrepreneurship
3.1 From Slum Dwellers to Entrepreneurs
In 1998, I started my community development work at ActionAid Bangladesh. This international agency used to work with poor and marginalized communities in Asia, Africa, and Latin American countries through an integrated program approach. Income generation, adult literacy, primary health care, primary education, and advocacy were vital program components in a long-term project (five to ten years) of ActionAid. Dhaka Urban project started in 1995 to help poor slum dwellers.
The Dhaka project adopted Grameen's model of the microfinance program in order to organize poor women who were mostly confined with household work (lack of mobility/ community participation) and did not have the opportunity to participate in income-generating activities. When I joined ActionAid, I found 2,200 women already registered with the microfinance program, most of whom were engaged in business.
Slum community who transformed their lives by coming together, hard work and joining social enterprise program. Photo: Mahbub Hasan, Year: 1998.
A Community Development Worker would meet 4 to 5 groups of women (20 to 25 women) every week, distribute loans, and collect repayment and savings. In this role, I occasionally visited weekly group meetings and learned about their business plans, as well as  successes and challenges. I was so pleased to see the transformation of these women entrepreneurs. I observed how confidently women managed money and made decisions for their business, investment, or property purchase. I found on many occasions that the husbands were assisting their entrepreneurial wives as 'helpers,' which was relatively uncommon in that social structure.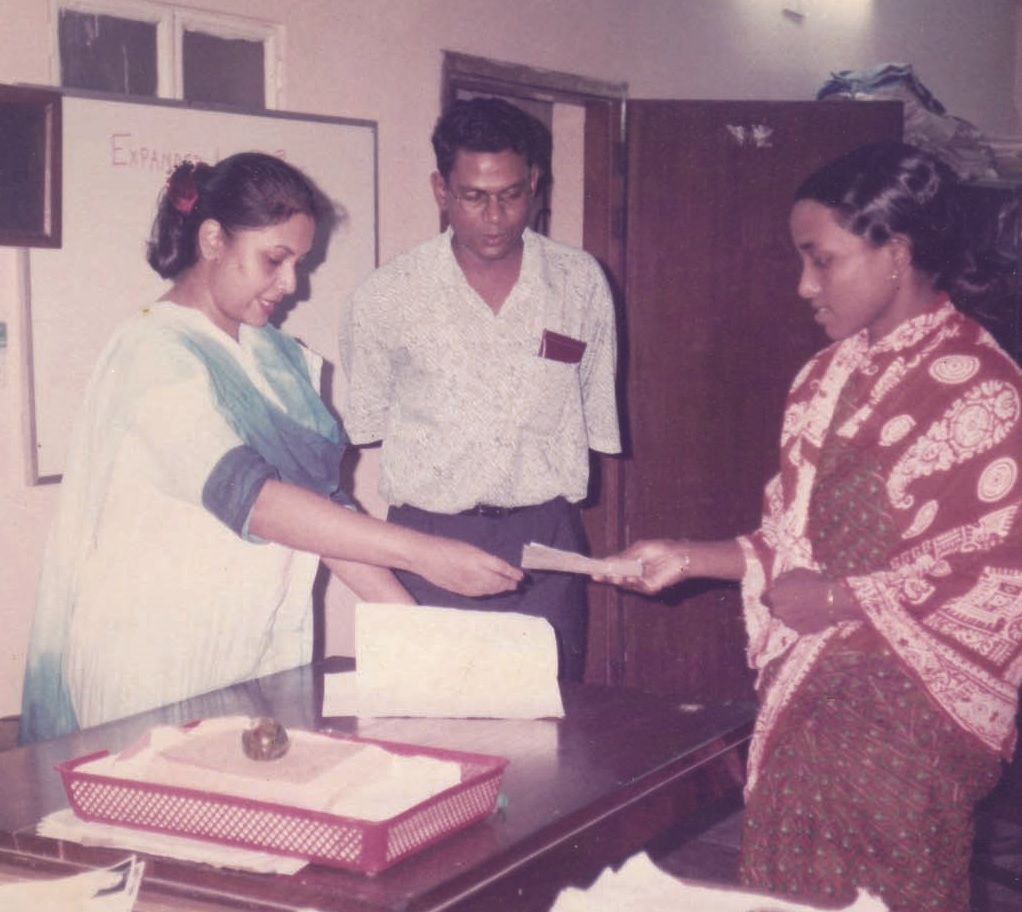 While conducting a mid-term review of the project in 1999, we learned that over 25% of women entrepreneurs purchased land either on the periphery of the capital city Dhaka or in their villages. On the other hand, the women were keen to send their children to school, challenging urban slum dwellers. Children of low-income families often drop out of school before completing their Grade Five. I also found that group members were mindful of their  family members' health and started seeking preventative, primary, and curative healthcare services. This project is an excellent example of how women's access to and control over financial resources can contribute to their family's overall well-being.
Community empowerment is gaining influence over conditions that matter to people who share neighborhoods, workplaces, experiences, or concerns. The ultimate goals of community development practitioners are community empowerment.
3.1 Social Entrepreneur to Community Leader
Most of the microcredit program group members were illiterate, and only a few women had primary education. As part of the integrated program approach, ActionAid organized adult literacy circles named Reflect (an innovative approach to adult learning and social change) for women. The program provided women with basic literacy skills and engaged them as a community to address various social issues such as domestic violence, drug abuse, and gambling.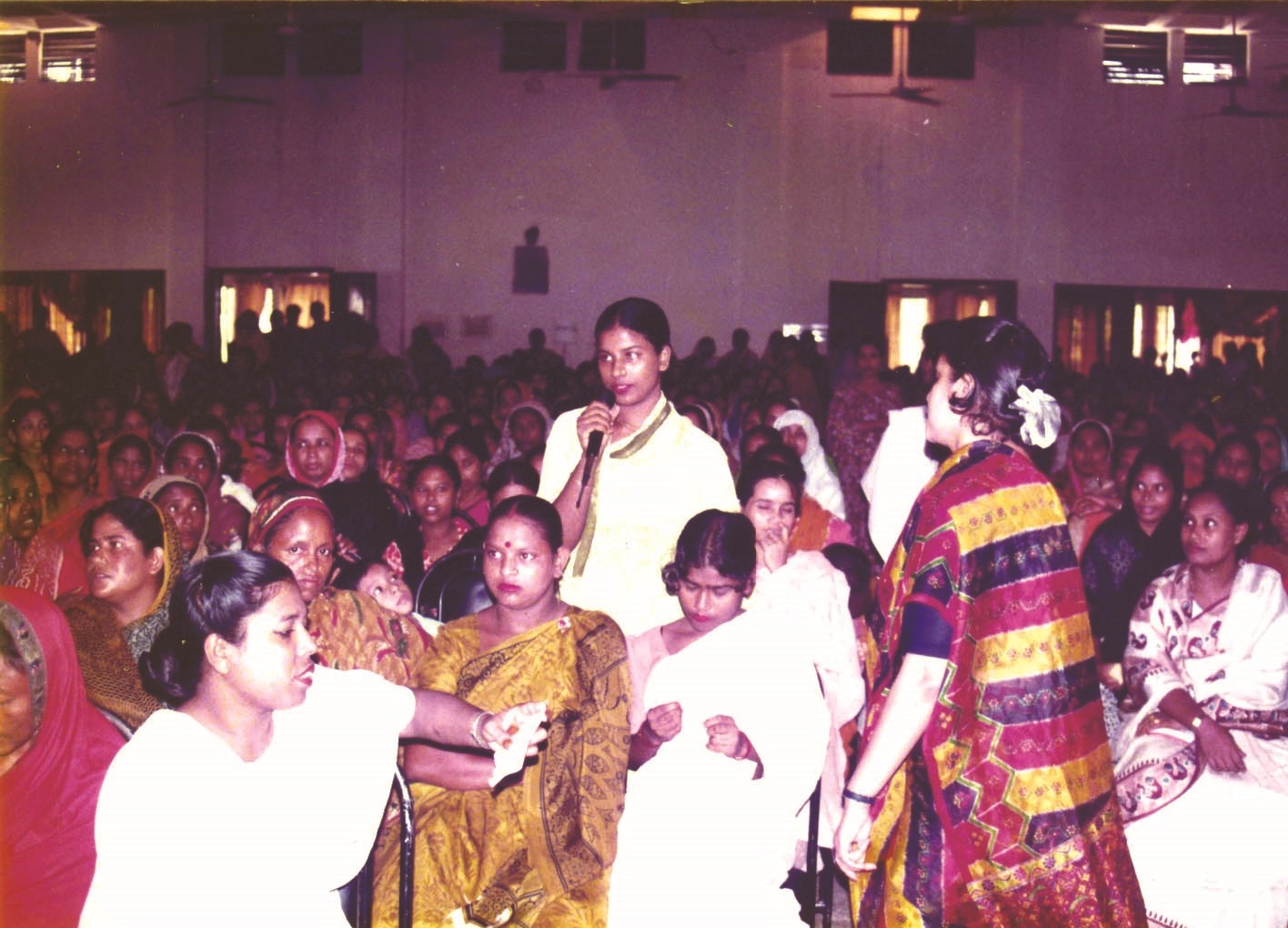 In 2000, ActionAid changed its program delivery approach and started withdrawing from direct operations and closing some programs. During this time, there were tensions in the organization, and the critical project staff, including the project head, program coordinator, and finance manager, left ActionAid. As part of a strategic shift in the program, the senior management wanted to close the operation of the Dhaka Urban project, where over 2,000 women entrepreneurs started to realize their dreams and their families were coming out from poverty. When the community organizers came to know about the project closure decision, the women members were very disappointed and wanted to meet the Senior Management Team. So, the responsibility came to me to deal with 2,000 members and the senior management of ActionAid and resolve the conflict.
Key Learning
As a note, I maintained a good relationship with both women group members and 20 community organizers and their supervisors. I always considered myself as 'one of them' and part of the community. The group members usually found me busy discussing community issues and bringing new programs. They used to find me in their slums, providing support and solidarity during a flood, fire, or a threat of eviction.
My involvement with the community allowed me to build trust and relationships with them. I started listening to field staff and women leaders, and communicated community concerns to the ActionAid senior management. I emphasized the impact that the sudden project closure would have on the lives of 2000 families and their businesses.
At last, we organized a dialogue session with senior management in an ample community space where 800 women participated. It was a great moment for me to observe how these women leaders raised their voices and put up resistance when the agency did not listen to their concerns.
ActionAid provided education to groups of women based on Paolo Ferry's community education principles and Robert Chambers' participatory development approach, but the agency did not realize how much the community had become empowered. The women group provided two significant demands:
a) ActionAid should continue the program at least for one more year because sudden project closure will impact their business and their community,
b) The microfinance program should not be closed. Instead, it should be handed over to a local and trusted agency where their savings would be safe and the program sustained. Due to the increased resistance from women entrepreneurs, ActionAid accepted their demands. The microfinance program continues through a local partner called Assistance for Slum Dwellers, and at present, it has 2,600 members.
KEY TAKEAWAYS AND FEEDBACK 
We want to learn your key takeaways and feedback on this chapter.
Your participation is highly appreciated. It will help us to enhance the quality of Community Development Practice and connect with you to offer support. To write your feedback, please click on Your Feedback Matters.
Thank you!
References
ActionAid International (2015, November 25). Retrieved from http://www.actionaid.org/
Assistance for Slum Dwellers (2015, November 25). Retrieved from http://www.asd.org.bd/ASDS-ON-GOING-PROJECT
Bielefeld, W. (2014), Social Entrepreneurship: An Evidence-Based Approach to Creating. Social Value. Wiley, Somerset.
Grameen Bank (2015, November 25). Retrieved from http://grameen.com/index.php?option=com_content&task=view&id=25&Itemid=169
The Schwab Foundation for Social Entrepreneurship, (2015, November 25). Retrieved from http://www.schwabfound.org/Reflect (2015, November 25). Retrieved from http://www.reflect-action.org/