18

Spaces and Environments
Tim Nolan Testing Centre
In August 2022, Student Accessibility Services (SAS) launched its new Tim Nolan Testing Centre, located in MUSC B101, in support of the university's commitment to inclusive excellence and teaching and learning.
In addition to providing improved space and processes for students with disabilities requiring accommodations, the Testing Centre also celebrates the inspiring contributions of Tim Nolan, whose accessibility advocacy work spanned more than 25 years at the university. Tim Nolan's passion for accessibility and removing systemic barriers to learning is driven by the understanding that there is no "one-size-fits-all" solution; no single service, system, space or technology can adequately support all student needs.
The Testing Centre provides a welcoming and supportive environment where individuality and leadership can be nurtured. Additionally, the space provides multiple solutions to enhance the administration of testing accommodations for students and instructors at McMaster.
Contributors: Andrijana Olaizola (Student Accessibility Services), Mei-Ju Shih (Student Accessibility Services), and Student Accessibility Services
New and Improved LAS and CATS
2021/2022 Has been an exciting year for Library Accessibility Services (LAS) and the Campus Accessible Tech Space (CATS). We have undergone several significant changes, namely the re-opening of an expanded and renovated CATS space and a return to working in-person for LAS staff. In Sept 2022, after extensive consultation with previous CATS users, CATS re-opened after doubling its previous size. The new CATS features six private workspaces compared to the previous two. It also boasts a comfortable new seating area, artificial windows that emit natural light, and a bigger aquarium with aquatic frogs!
While the additional space allowed for new features, we retained several existing highlights. These include our sound-dampening sofas and our Assistive Technology (AT) lending library, which are now housed in a display cabinet where students can view the available items. The expansion now allows up to 30 students to study in a quiet, accessible environment, almost doubling the 16-student capacity in the previous space.
Contributors: Library Accessibility Services (LAS), and Campus Accessible Tech Space (CATS)
Accessibility in the NMR Lab
Nuclear magnetic resonance (NMR) is invaluable to many scientists, including chemists, physicists, materials scientists, health scientists, and engineers. The McMaster NMR Facility is a core facility, and serves several faculties across campus, as well as external academic researchers and industrial clients; we have many hands-on users who undergo thorough training. Inspired by a move during the AN Bourns Science Building (ABB) renovation, and then a significant upgrade to several instruments, we changed our approach in the facility to incorporate accessibility as part of our renovation mindset. Moving forward, we began to create an accessible lab space, by removing the need for ladders, improving lighting, and changing the alarm systems to include visual and audible alarms. The last two years of the pandemic forced us to overhaul our approach to training, and in the bigger picture it has helped us educate the entire NMR community around accessibility.
Accessibility in the NMR Lab ["Celebrating December 3rd: The International Day of Persons with Disabilities" Flash Presentations: Critical Disability Research and Teaching Cluster, 01 December 2021]
Contributors: Hilary Jenkins (Faculty of Science), and McMaster NMR Facility
Commitment to Inclusive Presentation Technology in Classrooms
Campus Classroom Technologies (CCT) continues to invest in providing inclusive presentation technology and tools in shared classroom spaces across McMaster. As part of an ongoing classroom renewal project, tools to improve accessibility and foster a Universal Design mindset for presentations are being installed in classrooms controlled by the Office of the Registrar.
Classroom enhancements include:
Enhancements to projector resolution, brightness and contrast
Microphones and amplification to enhance classroom audio (locally and virtually)
Wired and wireless connections for personal devices
Digital annotation tools
Lecture capture
Audio-video conferencing tools
Height adjustable podiums
We recognize that classroom technology must allow people to use their personal devices to interact with classroom equipment with intention, ease, and confidence.  Likewise, classroom tools must allow audience members to meaningfully engage with presentation content and must streamline a process for providing digital and asynchronous versions of the presentation to the audience.
Consult the Campus Classroom Directory for a full list of classroom technology and accessibility features.
Contributors: Campus Classroom Technologies (CCT)
Inclusive Dining at McMaster
In the Spring of 2017, Hospitality Services engaged with Sterling Frazer Associates to audit the physical accessibility of the 18 food service locations within McMaster Hospitality Services to understand any service gaps in preparation for compliance with the Accessibility for Ontarians with Disabilities Act, 2005.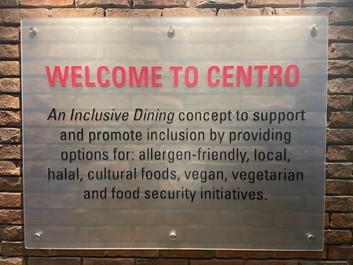 Post-audit, 93 actions were developed to make Hospitality Services more accessible. The actions were completed within six months and these changes remain today.
In September 2021, Hospitality added an "Inclusive Dining" concept to their initiatives.  The concept, located at Centro in the Commons Building, supports and promotes inclusivity by providing dedicated dining stations for: allergen-free, local, halal, cultural foods, and vegan/vegetarian options. Food security initiatives are implemented from this location to support students with financial restrictions. Reinforcement through positive messaging is a feature of the seating environment and further contributes to alignment with university inclusivity and community-building objectives.
Contributors: Hospitality Services
Housing and Conference Services Space and Service Accessibility Upgrades
Housing & Conference Services (HCS) continually invests in creating an inclusive experience for our residence students, guests, and staff. Over the past year, HCS units have operated through accessibility, disability, and inclusion lenses. Projects of note include:
Residence Life Area Coordinators (7) and Archway Coaches (2) were trained to update and create online training materials to be fully accessible. All HCS videos and presentations now use closed captioning, and our website continues to exceed the industry benchmark for accessibility standards in education.
Our facilities team have upgraded two off-campus event spaces to include accessible washrooms. HCS is re-auditing the accessibility of our buildings, focusing on office spaces, and trades and custodial storage areas.
HCS recognizes that Service Disruptions disproportionately impact people with accessibility and mobility challenges. A multi-unit planning group was formed and is increasing the speed and span of service disruption communication to better serve audiences with accessibility needs within our 24/7 operations.
Contributors: Housing and Conference Services, Director's Office, Residence Admissions and Administration, Human Resources, Marketing & Communications, Information Systems, Conference & Event Services, Residence Facilities Team and Residence Life Team