What is Child Abuse?
The Ontario Association of Children's Aid Societies (n.d.) defines child abuse as doing something or failing to do something that results in harm to a child or puts a child at risk of harm. Child abuse can include physical abuse, emotional abuse, sexual abuse, neglect and exposure to adult conflict.
Physical abuse is any harm to a child caused by an action or omission of action by the child's caregiver. It may include hitting, grabbing, shaking, pushing, biting, pulling, punching, and or kicking, among other physical actions resulting in injury to the child (Rimer & Prager, 2016; Sedlak et al., 2010).
Emotional abuse includes all acts of omission or commission which result in the absence of a nurturing environment for the child. It is a pattern of behaviour that attacks a child's emotional development and sense of self-worth. It includes excessive, aggressive or unreasonable demands that place expectations on a child beyond his or her capacity. Emotional abuse includes constantly criticizing, teasing, belittling, insulting, rejecting, ignoring or isolating the child. It may also include exposure to domestic violence (Rimer & Prager, 2016; Trocmé et al., 2010).
Sexual abuse is when a person uses his or her power over a child and involves the child in any sexual act.  It can include fondling, genital stimulation, mutual masturbation, oral sex, using fingers, penis or objects for vaginal/anal penetration, inappropriate sexual language, sexual harassment, voyeurism, exposing oneself, sexual exploitation, as well as technology-assisted sexual abuse.  This can involve exposing the child to sexual abuse images/videos or involving a child in the making of sexual abuse images and/or videos commonly known as child pornography or involvement in the sex trade (prostitution) or human trafficking (Rimer & Prager, 2016; Trocmé et al., 2010).
Neglect usually involves a pattern of behaviour on the caregiver's part to not meet the needs of the child. It occurs when a caregiver fails to provide basic needs such as food, shelter, clothing, nutrition, adequate supervision, health, hygiene, safety, medical and psychological care and education. This may be due to the caregiver abandoning the child or being unable or unwilling to (Rimer & Prager, 2016; Tufford, 2020).
Exposure to Intimate partner violence (adult conflict) includes any adult conflict impacting the emotional and physical well-being of the children. This can be visual exposure as an eyewitness to conflict such as domestic abuse, hearing the conflict and/or fighting as exposure via audio. Tool of the perpetrator is when the child is being used or involved by the abuser in the conflict and abuse and lastly exposed to the aftermath of abuse such as police involvement, an injured caregiver, or tension between the adults after the conflict, among other results of conflict and domestic abuse (Hamby et al., 2011; Tufford, 2020).
Is Child Abuse a Problem in Ontario, Canada?
Report: Ontario Incidence Study of Reported Child Abuse and Neglect 2018 Major Findings Report
The Ontario Incident Survey of Investigated Child Abuse (OIS) – 2018 is the sixth provincial study to examine the incidence of reported child maltreatment and the characteristics of the children and families investigated by child protection services in Ontario. The 2018 Incidence Study was released in 2020. The study is conducted every five years.
The primary objective of the Ontario Incidence Study (OIS) – 2018 is to provide reliable estimates of the scope and characteristics of child abuse and neglect investigated by child welfare services in Ontario.
In particular, the Ontario Incidence Study (OIS-2018) (Fallon et al., 2020) looked at the rates of investigated and substantiated physical abuse, sexual abuse, neglect, emotional maltreatment, and exposure to intimate partner violence. Substantiated means based on the investigation, the evidence supported the allegation to be true; you will also hear the word "verified," which means the same thing. For example, "The investigation presented evidence to verify that the allegation was true, and abuse did happen to the child."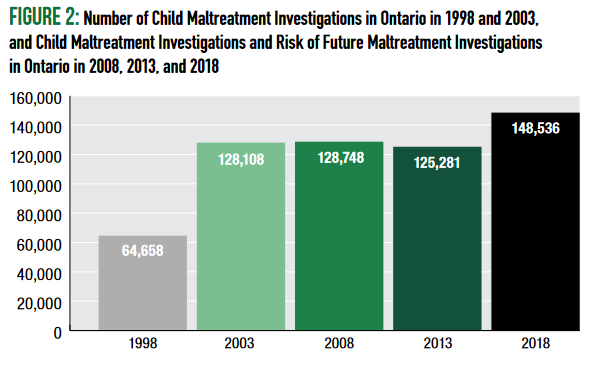 Number of Child Maltreatment Investigations in Ontario
In 2018 there were 148,536 maltreatment-related investigations conducted in Ontario. 64 percent (94,476) were maltreatment investigations, and 36 percent were concerns about the risk of future maltreatment of 54,060 children.
26 percent of all investigations were substantiated – an estimated 37,922.
In 6,365 child investigations, there was insufficient evidence to substantiate maltreatment; however, maltreatment remained suspected.
34 percent, or just over 50,189 child investigations, were unfounded. This means the investigating child protection worker did not find evidence to support child abuse.
In six percent of investigations, the investigating worker concluded that there was a significant risk of further harm – approximately 8,500 children.
Are Kids Removed From Their Home When You Call Children's Aid Society (CAS)?
The OIS-2018 (Fallon et al., 2020) tracks out-of-home placements that occur at any time during the investigation.
Investigating workers are asked to specify the type of placement. In cases where there may have been more than one placement, workers are asked to indicate the setting where the child spent the most time.
In 2018, children remained in the home with the caregiver 97 percent of the time.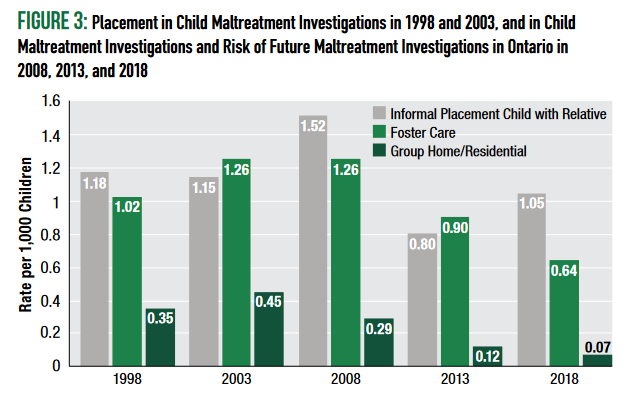 Placement in Child Maltreatment Investigations.
Three percent of investigations resulted in a change of residence for the child. This means they could not stay in the home with the caregiver for various reasons.
Where Did They Go?
Two percent, an estimated 2,488 children, went to informal kinship care (this may be a grandparent, aunt, or neighbour that has been approved by the Children's Aid Society, etc.
One percent, approximately 1,523 children, went to foster care. Foster parents are people who have an interest in the care and safety of children and a sense of community responsibility. They apply to work for the CAS to care for children and complete training before actually fostering children.
Less than one percent, an estimated 174 children, went to residential/secure treatment or group homes.
There has been a significant decrease in formal placements from 2008 to 2018.
80% of Cases are Closed After Intake
20 percent of investigations in 2018 (an estimated 29,407 investigations) were identified as remaining open for ongoing services, while 80 percent of investigations (an estimated 119,129 investigations) were closed after the initial service at intake. The initial service at intake may include the investigation, support, advocacy, referrals for counselling, information sharing, parenting resources and help and expectations about appropriate discipline.
Primary Category of Child Maltreatment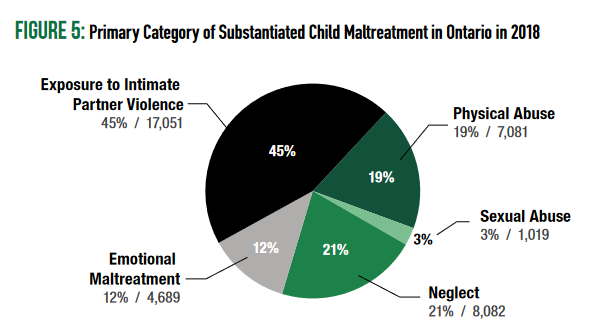 There were an estimated 37,922 substantiated child maltreatment investigations in Ontario in 2018.
Exposure to intimate partner violence represents the largest proportion of substantiated maltreatment investigations. Nearly half (45 percent or an estimated 17,051) of all substantiated investigations identified exposure to intimate partner violence as the primary form of maltreatment.
Intimate Partner Violence represents the largest portion of substantiated child maltreatment investigations.
If you are not familiar with Intimate partner abuse and have an interest in working with children, you need to make it a priority to learn about this issue in order to help children and families.
In 21 percent or 8,082 of substantiated investigations, neglect was identified as the overriding concern.
In 19 percent or an estimated 7,081 of substantiated investigations, the primary form of maltreatment identified was physical abuse.
Emotional maltreatment was identified as the primary form of maltreatment in another 12 percent or an estimated 4,689 of substantiated investigations.
In three percent, or an estimated 1,019 of substantiated investigations, sexual abuse was identified as the primary maltreatment form. Although this appears to be very low, it is believed that more children are sexually abused; however, most do not disclose it due to grooming and self-blame, among other reasons. This will be discussed later in the book.
Out of the 37,922 substantiated investigations, five percent of children were physically harmed as a result of the abuse. In four percent of investigations, approximately 1,465 children, no medical treatment was required. In one percent of the investigations, or approximately 526 children, harm was sufficiently severe to require medical treatment.
Children's Indigenous Heritage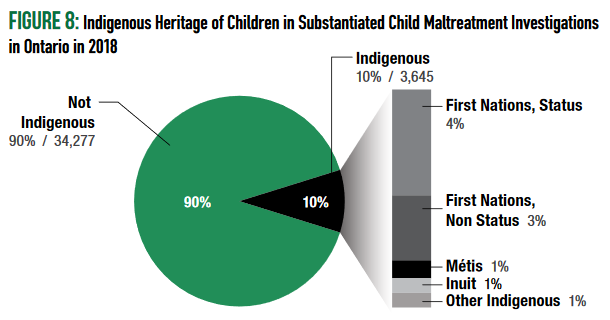 Children's Indigenous heritage was documented by the OIS-2018 (Fallon et al., 2020) in an effort to better understand some of the factors that bring children into contact with the child welfare system. Indigenous children were identified as a key group to examine because of concerns about the over-representation of Indigenous children in the foster care system. Indigenous children are approximately two and a half times more likely to be substantiated than non-Indigenous children. 10 percent of substantiated maltreatment investigations involved children of Indigenous heritage. Four percent of substantiated maltreatment investigations involved children with First Nations status, three percent involved First Nations Non-Status children, one percent involved Métis children, one percent involved Inuit children and one percent involved children with "Other" Indigenous heritage. Any Indigenous child must have Band representation when involved with the Child Protection Agency.
Child Functioning
Child functioning classifications that reflect physical, emotional, cognitive and behavioural issues were documented in the OIS-2018 study. This evidence highlights that some children are more at risk of abuse.
In 37 percent (13,966) of substantiated child maltreatment investigations, at least one child functioning issue was indicated.
The six most frequently reported child functioning issues were:
Depression/Anxiety/Withdrawal (16%)
ADD/ADHD (13%)
Academic Difficulties (10%)
Aggression/Conduct Issues (10%)
Intellectual/Developmental Disability (10%)
Attachment Issues (8%)
Primary Caregiver Risk Factors
Primary Caregiver Risk Factors were identified in the substantiated child maltreatment investigations. This evidence highlights that a caregiver's situation can put them at risk for abusing their children.
In 78 percent of substantiated child maltreatment investigations (an estimated 29,113 investigations), at least one primary caregiver risk factor was identified.
The most frequently noted concerns for primary caregivers were:
Being the victim of domestic violence (53%)
Few Social Supports (30%)
Mental Health Issues (30%)
Perpetrator of Domestic Violence (14%)
Alcohol Abuse (12%)
Drug/Solvent Abuse (9%)
Physical Health Issues (6%)
History of Foster Care/Group Home (5%)
Cognitive Impairment (4%)
As you can see, Intimate Partner Violence is a significant concern in Child Welfare!
Gaps in the Research
The OIS-2018 doesn't tell the whole story; it focuses specifically on "Child Abuse" – this means that this study identifies children who were abused by a "caretaker" – a parent, or biological parent's partner, a family member, or someone who was in charge of the child at the time of the assault – such as a babysitter. It does not include individuals who were not caretakers – such as a neighbour, a coach, an uncle, a teacher, or a stranger. In other words, it does not paint the whole picture when we are looking at the issue of child sexual abuse (Latzman et al., 2017).
Between 1997 and 2003, the number of sexual abuse images increased by 1,500%. The internet has changed how images are reproduced, disseminated and paid for. Yes, offenders sell and buy child sexual abuse images and now videos over the internet. In 2019, tech companies such as Facebook, Microsoft and Dropbox reported over 45 million cases of child sexual abuse material, more than double what was found the year before and 44 million more than in 2014.
Children's Aid Society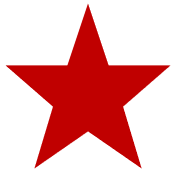 This report is an important step to understanding that child abuse does happen, what the contributing factors are and how we can begin to respond in order to help.
If you are concerned about the well-being or safety of a child, contact your local child protection agency or child welfare agency. Most often, they are called "Children's Aid Society." The services are available 24 hours per day, 7 days per week. To locate a Children's Aid Society near you, go to www.oacas.org.