10

The Wawanosh Home (1877-1900)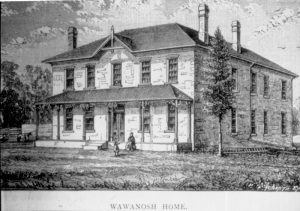 Construction of the Wawanosh Home for Girls (named for Chief Joseph Wawanosh of Sarnia), an unassuming two-storey stone building modeled after the larger Shingwauk Home, began in 1877.
Situated on a 15-acre property five kilometres from this site, and supplemented with a farm, stable, and cottage, Wawanosh became home to 14 girls at the time of its opening in 1879. Within a decade, Wilson deemed the administration and maintenance of the two schools unsustainable, advocating instead for the construction of a girls' Wawanosh wing at the Shingwauk Home. This was achieved in 1900, well after his departure in 1893.