10

Children of Shingwauk Alumni Association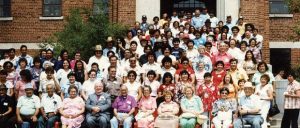 The Children of Shingwauk Alumni Association (CSAA) is comprised of staff, students, descendants of staff and students, and friends of the Shingwauk  and Wawnosh Indian Residential Schools. CSAA has been heavily involved in the development of the Shingwauk Project and the implementation of Residential School healing initiatives
The CSAA facilitates the ongoing development of a partnership with Algoma University and the other partners in fulfilling Chief Shingwauk's vision of "Sharing, Healing and Learning." The CSAA provides encouragement and support to all Indigenous students to maintain their traditions, history and culture. CSAA endeavors to support survivors and celebrate their achievements while working closely with other Residential School groups to promote similar objectives.
The Children of Shingwauk Alumni Association has been involved in Residential School issues since 1981.
CSAA provides:
A non-political voice for survivors concerns and interests
To support, promote & enhance healing and reconciliation
To establish working relationships with local, regional & national First Nations, Inuit, Metis, political groups, the Federal Government, Regional Survivor Groups and Churches
To promote awareness within our communities and main stream Canada
CSAA has organized gathering and alumni reunions along with Scared Circles and Healing Conferences over the past 30 years. CSAA was instrumental in establishing the National Residential School Survivors' Society (NRSSS), a survivor managed organization that has a mandate to raise awareness of Residential Schools' issues at the national and international level. The Shingwauk Residential Schools Centre (Archives) that CSSA developed over the years has served as an important resources for individuals looking to find individual and community records relating to residential schools.