Guidelines (How to Use this Resource)
Independent Learning Guidelines
Welcome to the independent learning component of the Basic and Advanced Foot Care for RNs and RPNs course. These guidelines have been developed to help you with your preparation for the skills workshop later in the semester.
The workshop will review the content in this courseware but students are expected to have completed all activities prior to the workshop. After the review, students will be tested on their knowledge of the content in this courseware.
Mandatory requirements for a successful workshop include:
Completion of this courseware (read all documents under content)
Obtaining the items from the Mohawk Bookstore as referenced on "MyCanvas" site
This courseware package is set up in the following template:
1. Course outcomes describe the knowledge, skills and attitudes you should have achieved after finishing the unit
2. Resources are sources of information that assist you to complete the course outcomes and objectives. Resources include but are not limited to texts, journal articles, videos, and internet resources. Resources may or may not be supplied as part of your learning materials; for example in most cases you will be expected to access journal articles or internet resources on your own.
3. Learning activities include questions or exercises for you to complete and are designed to help meet the unit outcomes and objectives. You will need to complete this before coming to the skills workshop.
Faculty Support
All blended courses have a faculty who will support and guide you through your learning. Faculty are practitioners with professional experience and knowledge related to the course and program curriculum. As well they are responsible for marking assignments, quizzes and exams.
Note: Your faculty for both the independent component and the 1 day skills workshop may vary depending on availability of faculty. Therefore, please check eLearn course page, accessed via MyMohawk for name of faculty for specific course offering and communicate via Mohawk College eLearn email address.
He/she will respond to messages at his/her earliest convenience.
Grades
Information about grades and grading policies can be found in the course outline as well as on the Mohawk College Continuing Education website at http://cecat.mohawkcollege.ca
Final grades are posted on MyMohawk usually within 2 to 4 weeks after course completion. Students can access their final grade on MyMohawk. Students requiring proof of course completion for the Nursing Education Initiative Funds through RNAO and RPNAO, can print their academic history as an unofficial transcript.
Best wishes for success in your learning!
Accessing Your eLearn Course
Option 1: Login to MyMohawk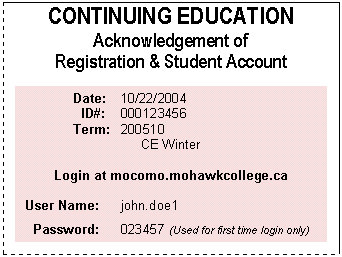 Every student at Mohawk College has a unique MyMohawk username and password. As a Continuing Education student, your username and password can be found on the "Continuing Education Acknowledgement of Registration & Student Account" form that was sent to you after you registered for your course. Your User ID and Password are in the top right corner.
The Library maintains the most up-to-date information on Mohawk's systems and provides handy help guides. Follow the instructions for access to MyMohawk.
From MyMohawk, you can access eLearn and your course.
Option 2: Login to MyCanvas directly
Go to the college's main page: www.mohawkcollege.ca.
On the top navigation, choose Login and from the drop down choose eLearn.
Use your 9 digit student number and password to login to eLearn.