In recent decades, the business sector has experienced a digital revolution. This technological and digital transformation has caused a readjustment to all functional areas. In addition to AI; a number of other emerging technologies are forecast to have an impact on how businesses operate and communicate. The following are some trends that are driving these new and innovative technologies.
Wearable
The last section explored VR technologies, which include devices that can be worn to simulate virtual environments. Technology that can be worn or 'wearables' have been around for a long time, with technologies such as hearing aids and, later, bluetooth earpieces. Product lines have expanded to include the Smartwatch, body cameras, sports watch, and various fitness monitors. According to the Gartner Group, strong growth is predicted in the wearable market. Total wearable devices are projected to increase by about 45% from 2018 to 2021 [1].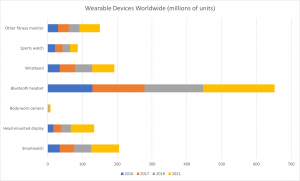 Printable
A 3-D printer allows you to print virtually any 3-D object based on a model of that object designed on a computer. 3-D printers work by creating layer upon layer of the model using malleable materials, such as different types of glass, metals, or even wax. 3-D printing is quite useful for prototyping the designs of products to determine their feasibility and marketability. Rapid Prototyping similar to 3D printing will very quickly become widely sought. This can provide a platform where ideas and concepts that are discussed today can have the prototypes available the very next day. This reduction in time will provide incredible growth and a competitive advantage.
3-D printing has also been used to create working prosthetic legs and an ear that can hear beyond the range of normal hearing. The US military now uses 3-D printed parts on aircraft such as the F-18.[2] Here are more amazing productions from 3D printers.
Buildings
Researchers at MIT in 2017 unveiled a 3D printing robot that can construct a building. It has a large arm and small arm. The large arm moves around the perimeter of the building while the small arm sprays a variety of materials including concrete and insulation. Total time to construct a dome-shaped building is just 14 hours.
Musical Instruments.
Flutes, fiddles, and acoustic guitars are being produced with 3D printing using both metal and plastic.
Medical Models
Medical models are being used to help doctors train in the areas of orthopedics, transplant surgery, and oncology.
Clothing
How would you like clothes that fit perfectly? Special software is used to measure a person, then 3D printing produces the clothing to the exact measurements. The result is well-fitting clothes that consume less raw materials. Initially the challenge was to find materials that would not break. You can read more about 3D printing of clothes and shoes.
[3]
Connected
As discussed in chapter 3, the Internet of Things (IoT) refers to devices that have been embedded into a variety of objects including appliances, lamps, vehicles, lightbulbs, toys, thermostats, jet engines, etc. and then connecting them via Wi-Fi, BlueTooth, or LTE to the internet. Think of IoT as devices that you wouldn't normally consider being connected to the internet, and the connection is independent of human intervention. This interconnectedness or uploading of data is virtually automatic. So a PC is not an IoT, but a fitness band could be. Interconnected devices are becoming ubiquitous, meaning they are everywhere.  Today there are IoTs for monitoring traffic, air quality, soil moisture, bridge conditions, consumer electronics, autonomous vehicles, and the list seemingly never stops.
Principally three factors have come together to give us IoT: inexpensive processors, wireless connectivity, and a new standard for addresses on the internet known as IPv6. Processors have become both smaller and cheaper in recent years, leading to their being embedded in more devices. Consider technological advancements in your vehicles. Your car can now collect data about how fast you drive, where you go, radio stations you listen to, and your driving performance such as acceleration and braking. Insurance companies are offering discounts for the right to monitor your driving behavior. On the positive side, imagine the benefit of being informed instantly of anticipated traffic delays each time you adjust your route to work in the morning. Benefits from IoTs are virtually everywhere. Here is a quick list.
| | |
| --- | --- |
| Optimization of Processes | IoTs in manufacturing monitor a variety of conditions that impact production including temperature, humidity, barometric pressure – all factors which require adjustment in application of manufacturing formulas. |
| Component Monitoring. |  IoTs are added to components in the manufacturing process, then monitored to see how each component is performing. |
| Home Security Systems. |  IoTs make the challenge of monitoring activity inside and outside your home are now easier. |
| Smart Thermostats. | Remote control of home thermostats through the use of IoTs allows the homeowner to be more efficient in consumption of utilities. |
| Residential Lighting | IoTs provide remote control of lighting. |
While there are many benefits to these constantly connected devices privacy and security of personal data and information should also be considered.
Collaborative
As more people use smartphones and wearables, it will be simpler than ever to share data with each other for mutual benefit. Some of this sharing can be done passively, such as reporting your location in order to update traffic statistics. Other data can be reported actively, such as adding your rating of a restaurant to a review site. The smartphone app Waze is a community-based tool that keeps track of the route you are traveling and how fast you are making your way to your destination. In return for providing your data, you can benefit from the data being sent from all of the other users of the app. Waze directs you around traffic and accidents based upon real-time reports from other users.
Yelp! allows consumers to post ratings and reviews of local businesses into a database, and then it provides that data back to consumers via its website or mobile phone app. By compiling ratings of restaurants, shopping centers, and services, and then allowing consumers to search through its directory, Yelp! has become a huge source of business for many companies. Unlike data collected passively however, Yelp! relies on its users to take the time to provide honest ratings and reviews.
Super
Quantum computing, a technology that applies quantum mechanics to build novel supercomputers, high performance computers used to solve large scale computational tasks. Quantum computers can operate at speeds that are exponentially faster than common computers and can make calculations based on the probability of an object's state before it is measured. Google demonstrated that their quantum computers can solve a problem that no classical computer could ever solve. For the third year in a row, IBM managed to double its quantum computing power. Additionally, several web service providers, including Amazon, announced plans for cloud-based quantum computing services. Quantum computers can make drug development, power storage, manufacturing, and agriculture better, faster, and more sustainable. They may also unravel cybersecurity infrastructure around the world making them a potential threat to national security. The field of quantum computing is still in its infancy, and the question of scale remains unsolved.
---
van der Meulen, R., & Forli, A. A. (2017, August 24). Gartner says worldwide wearable device sales to grow 17 percent in 2017. Gartner. Retrieved December 9, 2021, from https://www.gartner.com/en/newsroom/press-releases/2017-08-24-gartner-says-worldwide-wearable-device-sales-to-grow-17-percent-in-2017. ↵