27

We have just discussed land ownership and the revenues that can be earned through environmental services, tourism, and resource extraction. Other potential sources of "own-source revenue" (OSR) come from interest on trust funds and savings, leases, property taxes and fees, and business profits.
As the diagram on the next page indicates, Indigenous businesses are an important engine for the Indigenous economy and the overall economy, primarily because businesses can become a source of funds – to the Band or other government as taxpayers, to the public as donors and employers, and to themselves as they fund their own expansions. Additionally, the savings of businesses and their employees give banks new funds for lending.
Another critical feature of business is that it exists to recognize and meet current consumer needs, identifying them with a level of accuracy and detail not possible for government. In the course of their operations, businesses create goods and services which were not previously available so conveniently or affordably.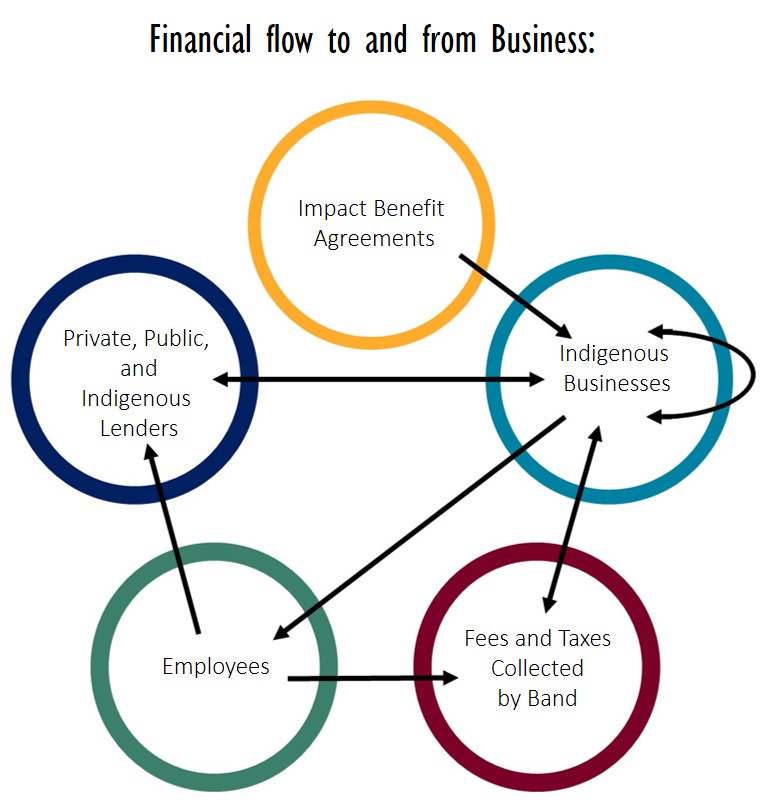 Building a Competitive First Nation Investment Climate, the free online textbook of the Tulo Institute [1], is focused on how to encourage business on reserves.  Many of its lessons are reproduced in this chapter.
The Canadian Council for Aboriginal Business' 2016 Aboriginal Business Survey indicated that, for 68% of Indigenous business owners, attracting or finding qualified employees is the biggest challenge.  For 31% of Indigenous business owners, the most pressing challenge is finding money.  In this Chapter we focus on finding the money needed to start and run a business.
Sources of Money for Indigenous Business
1. Financing from the Band
As shown in the diagram above, a community's own revenues can be used to fund businesses run by the community or individual community members. These revenues can come from Band-owned businesses, resource royalties, property taxes, service charges, and federal or provincial grants.
Bands have lent their own money to members using a member's Certificate of Possession as collateral.  In another formulation, a Band grants its member a Customary Allotment and offers its own expected revenues to a bank as collateral.  The member pays 25% of the cost of the house they want to build and gets a mortgage from a bank for the remaining 75%. If the member defaults on the mortgage, the Band pays the bank, and the Band takes the member's house and land.
One problem a Band faces is that its own-source revenues from land or resources are automatically deposited in the Indian Moneys Trust at the federal government.  This occurs under the Indian Act and also under the First Nations Land Management Act, the First Nations Oil and Gas Act, and some of the self-government agreements.  In 2015-6, the Trust held over 186 million dollars, most belonging to the 34 First Nations each having over a million dollars in the Trust.  The money earns low interest rates, and the First Nation must apply to the federal government to spend it.  The National Aboriginal Economic Development Board has called for First Nations to be able to collect and control their own land and resource revenues.[2]
Not all Bands dare to underwrite members' housing loans.  However, for Bands that do, their participation is in turn likely to be guaranteed under the federal government's Ministerial Loan Guarantee program. Indigenous Services Canada can make itself liable for up to 2.2 billion dollars under this program and is currently liable for 1.82 billion. Canada Mortgage and Housing Corporation, owned by the federal government, provides additional loan guarantees.
In our Housing chapter we found that the cost of 400 homes of mixed type ranged from 47 million in Eastern Canada to 64 million in the North. A mortgage might not be needed for the entire value of the home, so let's use the lower number, 47 million, implying $117,500 per home. The 2.2 billion just identified would then cover roughly 19,000 homes, about one quarter the needed number.
The First Nations Market Housing Fund, established by the federal government with $300 million in 2007, also provides guarantees on Band-backed loans, for qualifying Bands.  If Bands do not qualify, it trains the Band's administration in best financial practices.
2. Pooled Investment Funds
Indigenous communities can organize investment pools, with different community organizations contributing money to the pool. The interest earned by the pool can be used each year to fund particular projects. In the case of a "revolving fund", money which is repaid is loaned out again to other clients.  In many cases the federal government contributes to the establishment of these funds.
3. Federal, Provincial or Territorial Lending Programs
The federal government has helped Bands access private money for investment, as in the Ministerial Loan Guarantee program described above.  Sometimes the government has put forward money to be held by banks as collateral for loans to Indigenous people. Many programs exist to promote Indigenous entrepreneurship. For example, the Métis Voyageur Development Fund receives funding from the government of Ontario for Métis entrepreneurs. The image below lists the various business support programs run by Indigenous Services Canada.
Although there are many programs, the percentage of Indigenous businesses using a government funding assistance program is only 43%, about four in ten businesses. According to the aforementioned Aboriginal Business Survey, in 2016 32% of Indigenous businesses were using government loans or grants, and 25% were using training and employment assistance programs. The Survey pointed out that the bigger and more established companies, earning $100,000 or more in revenue per year, were the ones partaking in government assistance programs. They are more likely to be able to handle the complex qualification requirements and procedures, and they are the ones able to fulfill government procurement contracts.
Federal government financial programs are focused almost exclusively on First Nations and Inuit communities.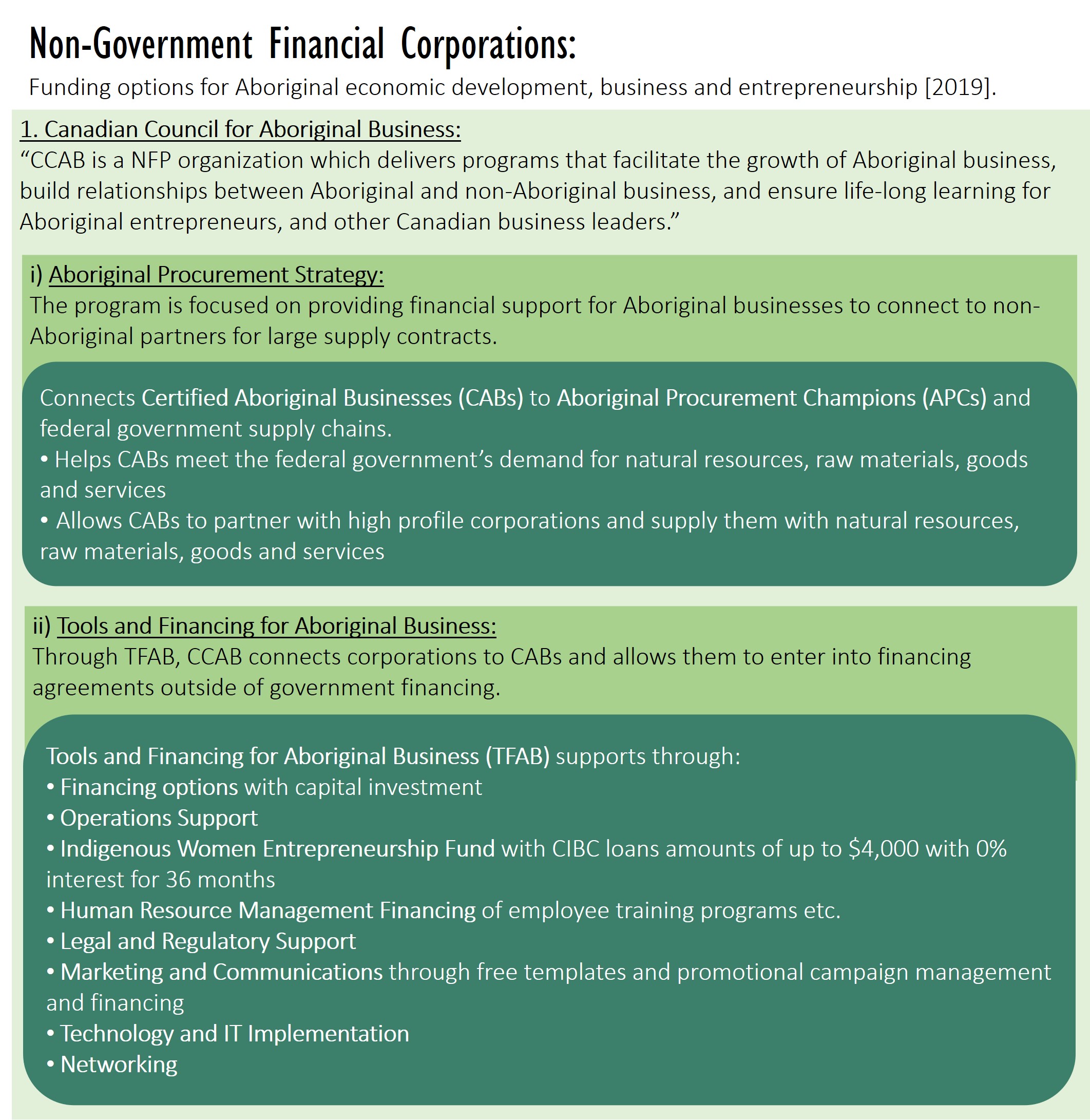 Some federal programs, such as the Aboriginal Entrepreneurship Program, have become available to Métis businesses.
The Métis Nation of Ontario supports Métis businesses with training and access to affordable loans. However, Ontario Métis businesses must come to individual agreements with investors and business partners. This format is very similar across other provinces, meaning that Métis businesses are mostly excluded from being able to win large government contracts or become suppliers on a provincial scale.
Government programs may require that applicants prove their Métis identity. Statistics Canada reports that in 2017, over 45% of people self-identifying as Métis carried a card or certificate issued by a Métis organization. [6]
In 2020, the Métis National Council suspended the Métis Nation of Ontario for issuing such certificates too liberally, ignoring the definition of Métis given by the Supreme Court in R. v. Powley (2003).
4. Aboriginal Financial Institutions (AFIs)
Beginning in the late 1980s Indigenous leaders, the Native Economic Development Program, and the federal government cooperated to create and fund various lending institutions focused on Indigenous businesses, wherever they may be located.  Today, the National Aboriginal Capital Corporations Association represents over 50 AFIs which have so far made over 45,000 loans totalling 2.5 billion dollars.[3]
Separate from the National Aboriginal Capital Corporations Association, The Canadian Council for Aboriginal Business is a major non-government and not-for-profit organization, which was formed in 1982  to help finance Indigenous enterprises. As shown in the previous graphic, this organization focuses more on day-to-day operational, financial, and managerial support for smaller startup Indigenous businesses, unlike the federal government which is more focused on large-scale industry and community enterprises.
For Indigenous business, the criteria for funding through CCAB are less complex than they are for government funding, since the council focuses on connecting Certified Aboriginal Businesses (CABs) to private non-Indigenous creditors.
In addition to the programs indicated in the graphic, CCAB conducts independent research projects, for example, the 2016 National Aboriginal Business Survey mentioned earlier.  The National Aboriginal Business Survey found that 65% of Indigenous businesses' main source of financing was through personal savings, 19% through business loans/bank credits, 14% through Aboriginal Financial Institutions (AFIs), 10% through personal loans/bank credits, and only 9% through federal grants and loans.
In addition, the survey found that 51% of business owners found it difficult to locate external sources of funding, and 45% found that it was difficult to meet the qualifications for borrowing.
5. The First Nations Finance Authority
The First Nations Finance Authority is an entity which borrows in the money market on behalf of First Nations. (It does not raise money for individual First Nation members.) What does it use as collateral? Why are people willing to lend it money?
The Finance Authority's good credit ratings are due to several things. One is the implicit backing of the federal government, which has offered a token amount, $30 million, to temporarily offset any revenue shortfalls.  Another is the fact that the Finance Authority has the authority to commandeer not only the collateral (being the predicted revenue streams) of any First Nation that cannot repay its loans, but also the fiscal governance of said Nation.  Moreover, every participating First Nation must regularly repay interest and principal into a "sinking fund". Another safeguard is that the Finance Authority only lends out 95% of the money it has borrowed on behalf of participating First Nations.
The First Nation Financial Authority came into being in 2006 via the First Nation Financial Management Act (FNFMA). This Act has three components to set First Nations up for financial success:
1. The First Nation Tax Commission to help a First Nation develop a tax program for its community.  It is hoped that the stream of future tax revenues can be used by Bands as collateral.
2. The First Nations Financial Management Board, which trains First Nations in financial management, and, after having them setting up fiscal checks and balances, certifies them as being financially responsible.  101 First Nations have received certification as of January 2018.
[4]
3. The First Nations Financial Authority (FNFA), which uses the expected revenue streams of participating First Nations as collateral to get long-term loans.  The FNFA charges fees to member Nations.
The First Nations Finance Authority sold $250 million worth of 10-year bonds at 3.4% interest in June 2014, and in June 2017 sold $126 million worth of 11-year bonds at 3.05% interest.[5]
This borrowed money is used by member First Nations to do such things as repair and build houses, construct community buildings, fund green energy projects, and refinance existing, higher-interest loans. The First Nations Finance Authority helped Membertou First Nation finance its stake in Clearwater Seafoods, which we referred to in Chapter 16.
6. Private Sector Lending 
In the past, the non-Indigenous private sector has been reluctant to invest in Indigenous projects, especially projects located on reserves.  This is because of the lack of collateral that Indigenous communities are able to offer, and because of uncertainties around land rights, service provision, fees, and regulations.
Though no First Nation has defaulted on a loan used for public purposes since at least 1970,[6] this may be largely because First Nations have not typically taken on private debt.  They have, however, sometimes defaulted on payments to employees, suppliers, or governments, according to Flanagan (2019),  who explains that the federal government has three levels of intervention as per its Default Prevention and Management Policy.  The highest level is "Third-Party Management" where an external financial manager is appointed for the Band.  Flanagan reports that in 2017, 143 First Nations, or about 20%, were receiving some degree of intervention, with 8 under Third Party Management.
Since reserve land is not attractive as collateral to private lenders, First Nations and other Indigenous communities may offer expected streams of revenue as collateral to private sector lenders, as long as this revenue is not earmarked for particular programs such as health care. Undesignated federal or provincial transfers, money from Impact Benefit Agreements, and taxes and rents expected to be collected from leaseholders can be used.
In the case of Fort McKay First Nation and Mikisew First Nation, prosperous reserves in the vicinity of the Oil Sands, the Royal Bank of Canada was happy to issue and sell bonds on their behalf, helping them raise $545 million at 4.14% interest from the private sector.[7] The money was used to buy a 49% stake in an existing oil storage facility.  Contracts for oil storage, cooling and mixing were already in place, virtually guaranteeing future revenues.
For communities which don't have much in the way of expected revenue, Bridge Financing might be available.  The bridge financing company offers temporary loans until a community qualifies for a loan from a conventional commercial bank such as the Royal Bank of Canada or the Bank of Montreal. The company lends the community more money than is needed for the project.  The extra money is put in a separate account where it used to pay a high rate of interest to the company.  Technically, the community is not paying any interest at all.
Once the project is up and running, a conventional bank becomes willing to lend to the community at a normal, moderate rate of interest. The community borrows enough money from the conventional bank to pay back what it borrowed from the bridge financing company, which was perhaps 10% more than it actually needed. It then repays the commercial bank loan, with interest, over time.
7. Social Development Bonds
Social Development Bonds, Social Impact Bonds, or Development Impact Bonds, are a very new kind of  financial instrument.  There are four parties involved:  the investor, the implementer, the evaluator, and the donor.
Here's how it works: the investor gives money to the implementer for a program, by buying the implementer's social development bond. After a set period of time, an evaluator judges whether the program has been successful.  If the program has been successful, the donor pays the investor the face value of the bond, plus interest.  If it has not been successful, the donor pays nothing or some fraction of the face value of the bond, so that the lender makes a negative rate of return on the investment.
"Restoring the Sacred Bond" is a program funded by a social development bond in August 2019.  The program is run by the Manitoba Indigenous Doula Initiative and offers high-risk Indigenous mothers the support of doulas, people trained in prenatal, birth delivery, and post-natal care of mothers and infants.[8]
If the program results in babies spending 25 fewer days in foster care during their first year of life, compared to what might have been expected without the program, the program will be judged a success. Then the Manitoba government will repay the investors with interest.
The eight investors, which include the Children's Aid Foundation of Canada and the Winnipeg Community Foundation, together paid 2.6 million dollars for the bond. The bond was organized and marketed by the MaRS network. [9]
Another example is a bond issued by Raven Capital Partners in Vancouver. In 2021, Raven Capital Partners was looking for investors willing to buy this bond, which finances diabetes reductions in six First Nations communities. The federal government was offering to pay a return of 5-9 percent, depending on results.
One advantage of social development bonds is that the implementer can access funding without having its work micromanaged by the donor, which is often a government agency.  The implementer is free to innovate to meet the program objectives.  The donor, meanwhile, is protected from having to pay for a program that is unsuccessful.
8. Microfinance
Microfinance is the provision of banking services to marginalized communities. In recent decades, a new wave of lending in developing countries using something called "Solidarity Lending" has become synonymous with Microfinance. Dr. Muhammad Yunus and the Grameen ("Village") Bank he founded in Bangladesh were awarded a Nobel Peace Prize for their Solidarity Lending.
Solidarity Lending:
Solidarity Lending works by lending money to individuals, each of whom belongs to a group of borrowers. The group members support each others' economic achievements. If a member has difficulty repaying a loan, the rest of the group assists and/or pressures the member to make the payments. A group's reputation and cohesion serves as collateral. The credit-worthiness of the entire group is at stake if one of its member fails to repay a loan.
Using Solidarity Lending, the Grameen Bank and its many followers lend small amounts of money to people who have no collateral and therefore no access to traditional banks. They may cooperate with intermediary organizations who recruit, vet, and instruct the would-be borrowers.
To see Solidarity Lending in action, go to kiva.org.
Solidarity Lending has not found a foothold in Canada. According to Frankiewicz (2001), this may be because
There are high costs in terms of advertising, managing the service, and paying rent.
Clients want a variety of services including lines of credit, credit cards, and savings accounts, not just loans.
Client density is low because population density is low; and because only a small minority of Canadians are in small start-up businesses; and because these Canadians are not very visible; and because Canadians have more banking choices and more social assistance available to them than do people in developing countries.
It is difficult to achieve economies of scale because client density is low.
It takes more money in Canada than in developing countries to significantly assist a small business.
After loans are made, business clients still have serious challenges in terms of competition from larger businesses, very choosy customers, rigorous safety standards, taxation, plus licensing and zoning requirements. Profit margins are low.
Credit Unions:
The kind of Microfinance that has worked in Canada is the credit union. Historically, credit unions have provided financial services at lower cost and more accessible terms than conventional banks. DUCA Credit Union, formerly the Dutch Canadian Toronto Credit Union Ltd., helped author Hageman's immigrant parents buy their first house in 1973.
There are already credit unions as far north as Puvirnituk, Quebec and Pickle Lake, Ontario. Perhaps credit unions can be encouraged to move further north and to other underserviced areas, or new financial cooperatives can be improvised where needed.
Many Nations, an Indigenous-owned financial cooperative providing insurance, employee benefits, and pensions to Indigenous organizations across Canada, is based in Saskatoon, Saskatchewan.
Having explored many ways that Indigenous businesses can raise money, we turn to Chapter 28 to consider the other things businesses need.
---