32

Temporomandibular Disorders
Temporomandibular Disorders
Temporomandibular disorders (TMDs) affect up to 15% of adults and 7% of adolescents, this umbrella term may include jaw pain, movement limitations, and clicking of the jaw (List et al., 2017).
Pathophysiology
Many factors may play a role in the progression of TMDs, this may include soft-tissue dysfunction, joint disorders and central sensitization. On its own TMDs can have a significant impact on quality of life and there are other comorbidities associated with TMDs, as it may be a contributing factor to cervicogenic headache (von Piekartz & Hall, 2013).
Examination
A thorough health history intake can be done to gather information about patients' limitations, course of pain, and prognostic factors for delayed recovery (e.g., low self-efficacy, fear of movement, ineffective coping strategies, fear-avoidance, pain catastrophizing) and answers to health-related questions. Screen patients to identify those with a higher likelihood of serious pathology/red flag conditions. Then undertake a physical examination: neurological screening test, assess mobility and/or muscle strength.
Outcome Measurements
Incorporate one or more of the following outcome measurements when assessing and monitoring patient progress:
Self-Rated Recovery Question
Patient-specific Functional Scale
Brief Pain Inventory (BPI)
Visual Analog Scale (VAS)
Numeric Pain Rating Scale (NRS)
Jaw Functional Limitation (JFL‐8)
Mandibular Function Impairment Questionnaire (MFIQ)
Tampa Scale for Kinesiophobia for Temporomandibular disorders (TSK/TMD)
Neck Disability Index (NDI)
Physical Examination
Incorporate one or more of the following physical examination tools to determine the likelihood of temporomandibular disorders and interpret examination results in the context of all clinical exam findings.
Physiological temporomandibular joint movements
Trigger point palpation of the masticatory muscles
Trigger point palpation away from the masticatory system
Accessory movements
Articular palpation
Noise detection during movement
Manual screening of the cervical spine
The Neck Flexor Muscle Endurance Test
Treatment
Education
Provide reassurance and patient education on condition and management options and encourage the use of active approaches (lifestyle, physical activity) to help manage symptoms.
Manual Therapy
A massage therapy treatment plan should be implemented based on patient-specific assessment findings and patient tolerance. Intra-oral and extra-oral massage can be performed in the clinic or as self-care. Structures to keep in mind while assessing and treating patients suffering from temporomandibular disorders may include neurovascular structures and investing fascia of:
Medial Pterygoid
Temporalis
Masseter
Sternocleidomastoid
Suprahyoid Muscle Group (digastric, stylohyoid, geniohyoid, and mylohyoid)
Infrahyoids Muscle Group (sternohyoid, sternothyroid, thyrohyoid, and omohyoid)
Scalene Muscle Group (anterior scalene, middle scalene, and posterior scalene)
Upper Cervical Spine (suboccipitals, upper trapezius, splenius cervicis, splenius capitis)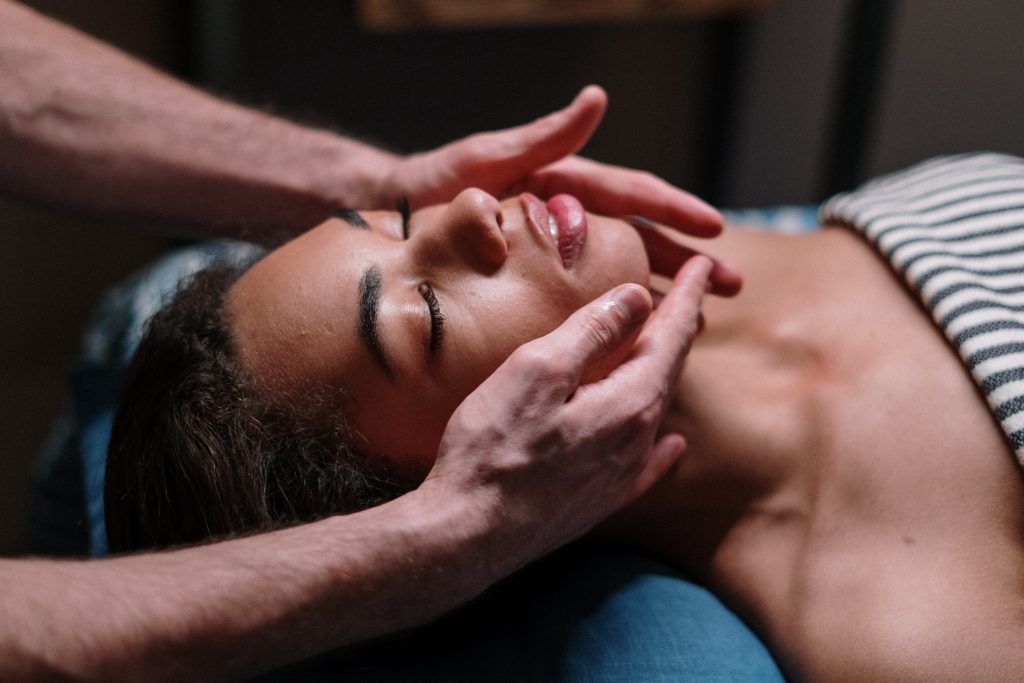 Self-Management Strategies
Massage therapists not only provide hands-on treatment they can also develop self-management programs to help patients manage symptoms. Simple home-care recommendations such as self-massage, jaw strengthening, jaw stretching, and cranio-cervical and temporomandibular joint exercises have been shown to be useful for temporomandibular disorders (Bond et al., 2020).
---
Massage Sloth: Self-Massage for TMJ Pain
---
Prognosis
The therapeutic effects of intra-oral, extra-oral massage, and self-care management of temporomandibular dysfunction has been demonstrated in several randomized control trials and systematic reviews (La Touche et al., 2020; Martins et al., 2016; Randhawa et al., 2016).
Contemporary multimodal massage therapists are uniquely suited to incorporate a number of rehabilitation strategies for temporomandibular disorder based on patient-specific assessment findings including, but not limited to:
Manual Therapy (intra-oral and extra-oral massage)
Education that is Person-Centered (e.g., biopsychosocial model of health and disease, self-efficacy beliefs, active coping strategies)
Stretching & Loading Programs (e.g., concentric, eccentric, isometric exercises)
Hydrotherapy (hot & cold)
Self-Management Strategies (e.g., engaging in physical activity and exercise, social activities, and healthy sleep habits)
References and Sources
Banigo, A., Watson, D., Ram, B., & Ah-See, K. (2018). Orofacial pain. BMJ, 361, k1517. doi:10.1136/bmj.k1517
Bond, E. C., Mackey, S., English, R., Liverman, C. T., Yost, O., Committee on Temporomandibular Disorders (TMDs): From Research Discoveries to Clinical Treatment, Board on Health Sciences Policy, Board on Health Care Services, Health and Medicine Division, & National Academies of Sciences, Engineering, and Medicine. (2020). Temporomandibular Disorders: Priorities for Research and Care. National Academies Press (US). https://doi.org/10.17226/25652
Delgado de la Serna, P., Plaza-Manzano, G., Cleland, J., Fernández-de-Las-Peñas, C., Martín-Casas, P., & Díaz-Arribas, M. J. (2020). Effects of Cervico-Mandibular Manual Therapy in Patients with Temporomandibular Pain Disorders and Associated Somatic Tinnitus: A Randomized Clinical Trial. Pain medicine (Malden, Mass.), 21(3), 613–624. https://doi.org/10.1093/pm/pnz278
Fernandez-de-las-Peñas, C. (2018). Temporomandibular Disorders: Manual therapy, exercise and needling. Handspring Publishing.
Fernández-de-Las-Peñas, C., & Von Piekartz, H. (2020). Clinical Reasoning for the Examination and Physical Therapy Treatment of Temporomandibular Disorders (TMD): A Narrative Literature Review. Journal of clinical medicine, 9(11), E3686. https://doi.org/10.3390/jcm9113686
Kahn, S. & Ehrlich, P. (2018). Jaws: The Story of a Hidden Epidemic. Stanford University Press.
La Touche, R., Martínez García, S., Serrano García, B., Proy Acosta, A., Adraos Juárez, D., Fernández Pérez, J. J., Angulo-Díaz-Parreño, S., Cuenca-Martínez, F., Paris-Alemany, A., & Suso-Martí, L. (2020). Effect of Manual Therapy and Therapeutic Exercise Applied to the Cervical Region on Pain and Pressure Pain Sensitivity in Patients with Temporomandibular Disorders: A Systematic Review and Meta-analysis. Pain medicine (Malden, Mass.), 21(10), 2373–2384. https://doi.org/10.1093/pm/pnaa021
La Touche, R., Boo-Mallo, T., Zarzosa-Rodríguez, J., Paris-Alemany, A., Cuenca-Martínez, F., & Suso-Martí, L. (2020). Manual therapy and exercise in temporomandibular joint disc displacement without reduction. A systematic review. Cranio: the journal of craniomandibular practice, 1–11. Advance online publication. https://doi.org/10.1080/08869634.2020.1776529
List, T., & Jensen, R. H. (2017). Temporomandibular disorders: Old ideas and new concepts. Cephalalgia: an international journal of headache, 37(7), 692–704. doi:10.1177/0333102416686302
Martins, W. R., Blasczyk, J. C., Aparecida Furlan de Oliveira, M., Lagôa Gonçalves, K. F., Bonini-Rocha, A. C., Dugailly, P. M., & de Oliveira, R. J. (2016). Efficacy of musculoskeletal manual approach in the treatment of temporomandibular joint disorder: A systematic review with meta-analysis. Manual therapy, 21, 10–17. doi:10.1016/j.math.2015.06.009
Mesa-Jiménez, J. A., Fernández-de-Las-Peñas, C., Koppenhaver, S. L., Sánchez-Gutiérrez, J., & Arias-Buría, J. L. (2020). Cadaveric and in vivo validation of needle placement in the medial pterygoid muscle. Musculoskeletal science & practice, 49, 102197. https://doi.org/10.1016/j.msksp.2020.102197
Moayedi, M., Krishnamoorthy, G., He, P. T., Agur, A., Weissman-Fogel, I., Tenenbaum, H. C., Lam, E., Davis, K. D., Henderson, L., & Cioffi, I. (2020). Structural abnormalities in the temporalis musculo-aponeurotic complex in chronic muscular temporomandibular disorders. Pain, 161(8), 1787–1797. https://doi.org/10.1097/j.pain.0000000000001864
Ohrbach, R., & Dworkin, S. F. (2019). AAPT Diagnostic Criteria for Chronic Painful Temporomandibular Disorders. The journal of pain: official journal of the American Pain Society, 20(11), 1276–1292. doi:10.1016/j.jpain.2019.04.003
Randhawa, K., Bohay, R., Côté, P., van der Velde, G., Sutton, D., Wong, J. J., … Taylor-Vaisey, A. (2016). The Effectiveness of Noninvasive Interventions for Temporomandibular Disorders: A Systematic Review by the Ontario Protocol for Traffic Injury Management (OPTIMa) Collaboration. The Clinical journal of pain, 32(3), 260–278. doi:10.1097/AJP.0000000000000247
Reneker, J., Paz, J., Petrosino, C., & Cook, C. (2011). Diagnostic accuracy of clinical tests and signs of temporomandibular joint disorders: a systematic review of the literature. The Journal of orthopaedic and sports physical therapy, 41(6), 408–416. https://doi.org/10.2519/jospt.2011.3644
von Piekartz, H., & Hall, T. (2013). Orofacial manual therapy improves cervical movement impairment associated with headache and features of temporomandibular dysfunction: a randomized controlled trial. Manual therapy, 18(4), 345–350. doi:10.1016/j.math.2012.12.005
von Piekartz, H., Schwiddessen, J., Reineke, L., Armijo-Olivio, S., Bevilaqua-Grossi, D., Biasotto Gonzalez, D. A., Carvalho, G., … Ballenberger, N. (2020). International consensus on the most useful assessments used by physical therapists to evaluate patients with temporomandibular disorders: A Delphi study. Journal of oral rehabilitation, 47(6), 685–702. https://doi.org/10.1111/joor.12959